5. Virgin Garden Mary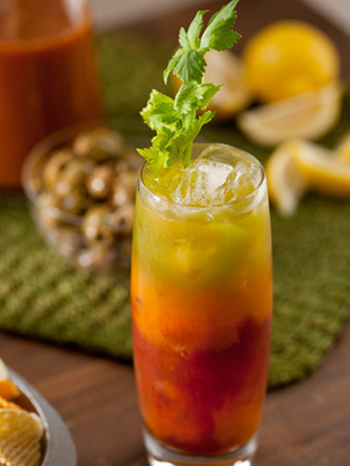 If you're a fan of Bloody Marys, you'll definitely want to play attention to this mocktail recipe! There's plenty of hot sauce and Tabasco, or hot sauce if you'd rather, along with carrot juice, tomato juice, cucumber water … you get the idea. Actually, without the alcohol, this drink is extraordinarily healthy!
1 English cucumber, washed and cut into chunks (with peel)
1 tbs. prepared horseradish
1 tbs. Worcestershire sauce
2-3 dashes hot sauce, or to taste
freshly ground black pepper, to taste
celery sticks and cucumber slices for garnish, optional
Put the cucumber chunks and salt in the bowl of a food processor and puree about two minutes, until very smooth. Transfer to a fine mesh strainer set over a pitcher and let stand until all the liquid has drained; discard solids and reserve the juice.
In a pitcher, stir the vegetable and lemon juices, horseradish, Worcestershire, celery salt, hot sauce and black pepper together until well combined.
To serve, put a celery stalk in a 10-ounce Collins glass and fill it with ice. Fill the bottom third with the tomato juice mixture; pour an equal amount of carrot juice slowly into the glass to create layers. Fill the top of the glass with cucumber juice. Garnish the glass with a cucumber slice and let your guests mix the layers and enjoy.
Pink Grapefruit Margaritas
Explore more ...