Romantic Recipes are no doubt on many people´s minds at this time of year. But why limit yourself to making romantic meals on just one day of the year? If you have invited a date for dinner, why not surprise them with a loving touch to the meal. Whether it´s a sweet snack, or a full meal, here are some romantic recipes to impress your date.
---
1

Mini Grilled-Cheese Hearts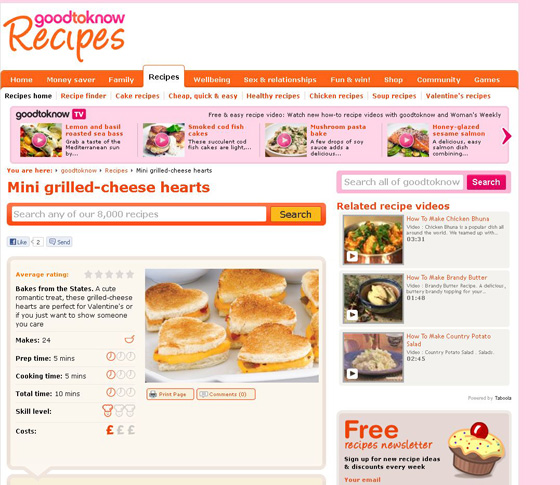 goodtoknow.co.uk
There´s nothing fancy about grilled cheese sandwiches, but a romantic recipe doesn´t have to be elaborate. Being cute will do! Get yourself a heart-shaped cutter and bring some love into your meals. The sweet pepper relish will add a lovely kick to the simple sarnie.
2

Roasted Duck Breast with Plum Sauce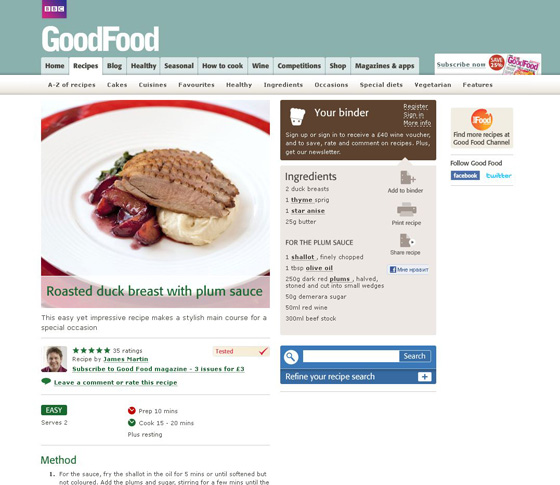 bbcgoodfood.com
Duck is an unusual choice for a meal, and will definitely impress your date (unless they´re vegetarian). The beauty of this romantic recipe is that it doesn´t take too long to prepare. After all, you don´t want to spend too much time slaving in the kitchen; you want your date to get you hot and bothered, not the dinner!
---
3

Hazelnut Butter Grilled Scallops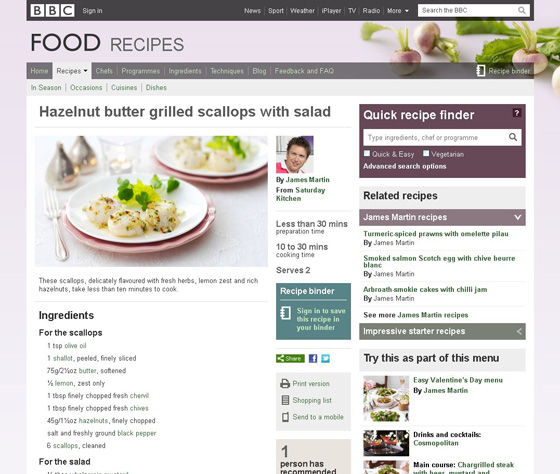 bbc.co.uk
If you´ve never cooked scallops before, don´t fret – they don´t take much cooking at all. Just a little frying and grilling, and they´re done. Your date will definitely be impressed with this romantic recipe! Fresh herbs and hazelnuts add simple but special flavours to this dish.
---
4

Herb-Crusted Rack of Lamb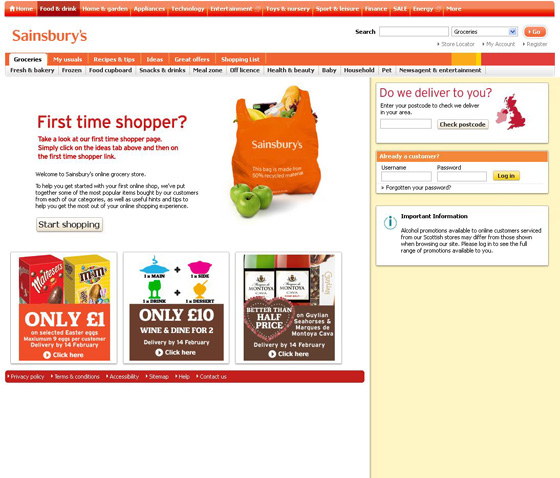 sainsburys.co.uk
Often the best dishes for romantic meals are those that look striking but aren´t actually complicated to make. Cooking lamb in a herby crust makes the meat look impressive, yet involves nothing more than mixing some ingredients together and covering the lamb. And just think of the delicious flavours!
---
5

Goat Cheese and Olive Stuffed Peppers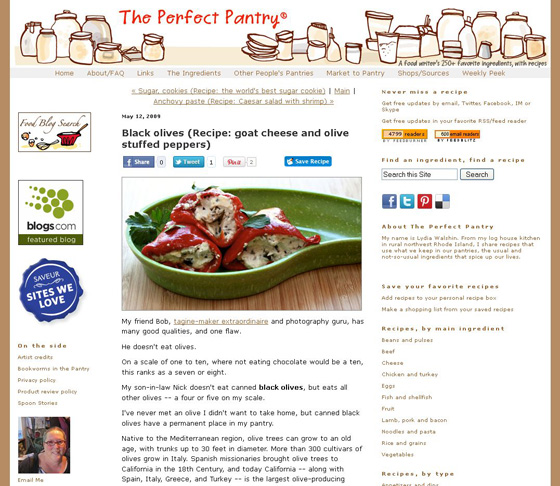 theperfectpantry.com
This would make a lovely romantic snack to enjoy together – imagine the fun of feeding each other! It could also be served as a starter or as part of a lunch, perhaps with some tasty homemade bread. These peppers are easy to make in advance and keep in the fridge.
6

Sun-Dried Tomato, Red Pepper and Artichoke Pasta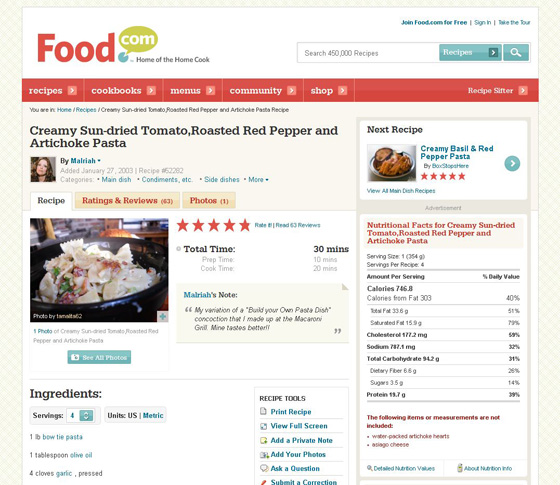 food.com
Even a dish as apparently mundane as pasta can be made extra-special with the use of some special vegetables. Buy some quality pasta, and pick an interesting shape such as the bows used in the recipe. Sun-dried tomatoes add an intense flavour to a dish – and that´s just what you´re looking for here. You want to get your partner drooling!
---
7

Bésame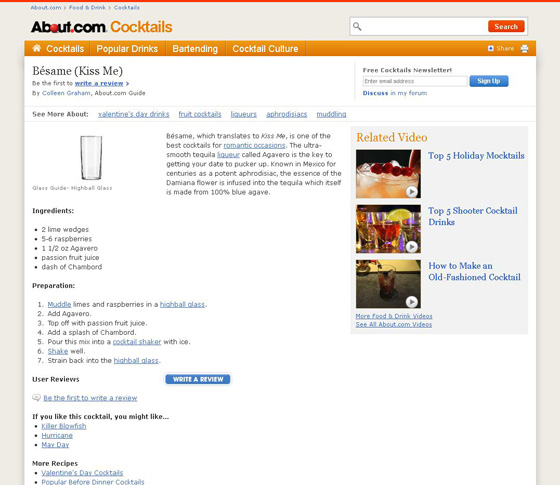 cocktails.about.com
No romantic meal is complete without a cocktail. For readers who don´t understand Spanish, the name of this cocktail means ´Kiss me´ - which is exactly what you want! The liqueur contains an aphrodisiac ingredient, so serve it up as part of your romantic meal and see what effect it has …
---
8

Tiramisu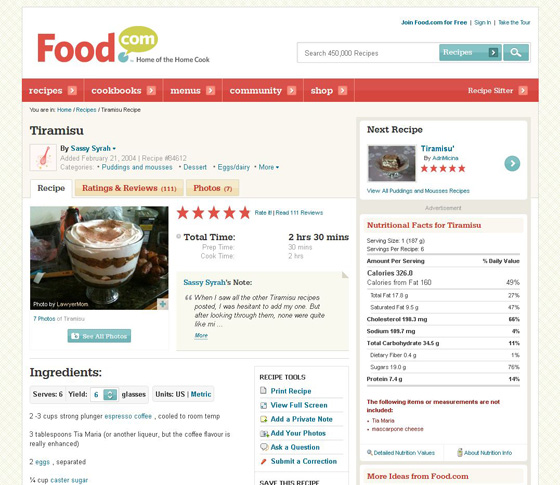 food.com
Naturally, you´ll want to finish your romantic meal with a super indulgent dessert, and tiramisu fits the bill perfectly. It´s rich, creamy and will have you licking your lips. Your dinner partner will love it, as well as watching you eat it! It´s also the perfect dessert to feed each other with.
These romantic recipes have been carefully chosen to give you some fantastic ideas on what to serve up for dinner à deux. What you are looking for is lots of fabulous flavours and beautiful presentation. Just one word of warning – don´t eat too much, however delicious the meal is, if you want the romance to continue post-meal! What romantic recipes would you select for a dinner with your special someone?
Top Photo Credit: weheartit.com
---
Comments
Popular
Related
Recent