Calling all chocolate lovers! This is the article for you! At the recent passing of my grandmother, her incredible love for chocolate and cooking with chocolate was brought up. As far as I'm concerned, she made the best chocolate pie one could ever put in their mouth. However, since she cooked "until it looked right" there is no way of passing on her decadent recipe. Instead, in her memory, I'll be giving you my top 10 chocolate recipes to consider for your next dessert!
---
1

Chocolate Trifle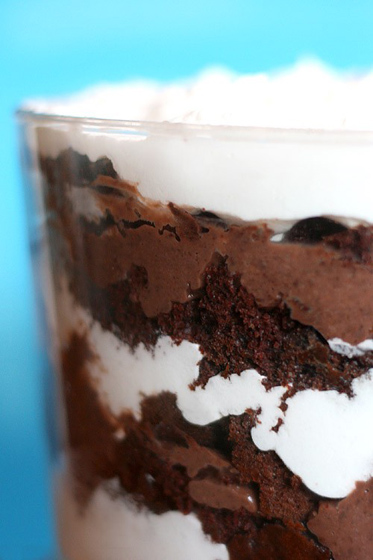 This recipe is so easy to make and is beautiful in a punch bowl! You'll have yoru friends and family stumbling over each other to get a bite of this lovely dessert!
Ingredients:
1 (19.8 ounce) package brownie mix
1 (3.9 ounce) package instant chocolate pudding mix
1/2 cup water
1 (14 ounce) can sweetened condensed milk
1 (8 ounce) container frozen whipped topping, thawed
1 (12 ounce) container frozen whipped topping, thawed
1 (1.5 ounce) bar chocolate candy
Prepare brownie mix according to package directions and cool completely. Cut into 1 inch squares.
In a large bowl, combine pudding mix, water and sweetened condensed milk. Mix until smooth, then fold in 8 ounces whipped topping until no streaks remain.
In a trifle bowl or glass serving dish, place half of the brownies, half of the pudding mixture and half of the 12 ounce container of whipped topping. Repeat layers. Shave chocolate onto top layer for garnish. Refrigerate 8 hours before serving. allrecipes.com
2

Eclair Cake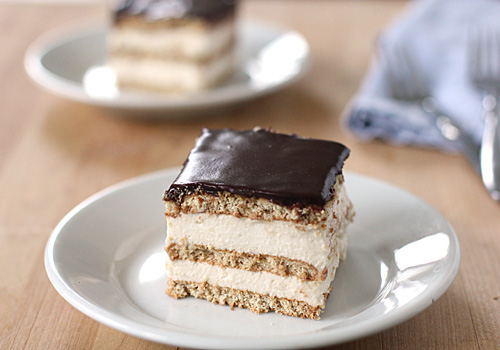 I love eclair and I love serving it at gatherings, but it gets expensive! This is a great, easy, and quick way to serve eclair to your next large group! And, it's easy enough your kids can help make it!
Ingredients:
2 (3.5 ounce) packages instant vanilla pudding mix
1 (8 ounce) container frozen whipped topping, thawed
3 cups milk
1 (16 ounce) package graham cracker squares
1 (16 ounce) package prepared chocolate frosting
In a medium bowl, thoroughly blend the pudding mix, whipped topping, and milk. Arrange a single layer of graham cracker squares in the bottom of a 13x9 inch baking pan. Evenly spread half of the pudding mixture over the crackers. Top with another layer of crackers and the remaining pudding mixture. Top with a final layer of graham crackers. Spread the frosting over the whole cake up to the edges of the pan. Cover, and chill at least 4 hours before serving. allrecipes.com
---
3

Chocolate Lovers' Favorite Cake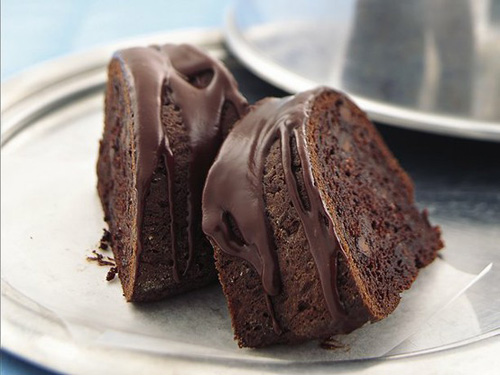 The name says it all, doesn't it? If you're a chocolate lover, you're going to fall in love with this dreamboat in one bite!
Ingredients:
1 (18.25 ounce) package devil's food cake mix
1 (3.9 ounce) package instant chocolate pudding mix
2 cups sour cream
1 cup melted butter
5 eggs
1 teaspoon almond extract
2 cups semisweet chocolate chips
Preheat oven to 350 degrees F (175 degrees C). Grease a 10 inch Bundt pan.
In a large bowl, stir together cake mix and pudding mix. Make a well in the center and pour in sour cream, melted butter, eggs and almond extract. Beat on low speed until blended. Scrape bowl, and beat 4 minutes on medium speed. Blend in chocolate chips. Pour batter into prepared pan.
Bake in preheated oven for 50 to 55 minutes. Let cool in pan for 10 minutes, then turn out onto a wire rack and cool completely.
---
4

Mocha Layer Cake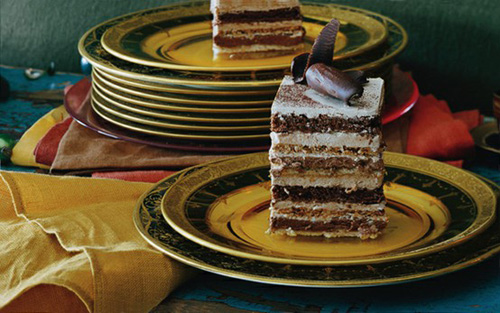 This, my friends, is almost too delicious to share! It's positively sinful!
Ingredients:
1 pkg of chocolate cake mix
1 3.9 oz pkg of chocolate instant pudding mix
4 eggs
1 8oz contatiner of sour cream
1/2 cup oil
1/2 cup General Foods International Swiss Mocha Cafe
1/2 cup water
** **
Filling:
2 Cups Thawed Cool Whip
1/4 cup General Foods International Swiss Mocha Cafe
** **
Topping:
2 Tbls butter
1 Tblsp Light Corn Syrup
4 Squares semi-sweet chocolate squares
1 Tblsp water
Mix cake ingredients together and bake at 350 degrees in two round cake pans until toothpick comes out clean. Allow to cool. Mix your filling ingredients and put in the middle of your two cakes. Microwave your topping ingredients for about 2 minutes, stirring every 30 seconds, and spread over your cake. allrecipes.com
---
5

Chewy Peanut Butter Blossoms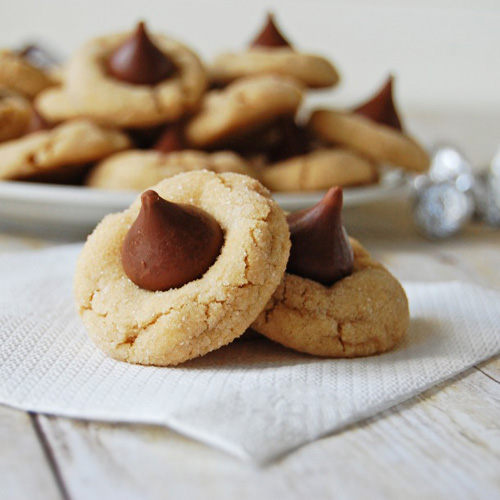 I know these are pretty well known, and they're super easy to make, but I had to include them in this list because they are so delicious! They happen to be one of my top 5 favorite cookies! Make that my top 3!
Ingredients:
About 48 HERSHEY'S KISSES Brand Milk Chocolates
1 can (14 oz.) sweetened condensed milk (not evaporated milk)
3/4 cup REESE'S Creamy Peanut Butter
2 cups all-purpose biscuit baking mix
1 teaspoon vanilla extract
About 1/4 cup sugar
Heat oven to 375°F. Remove wrappers from chocolates.
Beat sweetened condensed milk and peanut butter in large bowl until smooth. Add baking mix and vanilla; blend well. Shape into 1-inch balls; roll in sugar. Place 2 inches apart on ungreased cookie sheets.
Bake 6 to 8 minutes or until very lightly browned (do not overbake). Remove from oven; immediately press chocolate piece in center of each ball. Remove from cookie sheet to wire rack. Cool completely. Store in tightly covered container. About 48 cookies. hersheys.com
---
6

Gone to Heaven Chocolate Pie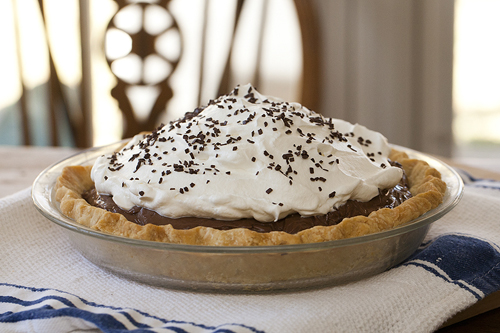 I don't know about you, but chocolate is my earthly heaven! I get this blissful feeling of utter contentment every time my mouth melts that chocolate goodness over my taste buds! Whoops! I almost forgot my current subject! This pie, yes, this pie is super good!
Ingredients:
One 9-inch pie shell
2/3 cup sugar
1/3 cup cornstarch
1/2 teaspoon salt
4 egg yolks
3 cups milk
2 tablespoons butter or margarine, softened
1 tablespoon vanilla extract
2 cups (12-oz. pkg.) HERSHEY'S SPECIAL DARK Chocolate Chips, divided
Sweetened whipped cream or whipped topping (optional)
Bake pie shell; cool. Stir together sugar, cornstarch and salt in 2 quart saucepan. Combine egg yolks and milk in container with pouring spout. Gradually blend milk mixture into sugar mixture.
Cook over medium heat, stirring constantly, until mixture comes to a boil. Boil and stir 1 minute. Remove from heat; stir in butter and vanilla. Add 1-3/4 cups chocolate chips; stir until chips are melted and mixture is well blended. Pour into prepared pie shell; press plastic wrap onto filling. Cool. Refrigerate several hours or until chilled and firm. Garnish with whipped cream and remaining chocolate chips, if desired. 6 to 8 servings. hersheys.com
---
7

Fudge Pie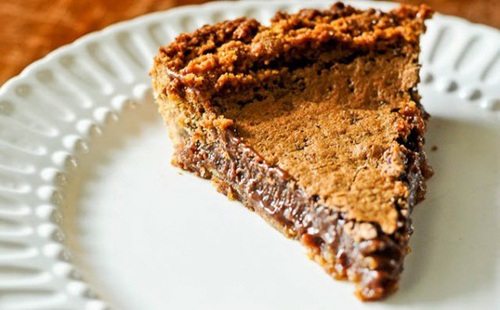 This is the pie my late grandmother is remembered for. She could make it like no one else!
Ingredients:
1 recipe pastry for a 9 inch single crust pie
1 cup white sugar
1/4 cup all-purpose flour
3 tablespoons unsweetened cocoa powder
1/2 cup butter
2 eggs
1 teaspoon vanilla extract
Unfold piecrust; fit into 9 inch pie pan. Prebake crust according to package directions. Remove from oven. Lower the oven temperature to 325 degrees F (165 degrees C). Beat together sugar, flour, cocoa powder, butter or margarine, eggs and vanilla in a medium-size bowl. Spoon into pie shell. Bake for 25 to 30 minutes or until set. Allow to cool to room temperature. Serve with whipped topping or a scoop of vanilla ice cream. allrecipes.com
---
8

Chocolate Muffins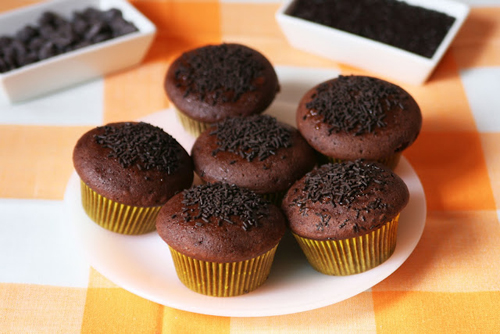 Forget the nutritious muffins when these are around! These are easy for kids to make, so grab those children and put them to work baking!
Ingredients:
1/2 cup butter
1/2 cup superfine sugar
2 eggs
1 cup self-rising flour
2 teaspoons cocoa powder
1 teaspoon baking soda
Preheat oven to 350 degrees F (175 degrees C). Grease 6 cups in a muffin pan. Cream together butter and sugar in a mixing bowl. Mix in eggs. Add flour, cocoa powder, and baking soda and blend thoroughly. Spoon batter into muffin cups. Bake 15 to 20 minutes, or until a toothpick inserted into the center comes out clean. Cool and decorate. www.allrecipes.com
---
9

Crock Pot Chocolate Cake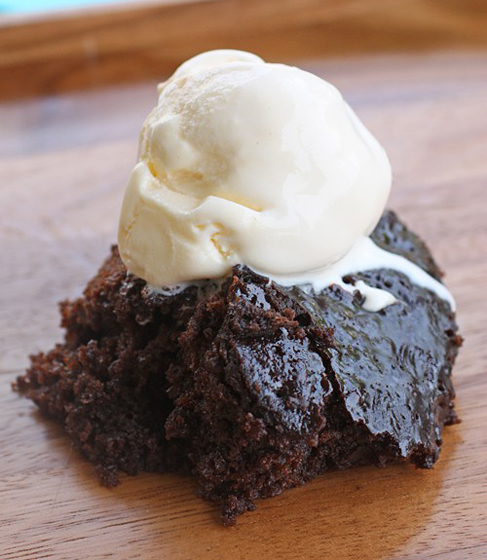 On a hot day, nobody in their right mind would want to slave over the stove, right? Well, with this recipe, you don't need to slave over a hot stove in order to enjoy a scrumptious, warm, chocolate cake! Trying is believing!
Ingredients:
1 box chocolate cake mix
8 oz sour cream
1 pkg instant chocolate pudding
1 cup chocolate chips
4 eggs
3/4 cup oil
1 cup water
Mix all ingredients together. Pour into lightly greased 5qt crock pot, metal coffee can or Crock Pot Cake Bake pan. Cover. Cook 3-4 hours on high or 6-8 hours on low. cooks.com
---
10

Holy Smoke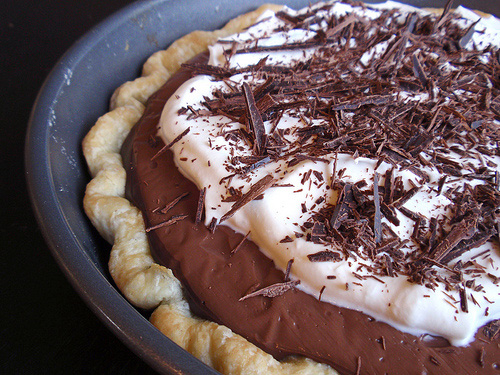 My aunt gave me this recipe. The only thing I can tell you is you've got to try it at least once! It is incredible, and will, as my grandfather always says about good food, "It will make your tongue slap your brain sideways!"
First Layer:
2 cups flour
2 sticks butter
1 c finely chopped pecansSecond Layer:
1 cup powdered sugar
8 oz Philidelphia Fat Free cream cheese
1/4 of 10oz Cool Whip Free
Third Layer:
2 small boxes fat-free, sugar-free chocolate instant pudding
3 cups nonfat milk
1st layer: Mix flour, butter and pecans. Press into bottome of a 10"x14"x2" pan and bake for 30 minutes at 350 degrees. Let cool.
2nd Layer: Beat ingredients together and spread over cooled crust.
3rd Layer: Beat pudding and milk in mixer. Spread across top of 2nd layer and refrigerate. Spread remaining Cool Whip on top when pudding is firm. Refrigerate until served.
These top 10 chocolate recipes are perfect for just about any occasion, but what woman needs any specific occasion to eat chocolate? Treat yourself tonight with one of these great recipes!
Top Photo Credit: coolfacts.ru
---
Comments
Popular
Related
Recent