I knew I was in love ever since that first bite of a red velvet cupcake and wanted to try more red velvet recipes to see if they were all as tasty and delicious as that one! The red velvet trend has taken over at grocery stores, restaurants, and bakeries every where, so lets join in with these 7 Tasty Red Velvet Recipes to Try **and see if we can bake a **red velvet materpiece...
---
1

Red Velvet Crepes...

Okay truth is I've never had a crepe before, but what better way to try them for the first time than with a red velvet recipe! With a mascarpone cream filling and a chocolate ganache drizzle I don't see why I haven't tried crepes yet if there are tasty recipes like this one waiting to be made. Check out Duhliciousfor the complete recipe details.
---
2

Red Velvet Donuts...

I bet homemade donuts baked with a red velvet recipe would be wonderful with a cup of tea or coffee on a cold day. My daughter loves donuts and asks to get some every time we go to the grocery store, if she sees this I'm sure she'll beg for me to buy a donut pan so we can make these! It looks like most red velvet recipes are a little red food coloring, some chocolate or cocoa powder and a few other simple ingredients. Follow to Taste and Tell Blogfor the recipe.
3

Red Velvet Pancakes...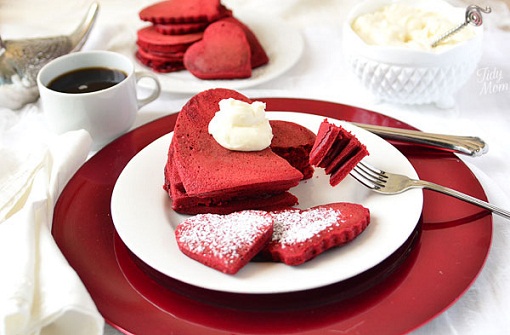 Photo Credit: TidyMomvia Recipegirl
Look at these amazing red velvet pancakes, wouldn't it be nice to wake up on Valentine's Day to find your loved one in the kitchen wearing an apron and making these! Try your hand at them with heart shaped cookie cutters, some red food coloring, cinnamon, and a few other ingredients. Follow the link to Recipegirlfor the complete details and find more recipes on there as well as on TidyMom.
---
4

Red Velvet Macarons...

Macarons and **red velvet **together...what's not to love, oh wait they are heart shaped too! Make someone smile with this adorable **red velvet recipe, **how sweet would they be for kids to take into school for Valentine's Day or even to give as favors on your wedding day. Check out Delectable Deliciousnessfor the complete details.
---
5

Red Velvet Cookies...

Are you already in the kitchen trying to decide which one of these tasty red velvet recipes to make first? How about the red velvet pancakes for breakfast and these white chocolate chunk red velvet cookies for dessert! I am interested in trying this one because the cookie recipe actually uses red velvet cake mix...yum! Continue to Whipperberryfor more information.
---
6

Red Velvet Truffles

What a sweet little surprise it would be to bite into a truffle and see red velvet cake inside! To bake this** red velvet recipe** at home it may take some prep time, but it looks well worth it in the end! Continue to OhNutsfor more information.
---
7

Red Velvet Cake...

Red velvet cake kicked off this recipe trend and has turned into a fun experiment to see where we can take red velvet next. I've baked cookies, cupcakes, and breads but haven't tried cake yet, maybe this recipe from Bakerellawill be the one to finally try!
---
8

Red Velvet Cheesecake...

Perhaps after I try my hand at baking my first cake I can move on to bigger and better desserts like this red velvet cheesecake! It looks so pretty; what a great treat this would be to take to someone during the holidays. Continue to Culinary Concoctions by Peabodyfor the complete details.
---
9

Red Velvet Cake Pops...

Turn that cake into little red velvet cake pops for your kid's birthday party, a baby or bridal shower, or just for a fun snack to enjoy at home. This is a wonderful red velvet recipe to get the kids involved in, check out Kids National Geographicfor more details.
---
10

Red Velvet Cupcakes...

This little sweet treat is where I found my inspiration to find more tasty red velvet recipes **and who wouldn't love a cupcake, especially a **red velvet one! Look for this recipe, that includes cream cheese frosting, and more over at Gimme Some Oven.

Whether you are baking for an event or just love to be in the kitchen, red velvet recipes are something everyone will enjoy. Have fun with food coloring and surprise the kids or a loved one with bright red velvet pancakes for breakfast. Or treat yourself to a tasty red velvet cookie for dessert!
More
---
Comments
Popular
Recent