Croissant recipes were never my favorite ones, mostly because croissants are one of the hardest things to make from scratch and I'm not the most experienced cook on this world. I can cook and my pastries are not half bad but croissants… well… they are famous for a reason and the best ones need a lot of loving to look and taste perfectly. But, guess what? There are easier ways to prepare perfect croissants so even the ones with very little free time on their hands can enjoy this tasty treats. Don't believe me? Well check out these fun, super-easy Croissant Recipes:
---
1

Easy Ham Croissants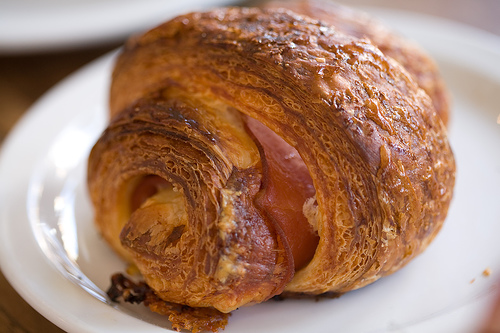 Ingredients:
-Frozen crunchy dough
- Thin ham slices
- Butter
This is one of my favorite croissant recipes and I'm really not ashamed to admit that I like to use store-bought frozen dough. So, if you like croissants but have no time to pet them and "become one with them" here's what you have to do – just buy a block of that flaky crunchy dough, unfreeze it, take your rolling pin and make it extra thin. You should get a nice, thin sheet of dough which you'll then cut two times to get three pieces. Place thin leaves of butter on each piece stack pieces on top of each other, thin them down just a little bit more using the rolling pin and then cut small squares. Place a piece of ham onto each square and roll. Voila! Bake your croissants and enjoy!
2

Chocolate and Vanilla Croissants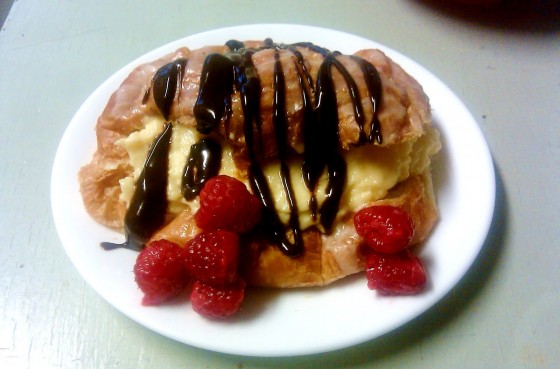 Ingredients:
-Cold Milk
-Instant Vanilla Pudding (1 box)
-Cool Whip (1 cup)
- 1 bag of chocolate granules (for glazing)
- Small store bought croissants
Cut your croissants horizontally and leave them aside. Then prepare pudding, fold in cool whip, mix it all well and use the mixture to stuff precut croissants. All you have to do after that is melt the chocolate, pour it over the stuffed croissants and leave them to chill. It's extremely easy to do, it doesn't require a lot of time and, once the croissants are covered in chocolate, nobody will be able to tell you haven't spent a sleepless night making them.
---
3

Cheese and Ham Croissant Recipe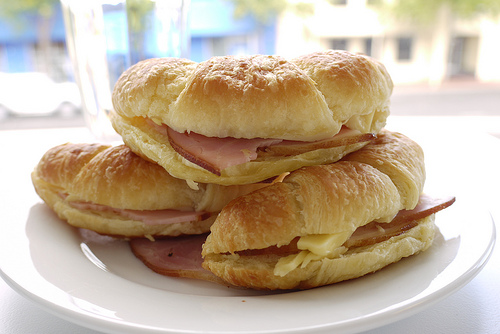 Ingredients:
-2 Slices of Ham
-2 Slices of Cheese
- 2 Big Croissants
- Butter or Margarine
- 1 Egg
-Sesame
Cut your croissants horizontally, spread butter or margarine on each side and add ham and cheese. Whisk the egg and heat the oven. Use a small brush to apply whisked egg on croissants, sprinkle them with sesame and bake until they are crunchy and golden again. These croissants make a very tasty breakfast and, as you can see, the recipe itself is a pretty simple one.
---
4

Chocolate and Pear Croissants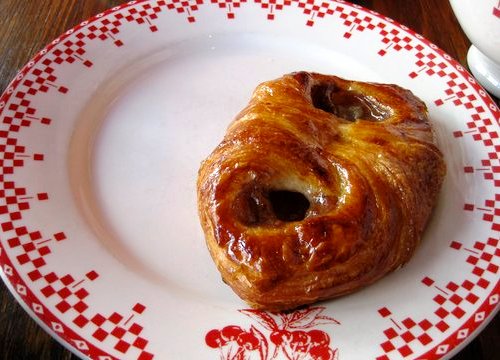 Ingredients
-4 Croissants
-Chocolate Slivers ( ¼ cup)
-Sliced Pears, Canned (125ml or ½ cup)
- Honey (2 tablespoons)
-Icing Sugar (1 teaspoon)
-Cream (125ml)
-Rum Extract (2-3 drops)
I've found this recipe on the internet some time ago and I've been dying to try it out, so here's how to combine the ingredients and we can get together some days from now to compare notes. First of all, heat your oven to 200°C. Then slice the croissants horizontally, spread honey on one side, chocolate bits and pears on the other, close them and bake for 5-10 minutes. Leave them to cool and mix together cream, icing sugar and rum. Use this mixture to decorate croissants once they are cold and voila!
---
5

Cinnamon Croissants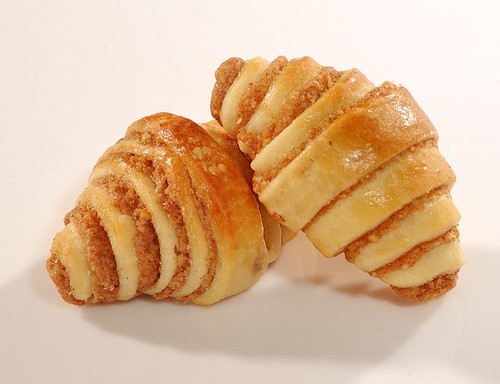 Ingredients:
-Chopped nuts and raisins (2 tablespoons of each)
- Cinnamon (pinch)
- Sugar (1 tablespoon)
- Honey (to make the mixture stick)
- Frozen Croissant Dough
These crunchy, cinnamon croissants taste great and are incredibly easy to make as a bonus. Now, if you can find the frozen croissant dough that should make things even easier as you don't have to do much- just cut it into triangles (or squares), mix all the ingredients together, fill, roll and bake. It's as simple as that! I like nuts and that's why this is one of my favorite croissant recipes.
---
6

Simple Croissants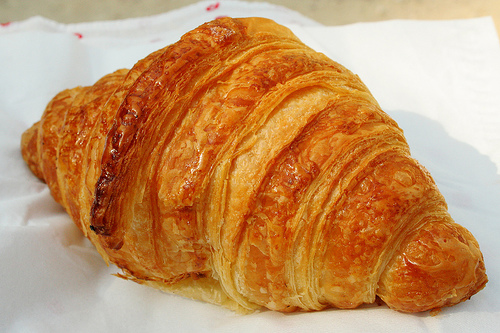 If you like your croissants straight, with no filling whatsoever, use store-bought croissant dough, cut it into triangles or squares (I prefer squares because they roll better and look nicer) spread thin butter leaves, roll and bake. I'm leaving out the list of ingredients because this is one of the simplest croissant recipes there is and the best thing about croissants made like this is the fact they are neither sweet nor salty which means you can serve them for breakfast, dinner or even with coffee or tea.
---
7

Croissant Cake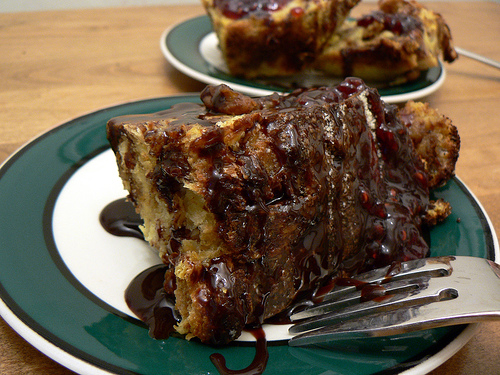 -Old Croissants
- Vanilla Pudding (1 package)
- Vegetable Butter
- Chocolate Granules(icing chocolate)
- Water ( ½ L)
- Sugar (15 tablespoons)
Here's one slightly unusual croissant recipe you can use whenever you have croissants that are a day or two old. Prepare the pudding using the instruction on the package, leave it to cool down, add one package of butter (200 grams), blend well and leave it to cool down completely. Cook sugar and water until they turn into syrup. Cut croissants horizontally, dip them in syrup and place on the bottom of a larger glass dish, pour half of the vanilla mixture over them, then add another layer or syrupy croissants before you pour in the second half of the mixture. Melt the chocolate icing, pour it on top and refrigerate for a few hours.
Aren't these the most time-saving croissant recipes ever? Nothing can compare to handmade croissants, I'll give you that, but since I'm constantly in a rush, I prefer the easier, faster solutions. How about you? Any cool Croissant Recipes you could share with me?
Top Photo Credit: 27.media.tumblr.com
---
Popular
Related
Recent