9 Healthy and Filling Ethnic Recipes to Try This Fall ...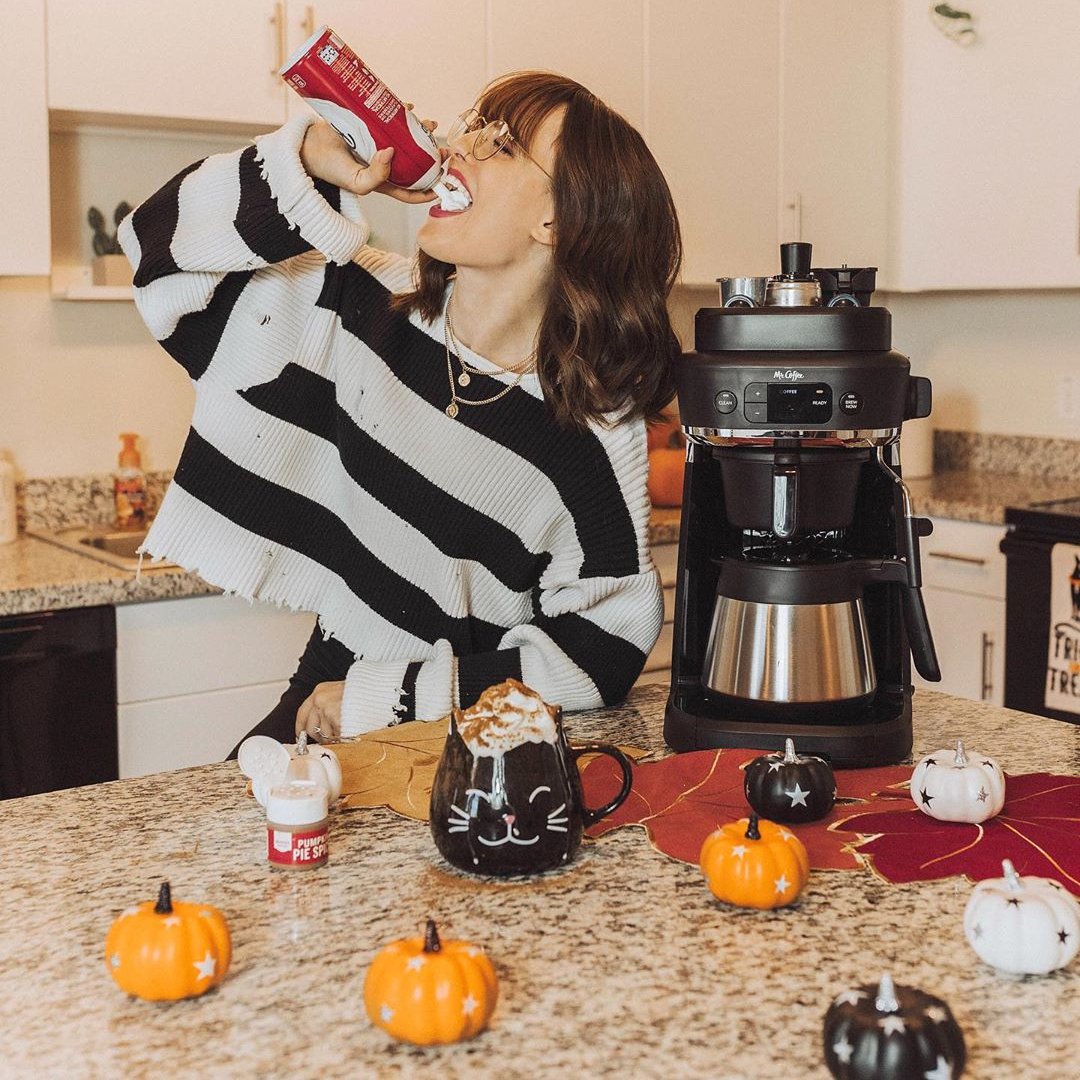 Are you ready to kick off fall with some healthy ethnic recipes?! I love trying new foods all year round but there's something about discovering new and exciting flavors in comfort food that's so exciting! I perused the net for some of the most scrumptious yet good-for-you versions of classic ethnic recipes that you'll be enjoying all season long. Get your shopping lists ready, you're going to want to jot these ingredients down!
1.

Vietnamese Beef Pho Noodle Soup
This healthy ethnic recipe is perfect for cold nights or when you're feeling a little under the weather. This soup is filled with electrolytes, which helps the body maintain fluid balance and is also cooked with ginger which adds anti-inflammatory properties. The beef broth and rice noodles are so yummy and when you add veggies, herbs and a squirt of lime juice, it's a flavorful symphony of flavors! This recipe is an easier version than your average pho recipe, great when you're learning to make it!
INGREDIENTS:
10 cups rich beef stock
5 limes
2 tablespoons Vietnamese fish sauce
2 star anise seeds (optional)
1 package (13 ounce size) Thai Rice sticks
1 1/2 cup bean sprouts
6 green onions
1/2 bunch cilantro
1 pound beef sirloin
1 cup basil leaves
2 jalapenos
OR
4 serrano chilies
Additional fish sauce
Sriracha or other Asian chili sauce
DIRECTIONS:
Bring beef stock to a boil in a large stock pot with the juice of 3 of the limes, fish sauce, and star anise if using. Let stock boil for 15 minutes.
In a separate pot, bring water to a boil and cook rice sticks according to package directions. Drain rice sticks. While noodles are cooking and stock is heating, prep the condiments. Slice green onions on a long diagonal. Roughly chop cilantro. Slice beef into a thin a slice as possible with a very sharp knife. Rinse basil, dry, and put on platter for service. Slice remaining limes and arrange next to basil on serving platter. Thinly slice chilies and arrange on serving platter.
Place platter on table with fish sauce and chili sauce. When noodles are cooked and drained, divide among six bowls. On top of noodles, divide evenly the bean sprouts, sliced green onions and cilantro. Top herbs with rare beef divided evenly between bowls. Remove star anise from stock. Ladle hot stock over each bowl of noodles and beef. Serve immediately.
Allow each person to season bowl to taste with additional lime juice, basil, sliced chilies, fish sauce and chili sauce.
Source: cdkitchen.com
2.

Indian Stuffed Peppers
I'm a big fan of stuffed vegetables so this healthy fall recipe was calling my name! This revised recipe was made to include more complex carbs and lean protein than the original, but just because it's a healthy version doesn't mean it's lacking in flavor! You can easily swap the ground turkey for lentils for an iron and protein packed vegetarian alternative!
Ingredients
½ cup quinoa
1 1/4 cup of water
1 lb ground turkey
1 can tomato sauce
4 large or 6 small/medium green peppers
1 can chick peas (drained and rinsed)
1 onion chopped
3 cloves garlic minced
1 tbs curry powder
1 tsp cumin
½ tsp turmeric
1 tsp coriander
½ tsp cayenne
1 tsp. garam masala
salt to taste
Optional:
Yogurt
Raisins
Directions:
Preheat oven to 375. In a small pot combine quinoa and water- cook until it comes to a boil, then cover and turn down to simmer for 20 minutes or until the water is absorbed and the quinoa is cooked. In a sauce pan, saute together the garlic and onion- about 5 minutes, then add in the ground turkey. Cook until it is no longer pink then stir in spices, chick peas and quinoa (and if you like a little sweetness in your Indian food, add in 1/4 cup of raisins). Pour half of the can of tomato sauce in with the spices. Adjust spices to taste.
Cut off the tops of the green pepper and hull out the seeds and white parts on the insides then stuff with the meat/quinoa mixture. Place the stuffed green peppers in a pan. Mix an additional tsp of curry powder and a dash of garam masala in the remaining tomato sauce and pour it around the base of the green peppers. If the tomato sauce looks a little thick, thin it out with a little bit of water.
Cover the green peppers with foil and bake in the oven for 30 minutes or until the green peppers are cooked. Once cooked, garnish with a dollop of plain nonfat yogurt.
Source: ridiculouslyhealthy.com
3.

Italian Minestrone Soup
This minestrone recipe makes a fab healthy fall recipe! It's packed with a variety of vegetables and there's also some bacon thrown in for a nice, smoky flavor but you can always leave it out if you want. Soups are great to make for a healthy dinner and they also make a tasty lunch that you can easily heat up the next day at the office!
Minestrone
Serves 6-8, use organic ingredients whenever possible
****
Ingredients:
3 tablespoons olive oil
2 slices preservative-free, all-natural bacon, chopped into small pieces
1 large onion, peeled and chopped
2 large cloves of garlic, minced
1 leek, trimmed and sliced
3 carrots, peeled and chopped
ribs of celery, chopped
1 zucchini, chopped
1 potato, peeled and chopped
4 cups vegetable or chicken stock, preferably homemade
one 15 oz. can of cooked chickpeas, preferably organic
one 28 oz. can of peeled San Marzano tomatoes, with juice
sea salt, if necessary
1 cup kale, chopped fine
1 package of high quality, all-natural cheese tortellini
1 cup loosely packed basil or parsley
2 tablespoons pine nuts, toasted
2 cloves garlic, peeled
2 tablespoons grated Parmesan cheese
1 tablespoon olive oil
Aged balsamic vinegar, for drizzling- optional
Grated parmesan cheese for garnish- optional
Directions:
Heat 1 tablespoon of the olive oil in a large pot over low-medium heat. Add the bacon pieces and cook for a minute or two, until they start to brown.
Add 2 more tablespoons of oil along with the chopped onion, garlic and leek. Continue to cook, stirring occasionally, over low-medium heat until softened. Add the chopped carrot, celery, zucchini, potato and stir around for a minute or two.
Add the stock, the chickpeas, and then the tomatoes, crushing them with your hands as you go. Add a few generous pinches of salt (be judicious if your stock is salted already). Bring the soup to a boil, then reduce the heat to a simmer and cook for 30-40 minutes, until the potatoes are just tender.
Add the kale and the tortellini, and continue to cook over a simmer until both are tender and cooked through, 5-7 minutes. Taste and add more salt, if necessary.
Make the pesto by chopping (and chopping and chopping) the basil by hand until it's very fine...when you do this, you'll reduce it down to about 1/4 cup. As you chop the basil, start to incorporate the other ingredients and chop them fine, too, until you have a lovely finely chopped pesto. Transfer to a small bowl and stir in the olive oil. Use as a garnish for the minestrone.
Serve the minestrone garnished with a spoonful of the pesto, a few drops of the aged balsamic, and a generous sprinkling of grated Parmesan cheese, if desired.
Source: healthygreenkitchen.com
4.

Jamaican Jerk Chicken Fajitas
I know chicken fajitas might not seem like your typical ethnic fall dish but this is a top notch recipe to spice up a dull day! The jerk spice is a flavor party in your mouth and the veggies and whole wheat tortillas provide you with fiber and nutrients! If you're not into spicy dishes, this might not be for you. It's not like drinking a bottle of Sriracha but if you're sensitive to spicy foods, you'll probably want to pass on this one.
Ingredients:
1 lb ground chicken (we chose ground but you could easily use boneless, skinless chicken breasts cut into strips)
3-1/2 tbs. of jerk spice (1-1/2 for chicken; 2 for veggies) or use pre-made Caribbean Jerk spice
2 roma/plum tomatoes, one chopped and one sliced
1 green bell pepper, cut into thin strips
1 red bell pepper, cut into thin strips
6 mushrooms, sliced
2 medium yellow onions, chopped
2 tbs. lime juice
Whole wheat / high fiber tortillas
Directions:
Sauté the vegetables in a non-stick pan. Meanwhile, in a seperate non-stick pan, cook the chicken over medium heat until mostly done. When the veggies are about halfway done or starting to soften, add 2 tablespoons of the jerk spice. When the chicken starts to brown up, add 1-1/2 tablespoons of the jerk seasoning and the chopped tomato. Stir each. When the chicken is pretty much done, add in a tablespoon of lime juice. When the vegetables are pretty much done, add in a tablespoon of lime juice.
Serve up an appropriate amount of each mixture on a tortilla and top with some tomatoes slices (if you're into that kind of thing) Eat!
Source: ridiculouslyhealthy.com
5.

Roasted Vegetable Enchiladas
Enchiladas are so common that you might not think of them as an ethnic fall dish, but they're definitely healthy and tasty! This recipe features lots of yummy veggies and spices to make a really cozy and delicious dish to whip up for friends and family. Not only is this dish healthy and appetizing, they only contain 269 calories per serving!
Ingredients:
1 whole pepper(s), poblano chile, or green bell pepper
2 teaspoon oil, olive, extra virgin
1 cup(s) onion(s), yellow, chopped
3 clove(s) garlic, minced
1 teaspoon salt
1/2 teaspoon cumin, ground
1/2 teaspoon chili powder
1/4 teaspoon paprika
1/8 teaspoon pepper(s), chipotle chile, ground, (optional)
8 ounce(s) tomato(es), roughly chopped, plus diced tomato for garnish
1 cup(s) broth, vegetable
1/2 cup(s) cilantro, fresh, packed, coarsely chopped, plus more leaves for garnish
1 medium pepper(s), red, bell, diced
1 medium pepper(s), yellow, bell, diced
1 medium pepper(s), orange, bell, diced
8 ounce(s) mushrooms, cremini, diced
3/4 cup(s) onion(s), red, diced
4 1/2 teaspoon oil, olive, extra virgin
1/4 teaspoon salt
pepper, black ground, to taste
15 ounce(s) beans, pinto, rinsed
12 whole tortilla(s), corn, 6-inch
Directions:
Preheat oven to 425°F. To prepare sauce: Roast poblano (or bell) pepper directly over the flame of a gas burner, turning frequently with tongs, until evenly charred. (Alternatively, char under the broiler, turning once or twice, for 5 to 7 minutes total.) Transfer to a deep bowl, cover with plastic wrap, and set aside to steam for 10 minutes.
Meanwhile, heat 2 teaspoons oil in a medium saucepan over medium heat. Add yellow onion, garlic, 1 teaspoon salt, cumin, chili powder, paprika and ground chipotle (if using) and cook, stirring, until the vegetables have softened, about 5 minutes. Remove from the heat.
Peel the pepper, discard the stem and seeds, and chop. Add to the saucepan along with chopped tomatoes, broth and chopped cilantro. Return to medium heat and cook, uncovered, at a steady simmer, until the liquid has reduced slightly and the tomatoes have broken down, 10 to 15 minutes. Transfer to a blender and puree. (Use caution when pureeing hot liquids.)
To prepare filling: While the sauce simmers, place bell peppers, mushrooms and red onion in a single layer on a rimmed baking sheet. Drizzle with 4 1/2 teaspoons oil and sprinkle with 1/4 teaspoon salt and pepper. Roast, stirring halfway through, until the vegetables are tender and browned in spots, about 15 minutes total. Transfer to a large bowl and stir in beans. Reduce oven temperature to 375°.
To prepare enchiladas: Spread 1/2 cup of the sauce in a 9-by-13-inch baking dish. Place a skillet over medium heat. Coat both sides of a tortilla with cooking spray. Heat in skillet for 5 to 10 seconds per side, adjusting the heat if the pan gets too hot.
Spread 1/3 cup of the filling and 1 tablespoon of the sauce down the middle of the tortilla and roll it up to enclose the filling. Place seam-side down in the baking dish. Repeat with the remaining tortillas, filling and sauce. Spread the remaining sauce and filling over the enchiladas. Bake, uncovered, until hot, about 15 minutes. Serve garnished with diced fresh tomato and cilantro leaves, if desired.
Source: everydayhealth.com
6.

Turkey Sausage with Fennel Sauerkraut & Potatoes
This ethnic fall dish is sure to be a hearty and comforting dish to make on those cold, long days out. This particular recipe isn't the leanest recipe but it does contain a good amount of fiber and protein and it's a lower fat version of the original Alsatian choucroute garni recipe that uses bacon and sauerkraut. Don't worry, even if the bacon and sauerkraut has been nixed, it's still scrumdillyumptious!
Ingredients:
2 teaspoons extra-virgin olive oil, divided
6 ounces sweet Italian turkey sausage links
3/4 cup 1/2-inch diced red potatoes
2 cups packaged shredded cabbage, preferably "angel hair" style
1 small bulb fennel, quartered, cored and thinly sliced, plus 1 tablespoon chopped feathery tops
1 small onion, sliced
1/2 teaspoon garlic powder
1/2 teaspoon fennel seed
1/2 teaspoon freshly ground pepper
1/2 cup reduced-sodium chicken broth
2 tablespoons white-wine vinegar
1-1/2 teaspoons brown or whole-grain mustard
Directions:
Heat 1 teaspoon oil in a large skillet over medium-high heat. Add sausage and cook, turning often, until lightly browned, about 3 minutes. Transfer the sausage to a cutting board and slice into 1/2-inch pieces. (The sausage will not be thoroughly cooked, but it will continue cooking later.)
Add the remaining 1 teaspoon oil to the pan and heat over medium heat. Add potatoes and cook, stirring occasionally, for 3 minutes. Add cabbage, sliced fennel, onion, garlic powder, fennel seed and pepper. Cook, stirring often, until the cabbage has wilted slightly, about 3 minutes more.
Add broth, vinegar and mustard. Stir to incorporate the mustard; bring to a simmer. Place the sausage on top of the cabbage mixture; cover, reduce heat to medium-low and cook until the sausage is cooked through and the vegetables are tender, 7-10 minutes. Stir in chopped fennel fronds and serve. Enjoy!
Source: lifescript.com
7.

Japanese Pork Tonkatsu
If you're looking for ethnic fall dishes that offer an alternative to chicken and beef, you might like this pork tonkastu recipe. Tonkatsu means a breaded and fried pork cutlet, you might not think of a fried dish as healthy but the low-fat pork tenderloins used in this dish offers lots of protein and B vitamins. This dish goes great with rice and can be pretty addicting!
Ingredients:
1/4 cup(s) ketchup
1/4 cup(s) apple butter or applesauce
1 tablespoon(s) Worcestershire sauce
1 tablespoon(s) low-sodium soy sauce
1 teaspoon(s) Dijon mustard
1 teaspoon(s) unseasoned rice vinegar
1/4 cup(s) all-purpose flour
2 egg whites, beaten
1 cup(s) panko, Japanese breadcrumbs
2 (8-ounce) pork tenderloins, cut into 2-inch pieces and pounded 1/2-inch thick
Salt
1/4 cup(s) canola oil
Steamed rice, for serving
Steamed spinach, for serving
Directions:
In a saucepan, bring the ketchup, apple butter, Worcestershire, soy, mustard, and vinegar to a simmer; transfer to 4 bowls. Cool.
Put the flour, egg whites, and panko in 3 separate shallow bowls. Season the pork cutlets with salt, then dredge in the flour, tapping off the excess. Dip the cutlets in the egg white, followed by the panko, pressing the crumbs to help them adhere.
In a large skillet, heat 2 tablespoons of the oil. Add the cutlets and cook over moderate heat until golden brown, about 5 minutes. Brush the remaining 2 tablespoons of oil on the cutlets. Flip and cook until golden and cooked through, about 5 minutes longer. Transfer the tonkatsu to a work surface and cut into strips. Transfer to plates and serve with rice, spinach, and the dipping sauce.
Source: delish.com
8.

Easiest-Ever Coq Au Vin in a Slow Cooker
I don't know much about French food but I'm down for trying any healthy ethnic recipes that you can easily throw together in a slow cooker! This recipe combines some of my favorite foods and flavors so I am definitely going to give this a go and I love that it's a unique and tasty dish that doesn't take too much preparation! No one will ever be able to tell that it was so easy!
Ingredients:
2 pounds skinless chicken thighs
1 1/2 teaspoons herbes de Provence
3/4 teaspoon garlic salt
1/4 teaspoon black pepper
2 cups thawed frozen pearl onions
2 large chopped carrots when adding onions
1 cup reduced-sodium chicken broth
1 cup dry red wine
2 tbsp tomato paste
2 cups quartered white mushrooms
Serve over cooked egg noodles.
Directions:
Coat slow cooker with nonstick cooking spray.
Place chicken thighs in slow cooker and season with herbes de Provence, garlic salt and black pepper. Scatter onion over chicken. Stir together tomatoes, broth, pour over onions.
Cover and cook on HIGH for 5 1/2 hours or LOW for 7 1/2 hours.
Source: familycircle.com
This simple yet healthy fall recipe has all of the elements of the perfect recipe for me-quick, simple, healthy and low calorie! I'll be honest, I had never heard of ratatouille until the Disney movie and then I was intent on trying it out. I tried a different recipe before and loved it but I'm pumped to try out this low-cal version of a classic comfort food!
Ingredients:
1 medium onion, diced
2-4 cloves of garlic, minced
1 medium eggplant, diced large
2 medium zucchini, sliced or diced
1 28oz can stewed tomatoes, drained, juice reserved
.25 cup quinoa
2 tablespoons mixed Italian seasoning - or -
1 tablespoon each of basil and oregano
salt to taste
crushed red pepper to taste
Directions:
Chop and saute the garlic and onion briefly in a drop of olive oil. Dice the eggplant and zucchini and place in a LARGE microwaveable casserole dish with a cover with the quinoa, topping them with the sauteed onion and garlic. Separate the tomatoes from the juice in the can and add them to the casserole. (The veggies give up their juices while cooking and can make a mess.)
Save the juice to add back in later or to add to soup. Cover the dish and nuke on HIGH for 25-30 minutes. When done, stir in the herbs, salt and as much of the reserved tomato juice as you like, and re-cover for 5-10 minutes. Makes about six one-cup servings, depending on the size of the eggplant and squash. P.S. - add the leftovers to broth, hot sauce and pasta and have a killer soup!
Source: recipes.sparkpeople.com
I hope these healthy ethnic recipes inspired you to eat healthy and try your hand at making some really tasty dishes! I don't think there is anything better than creating a dish that you love that's also healthy. Don't be afraid to experiment with the ingredients, you might tweak a recipe that you thought was just okay into a real winner! What's your favorite comfort food?
Top Image Source: tlcasia.com
{{#comments_count}} Show Commnents ({{comments_count}}) {{/comments_count}}