Mocktail recipes are basically like your favorite cocktail recipes, they just take the alcohol out of the equation. There are lots of reasons to make mocktails – for friends who don't drink, for parties where drinking isn't really practical, or even for parties that include underage guests. After all, the best thing about most cocktails is the taste, sans alcohol, so why not enjoy the flavor without the drinking? Of course, conversely, if you really like a particular mocktail recipe, you can just add your favorite alcohol to it and turn it into a cocktail, just like that! However, after trying some of these recipes for mocktails, you may not want to!
1

Virgin Grapefruit Mojito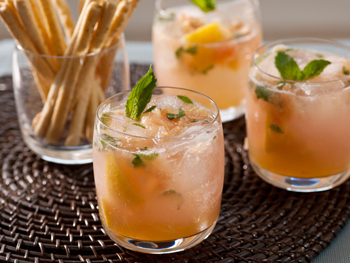 The Mojito is probably one of the most popular cocktails right now, so it stands to reason that there are lots of mocktail recipes incorporating it. This one makes use of grapefruit, honey, soda or flavored water, and of course, plenty of mint! It will cool you down on any hot summer night, so it's ideal for cocktail – or mocktail! – parties.
Ingredients:
1/4 ruby or pink grapefruit, cut into small chunks and seeds removed
2 tbs. agave syrup or honey
12 fresh mint leaves, roughly torn
1/2 cup pink grapefruit soda or flavored mineral water, plus more as needed
mint sprigs, for garnish
Directions:
Put the grapefruit pieces, agave and mint in a cocktail shaker. Using a muddler, smash the fruit until the juice is released. Add one cup small ice cubes to the shaker with the half cup soda; attach the lid and shake furiously until combined. Divide between two rocks glasses, add more ice if desired, and top off with additional soda. Stir, garnish with mint sprigs and serve.
2

Pomegranate-Citrus Juice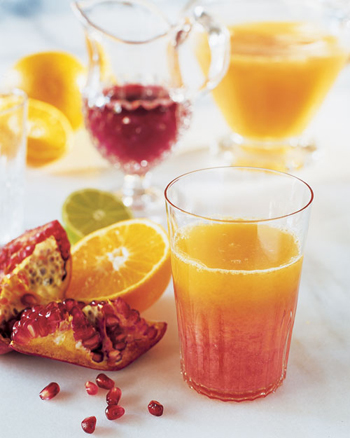 Pomegranate is such a popular fruit right now, you see it in lots of drinks, and you'll find it in many a recipe for a mocktail as well. This one cuts the sweetness with a variety of citrus fruits – oranges, grapefruit, tangelos, and tangerines. Wow! It's cool, it's refreshing, and the best part is that you can drink it in the morning without worrying about actually drinking in the morning. Plus, no hangover!
Ingredients:
2 small grapefruits
2 juice oranges
2 tangerines or mineola tangelos
1/2 lime
2 pomegranates
Directions:
Use a citrus press or a juicer to juice the grapefruits, oranges, tangerines, and lime. Juice the pomegranates (2/3 cup juice) into a separate bowl. Divide citrus juice among 3 glasses. Top with pomegranate juice, which will settle to the bottom, and serve.
Trendinig Stories
More Stories ...
3

Spicy Raspberry Lemon Cooler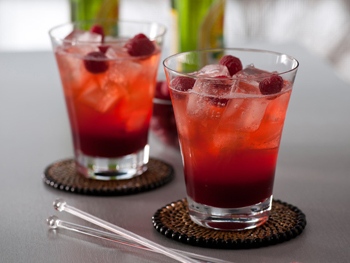 Are you a fan of spicier cocktails? Then this one will be perfect for you! There's no Tabasco spicing up this mocktail, it's all about ginger beer. In addition to some spice, you get a serious bite, which is sure to play the piano all over your taste buds. It's also wonderfully tart, what with the mix of lemons and raspberries. Yum!
Ingredients:
2 cups frozen raspberries
1/2 cup honey
1/2 cup freshly squeezed lemon juice
1/2 cup water
2 bottles ginger beer
fresh raspberries or lemon wedges for garnish, optional
Directions:
Put the raspberries, honey, lemon juice and water into a saucepan and bring to a boil over medium-high heat. Reduce the heat to a gentle simmer and cook until the fruit has completely broken down, about five minutes. Remove from heat and let stand until cool. Pour the mixture into a fine mesh strainer set over a pitcher. Press the fruit solids with a rubber spatula to remove as much liquid as possible. Discard the fruit pulp.
To serve, fill a Collins glass with ice and pour three tablespoons of the raspberry syrup into the glass. Fill with ginger beer, stir, garnish with raspberries or a lemon wedge and serve immediately.
---
4

Apple Ginger Sparklers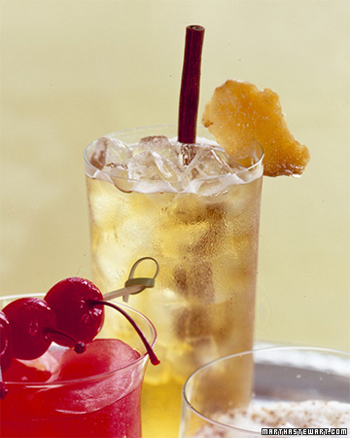 As a matter of fact, a lot of mocktail recipes make use of ginger in one form or another, because ginger gives the drink the kick your palette is expecting. This one uses ginger syrup rather than ginger beer, not to mention crystallized ginger. Place that alongside some cinnamon, and you can imagine just the kind of bite you'll be getting when you down this baby. It's a little like having ice cold apple cider!
Ingredients:
1/4 cup Ginger Syrup
4 1/2 cups sparkling apple cider
6 cinnamon sticks
6 pieces crystallized ginger
Directions:
Place 2 tablespoons ginger syrup in each of six glasses. Fill glasses with ice cubes, pour in cider, and stir to combine. Garnish with cinnamon sticks and fresh ginger, and serve.
---
5

Virgin Garden Mary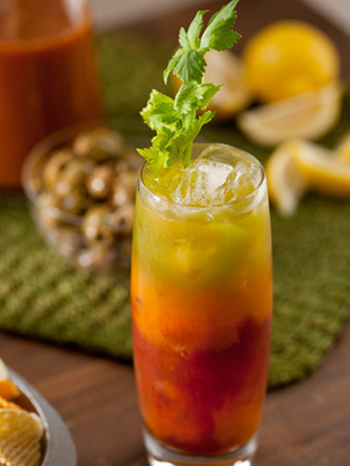 If you're a fan of Bloody Marys, you'll definitely want to play attention to this mocktail recipe! There's plenty of hot sauce and Tabasco, or hot sauce if you'd rather, along with carrot juice, tomato juice, cucumber water … you get the idea. Actually, without the alcohol, this drink is extraordinarily healthy!
Ingredients:
1 English cucumber, washed and cut into chunks (with peel)
pinch salt
2 cups vegetable juice
2 tbs. fresh lemon juice, about 1/2 a lemon
1 tbs. prepared horseradish
1 tbs. Worcestershire sauce
1 tsp. celery salt
2-3 dashes hot sauce, or to taste
freshly ground black pepper, to taste
1 cup carrot juice
celery sticks and cucumber slices for garnish, optional
Directions:
Put the cucumber chunks and salt in the bowl of a food processor and puree about two minutes, until very smooth. Transfer to a fine mesh strainer set over a pitcher and let stand until all the liquid has drained; discard solids and reserve the juice.
In a pitcher, stir the vegetable and lemon juices, horseradish, Worcestershire, celery salt, hot sauce and black pepper together until well combined.
To serve, put a celery stalk in a 10-ounce Collins glass and fill it with ice. Fill the bottom third with the tomato juice mixture; pour an equal amount of carrot juice slowly into the glass to create layers. Fill the top of the glass with cucumber juice. Garnish the glass with a cucumber slice and let your guests mix the layers and enjoy.
---
6

Pink Grapefruit Margaritas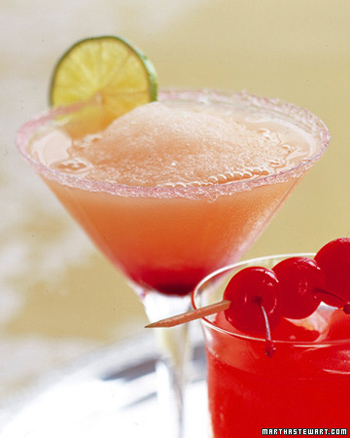 Margaritas are another cocktail favorite, so enjoy this marvelous mocktail take! You get a lot of tart bite, thanks to the pink grapefruit, and the color is absolutely gorgeous. Honestly, this recipe is so easy, you can use pretty much any fruit you want, or mix several of them. Just don't forget the sanding sugar! Remember, presentation is everything!
Ingredients:
2 tablespoons colored sanding sugar
1 lime
6 teaspoons pomegranate syrup or grenadine
1 1/2 cups pink grapefruit juice
Directions:
Place sanding sugar in a shallow dish or plate. Slice six thin rounds from the middle of lime; set aside. Rub lime wedge around rims of six glasses; dip each rim in sugar to coat. Pour 1 teaspoon pomegranate syrup into bottom of each glass.
Place grapefruit juice and 2 cups ice cubes in a blender. Process on high speed until ice is crushed. Pour frozen mixture into glasses, and stir to combine with syrup. Garnish with reserved lime rounds, and serve immediately.
---
7

Pom-Berry Bellini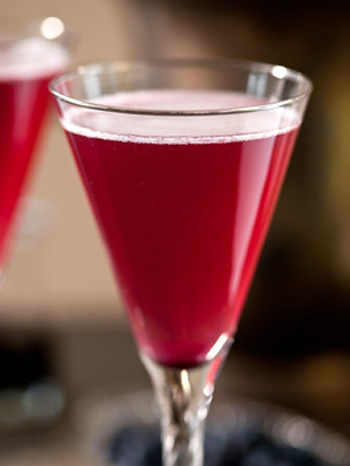 Bellinis are incredibly popular as well, and this is one of the tastiest bellini mocktail recipes I've ever come across. It, too, makes use of pomegranate, which actually makes it quite healthy. Thanks to the inclusion of blueberry jam, of all things, the color is absolutely stunning. The taste is something to reckon with as well, and don't forget – you're getting all the power of two huge super fruits!
Ingredients:
1/3 cup pomegranate juice
1/2 cup all-natural blueberry jam
1 bottle non-alcoholic champagne or sparkling cider, chilled
Fresh blueberries for garnish, optional
Directions:
Heat the pomegranate juice in a small saucepan until hot but not boiling. Add the jam and whisk until smooth. Remove from heat and transfer to a fine mesh strainer set over a pitcher. Using a rubber spatula or spoon, press the mixture to extract the liquid, leaving any solids or seeds behind; let syrup stand until completely cooled. Refrigerate until ready to use.
To serve, pour two to three teaspoons of the syrup into champagne flutes and top with champagne or sparkling cider. Float a few blueberries in each drink for garnish, if desired. Serve immediately.
---
8

Red Apple Sangria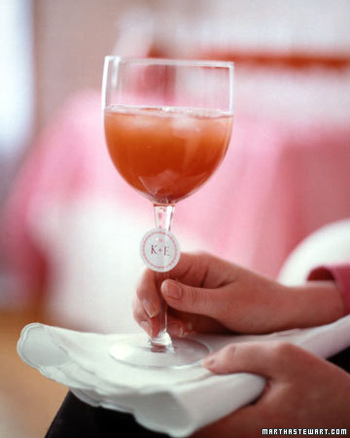 Can't forget the sangria! As you can see, most recipes for mocktails take on classic favorites, but this one actually makes the original better – at least, if you're not a huge fan of alcohol. The apple juice makes this drink so fresh and delicious, your taste buds will go into throes of ecstasy! There's also plenty of citrus, and grape juice for that all important flavor.
Ingredients:
2 quarts fresh apple juice (from 16 red apples, cored but not peeled) plus 1 apple, thinly sliced
1 cup fresh lemon juice (from 6 lemons) plus 1 lemon, thinly sliced
1 quart fresh orange juice (from 10 oranges) plus 1 orange, thinly sliced
1 bottle (24 1/2 ounces) sparkling white-grape juice chilled
Directions:
In a pitcher, combine the apple and lemon juices immediately after juicing to keep the apple juice pink. Stir in orange juice; cover, and chill. Just before serving, add grape juice and sliced fruit.
These mocktail recipes combine lots of fun, fruity flavors, and they definitely taste delicious. On those occasions when you can't serve alcohol, don't want to, or want to provide an alternative for the people who don't drink, mocktails make an excellent choice. You can also drink them during really hot days when the inclusion of alcohol would just make you feel hot and fuzzy. What's your favorite recipe for a mocktail?
Top Image Source: weheartit.com
---
Popular
Related
Recent