COMMENT
Can you believe it, Christmas and the winter holiday season is just around the corner. So what's better than peppermint recipes for winter when you are stuck inside on a cold, snowy night! Where else other than pinterest would you find inspiration for fun recipes like peppermint whoopie pies, peppermint bark, and peppermint martinis! Continue reading for more tasty ideas and 8 Sweet Peppermint Recipes to Try...
1. Peppermint Marshmallow Pops...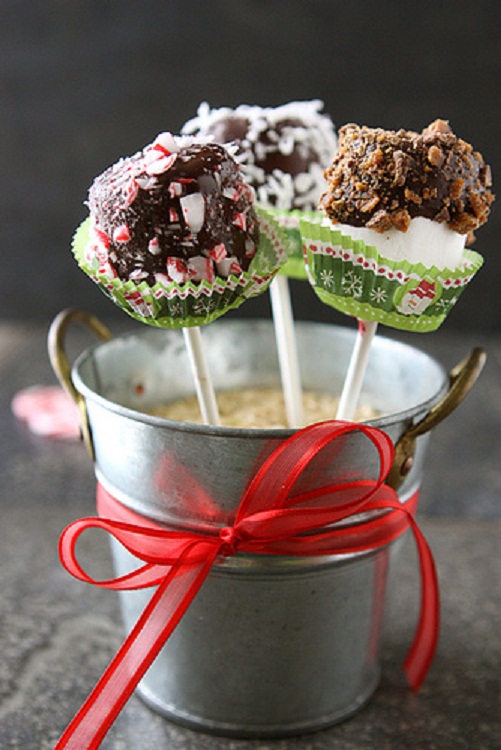 If you are looking for easy peppermint recipes to make with the kids this holiday season look no further! These adorable peppermint marshmallow pops can be made with a few different ingredients that you can enjoy throughout the holiday season or throughout the year. These would be a great treat for your kids to give to their teachers for a wonderful thank you gift before they go on holiday vacation.
• 1/2 cup crushed candy canes (about 20 mini candy canes)
• 1/2 cup crushed Heath or Skor bars (about 2 bars)
• 1/2 cup shredded coconut
• Insert lollipop sticks deep into the marshmallows, taking care not to poke them through the other side.
• Place chocolate and shortening in a medium-sized microwave-proof bowl. Microwave on 50% power, stirring every 30 seconds, until melted and smooth.
• Working with one marshmallow at a time, invert marshmallow and dip it into the chocolate until three-quarters of the marshmallow is coated. Tap the stick while holding the marshmallow over the bowl to get rid of excess chocolate.
• Immediately sprinkle the chocolate coating with candy cane pieces, Heath Bar pieces or shredded coconut.
• Poke the lollipop stick through a paper candy cup and push up to meet marshmallow. Poke the sticks into a piece of florist's styrofoam. Let the chocolate dry. Eat!
2. Candy Cane Cookies...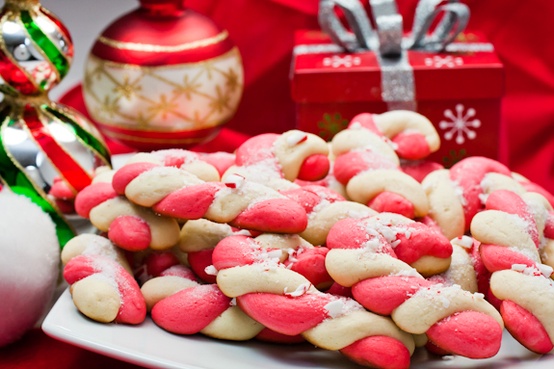 When I think of peppermint during the holiday season, candy canes are the first thing that pops into my head. So what's better than a candy cane, other than a candy cane cookie! During this time, sweets always make nice gifts for neighbors, the mail carrier, or even some relatives that you just aren't sure what to buy for them. These candy cane cookies will be a big hit with everyone and they will probably come back next Christmas asking for more!
• 1 cup butter or margarine, softened
• 1/2 cup milk (use whole milk)
• 1 teaspoon peppermint extract
• 3 1/2 cups unbleached, all-purpose flour
• 1 teaspoon baking powder
• 1/2 teaspoon red food color
• 4 tablespoons finely crushed peppermint candies
1. Beat Together 1 Cup Sugar, the Butter, Milk, Vanilla, Peppermint Extract and Egg in Large Bowl. Mixture Will Be Loose. Beat in Flour, Baking Powder and Salt until Dough Comes Together. It Will Be Sticky. Divide Dough in Half. Stir Food Color into One Half. Cover and Refrigerate at Least 4 Hours
2. Heat Oven to 375ºF. Stir Together Peppermint Candy and 2 Tablespoon Sugar; Set Aside
3. For Each Candy Cane, Shape 1 Rounded Teaspoon Dough from Each Half into 4-inch Rope by Rolling Back and Forth on a Lightly Floured Surface (if You Use Too Much Flour, the Dough Will Not Stick Together). Place 1 Red and White Rope Side by Side; Press Together Lightly and Twist. Place on Ungreased Cookie Sheet; Curve Top of Cookie down to Form Handle of Cane
4. Bake 9 to 12 Minutes or until Set and Very Light Brown. Immediately Sprinkle Candy Mixture over Cookies. Remove from Cookie Sheet to Wire Rack. Cool Completely, about 30 Minutes
3. Peppermint Layered Cheesecake...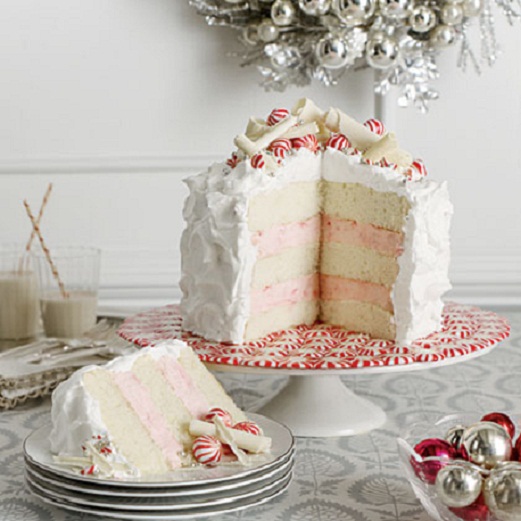 Does this not look amazing, I'll be dreaming of this peppermint recipe tonight! Some of the comments on this peppermint layered cheesecake said it was a little time consuming but certainly worth it, while other reviews said there were some things you could leave out to cut the time down. So take a look at the recipe and see what your take on this dreamy looking cake would be.
Peppermint Cheesecake Layers:
• 3 (8-oz.) packages cream cheese, softened
• 2 tablespoons unsalted butter, softened
• 1 tablespoon all-purpose flour
• 2 teaspoons vanilla extract
• 1/4 teaspoon peppermint extract
• 2/3 cup crushed hard peppermint candies
• 1 (18.25-oz.) package white cake mix
• 1 (8-oz.) container sour cream
White Chocolate Mousse Frosting:
• 1 cup white chocolate morsels
• 2 teaspoons vanilla extract
• Garnishes: White chocolate curls, peppermint candies
• Prepare Peppermint Cheesecake Layers: Preheat oven to 325°. Line bottom and sides of 2 (8-inch) round cake pans with aluminum foil, allowing 2 to 3 inches to extend over sides; lightly grease foil. Beat cream cheese, 1/2 cup sugar, and 2 Tbsp. butter at medium speed with an electric mixer 1 to 2 minutes or until creamy and smooth. Add 3 eggs, l at a time, beating until blended after each addition. Add flour and next 3 ingredients, beating until blended. Fold in candies. Pour batter into prepared pans. Place cake pans in a large pan; add water to pan to depth of 1 inch.
• Bake at 325° for 25 minutes or until set. Remove from oven to wire racks; cool completely in pans (about 1 hour). Cover cheesecakes (do not remove from pans), and freeze 4 to 6 hours or until frozen solid. Lift frozen cheesecakes from pans, using foil sides as handles. Gently remove foil from cheesecakes. Wrap in plastic wrap, and return to freezer until ready to assemble cake.
• Prepare Sour Cream Cake Layers: Preheat oven to 350°. Beat cake mix, next 3 ingredients, and 1/2 cup water at low speed with an electric mixer 30 seconds or just until moistened; beat at medium speed 2 minutes. Spoon batter into 3 greased and floured 8-inch round cake pans.
• Bake at 350° for 15 to 20 minutes or until a wooden pick inserted in center comes out clean. Cool in pans on wire racks 10 minutes; remove from pans to wire racks, and cool completely (about 1 hour).
• Prepare White Chocolate Mousse Frosting: Cook 2/3 cup sugar and 1/4 cup water in a small saucepan over medium-low heat, stirring often, 3 to 4 minutes or until sugar is dissolved. Add morsels; cook, stirring constantly, 2 to 3 minutes or until chocolate is melted and smooth. Remove from heat. Cool to room temperature (about 30 minutes), whisking occasionally.
• Beat cream and 2 tsp. vanilla at high speed with an electric mixer 1 to 2 minutes or until soft peaks form. Gradually fold white chocolate mixture into whipped cream mixture, folding until mixture reaches spreading consistency.
• Assemble Cake: Place 1 cake layer on a cake stand or plate. Top with 1 frozen cheesecake layer. Top with second cake layer and remaining cheesecake layer. Top with remaining cake layer. Spread top and sides of cake with frosting. Chill until ready to serve. Garnish, if desired.
4. Peppermint Bark...
I remember trying something like this last year and being really impressed. I would love to make this peppermint recipe with my girls, the idea of breaking the bark into bite sizes pieces just sounds like a good time in the kitchen! This recipe calls for white chocolate, but I'm sure you could find one for milk or even dark chocolate as well if you aren't a big white chocolate fan.
• 1 pound white chocolate, chopped (do not use chips)
• 2 cups puffed rice cereal
• 1 bag (7 1/2 ounces) hard peppermint candies, unwrapped
• Spray a 10-by-15-inch rimmed baking sheet with nonstick cooking spray; line with a piece of waxed paper. Crush candies (see below).
• Place white chocolate in a heatproof bowl set over (not in) a saucepan of simmering water. Heat, stirring occasionally, until smooth, 4 to 6 minutes. Remove from heat; stir in rice cereal.
• Transfer mixture to prepared pan; with a spatula, spread to edges of pan.
• Sprinkle with crushed candy; with a piece of waxed paper covering the entire surface, press in gently (paper prevents hands from sticking to candy and chocolate). Chill until firm, 20 to 30 minutes (no longer, as candy will begin to soften).
• Peel waxed paper off. Break bark into 2-inch pieces.
5. White Chocolate Peppermint Martini...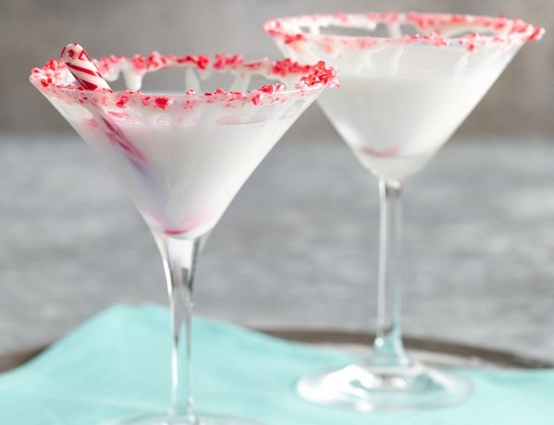 How could I not include a peppermint recipe that was for adults only! If you are nibbling on the white chocolate peppermint bark recipe, why not sip on a white chocolate peppermint martini to compliment your tasty treat. How festive are these martini glasses with the crushed peppermint candy rims, perfect for a Christmas or a New Year's Eve party.
• Marshmallow sundae topping
• 2 peppermint candies, crushed
• 1 tablespoon peppermint schnapps
• 1/4 cup white chocolate liqueur
1. Dip the Rim of a Martini Glass in Marshmallow Topping then Crushed Peppermint Candies. Drizzle Some Marshmallow Topping on inside of Glass; Place Glass in Freezer
2. In a Shaker with Ice, Add Vodka, Schnapps, and the Liqueur. Shake until Mixed; Pour into Prepared Glass. Sprinkle with Crushed Peppermint
6. Peppermint Whoopie Pie...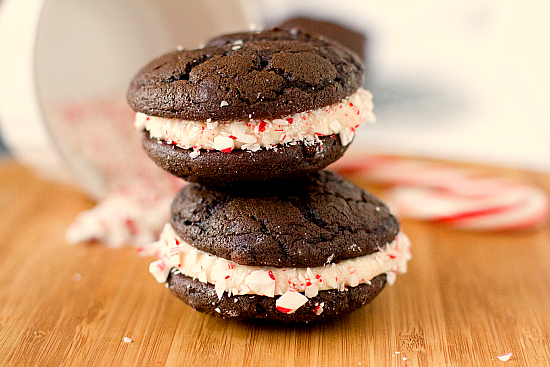 Whoopie pies and macarons have become very popular sandwich cookies that can be filled with everything from raspberry jam to well peppermint buttercream. Turn this childhood favorite into a peppermint recipe with ingredients like peppermint extract and crushed candy canes to make the perfect treat from your past into a new favorite.
• 1-2/3 cups all-purpose flour
• 2/3 cup unsweetened cocoa powder
• 1½ teaspoons baking soda
• 4 tablespoons unsalted butter, at room temperature
• 4 tablespoons vegetable shortening
• 1 teaspoon vanilla extract
For the Filling (Peppermint Buttercream):
• 4 tablespoons unsalted butter, at room temperature
• 3 tablespoons heavy cream
• 2 teaspoons vanilla extract
• Crushed candy canes, to garnish
1. Make the Cake: Preheat Oven to 375 Degrees F. Line Two Baking Sheets with Parchment Paper
2. Whisk Together the Flour, Cocoa Powder, Baking Soda, and Salt in a Medium Bowl. in the Bowl of a Stand Mixer Fitted with the Paddle Attachment, Beat Together the Butter, Shortening and Brown Sugar on Low Speed until Just Combined. Increase the Speed to Medium and Beat until Fluffy and Smooth, about 3 Minutes. Add the Egg and Vanilla and Beat for Another 2 Minutes
3. Add Half of the Flour Mixture and Half of the Milk to the Batter and Beat on Low until Just Incorporated. Scrape down the Sides of the Bowl. Add the Remaining Flour Mixture and ½ Cup Milk and Beat until Completely Combined
4. Drop about 1 Tablespoon of Batter onto One of the Prepared Baking Sheets and Repeat, Spacing Them at Least 3 Inches Apart. Bake One Sheet at a Time for about 10 Minutes Each, or until the Pies Spring Back when Pressed Gently. Remove from the Oven and Let the Cakes Cool on the Sheet for about 5 Minutes before Transferring Them to a Rack to Cool Completely
5. Make the Filling: in the Bowl of a Stand Mixer Fitted with the Paddle Attachment, Beat Together the Powdered Sugar and the Butter, Starting on Low and Increasing to Medium Speed, until the Mixture is Crumbly, about 1 Minute. Add the Heavy Cream, Vanilla, Peppermint Extract, and Salt and Beat on High until Smooth, about 3 Minutes
6. Assemble the Whoopie Pies: Spread Filling onto the Flat Side of One Cake Using a Knife or Spoon. (Alternatively, You Can Use a Pastry Bag with a round Tip to Pipe the Filling onto the Cakes, Which Will Give You a Smoother, Neater Presentation.) Top It with Another Cake, Flat-side down. Repeat Wit the Rest of the Cakes and Filling. Roll the Edges in Crushed Candy Canes
7. Whoopie Pies Are Best Eaten within a Day of Making Them. Store in a Wide, Shallow Container Arranged in a Single Layer for up to 3 Days. You Can Also Wrap Them Individually in Plastic Wrap
7. Peppermint Cupcakes...
We can't leave cupcakes off our list of peppermint recipes! Lately it seems like there is a cupcake recipe for any kind of ingredient; beer, bacon, beer and bacon together...yep I've tried one and they are amazing! So if whoopie pies are a little too complicated for your baking skills try out this yummy looking chocolate cupcake with peppermint cream cheese frosting for an easy, go to recipe.
Perfect Chocolate Cupcakes
(makes 24-27 standard sized cupcakes)
• 1 3/4 cups all purpose flour
• 3/4 cup unsweetened cocoa (best quality available)
• 1 1/2 teaspoons baking powder
• 1 1/2 teaspoons baking soda
• 2 teaspoons vanilla extract (best quality available)
*Line muffin tin with paper liners. Heat oven to 350*F.
*In a large mixing bowl, stir together sugar, flour, cocoa, baking powder, baking soda and salt.
*Add eggs, milk, oil and vanilla. Beat on medium speed for one minute.
*Stir in boiling water (the batter will be thin, don't worry, this is right).
*Fill liners 2/3 full with batter. (I usually put the batter into a large measuring cup with a pour spout, and then pour the batter into the liners.)
*Bake cupcakes for approximately 22-24 minutes.
*Cool completely on wire rack before frosting.
Peppermint Cream Cheese Frosting
• 1/2 cup (1 stick, 8 Tablespoons) butter, at room temperature
• 6 oz. cream cheese, at room temperature (about 3/4 of a regular block of cream cheese)
• 4 cups powdered confectioners sugar
• 1 teaspoon pure peppermint extract
• 1/2 teaspoons pure vanilla extract
• 1 to 3 Tablespoons heavy cream, heavy whipping cream (or milk- although I do like the richness that cream adds)
*Place butter in a large mixing bowl and blend slightly. Add cream cheese and blend until combined, about 30 seconds.
*Add powdered sugar (a little at a time) and blend on low speed until combined. Increase to medium speed and beat until it begins to get fluffy.
*Add vanilla and peppermint extracts
*Slowly add the heavy cream, a little bit at a time until desired consistency is met. (Don't add too much if you want the frosting to stay in place when piped on cupcakes.)
*Beat until fluffy, about 1 minute.
*Use at once or keep refrigerated. (This frosting will keep well in the refrigerator for several days, but you may need to re-beat it for the best texture.)
To achieve the red stripe in the frosting: Before filling a large piping bag with frosting, add some red gel food coloring to a toothpick, and draw two (vertical) lines with the red dye on the inside of the piping bag. Then carefully fill the piping bag with frosting. Squeeze some frosting into a bowl until you begin to see the red stripe, then frost the cupcakes.
8. Peppermint Hot Chocolate...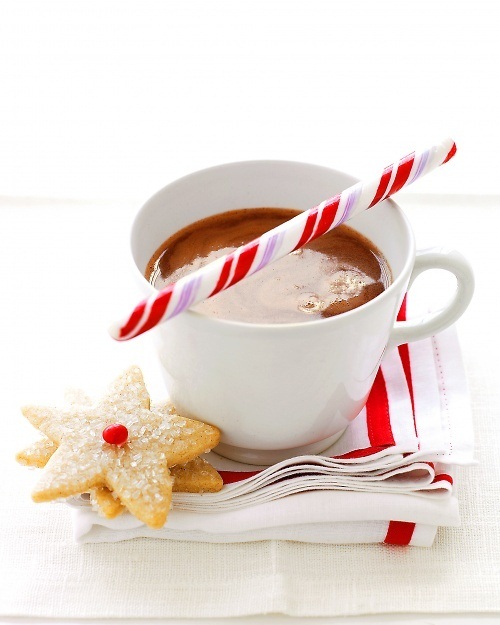 Since I have included a tasty peppermint drink for the adults to enjoy, I just had to include a peppermint recipe that the kids could drink too. What could be easier than boiling cocoa powder, chocolate chips, milk, and crushed peppermint sticks in a sauce pan together to create the perfect peppermint hot chocolate for the little ones! Don't forget to give them their own peppermint stick to stir their hot coco with.
• 1/3 cup unsweetened cocoa powder
• 1/2 cup semisweet chocolate chips (3 ounces)
• 7 peppermint sticks; 3 crushed (1/4 cup), 4 left whole
1. Place cocoa in a medium saucepan. Gradually whisk in milk until cocoa has dissolved. Add chocolate chips and crushed peppermint; simmer over medium heat, stirring occasionally, until chocolate and peppermint have melted, 8 to 10 minutes.
2. Bring to a Boil and Immediately Remove from Heat. Add Salt. Ladle into Mugs; Serve Each with a Peppermint Stick
Have fun with the entire family this holiday season with these wonderful peppermint recipes that you can share with friends, neighbors, and your kids' teachers for the perfect gift. I'm really excited to try some of these recipes, I finally got out of my baking comfort zone and made pumpkin cookies! So now that winter is almost here, I am looking forward to trying one of these peppermint recipes. Which one is first on your list to make?
7 Ways Men Tease the Women They like ...
"8 Sweet Peppermint Recipes to Try..." localizations: