Easy to make mini desserts are huge right now! Are you having a dinner party? Are you looking for something to bring to a party? Don't worry ladies, I've got the top 7 easy to make mini desserts that you're guests are going to flip for! Not a baker? No worries, these easy to make mini desserts are … well easy!
---
1

White Cupcake Minis with Lime Cream Frosting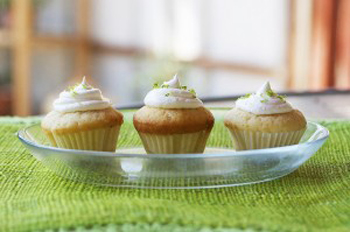 So it is springtime now and I've got to say, these citrus fruits are really in right now! Recently, the Better Half and I made crème brûlée that was lemon-infused and it was delicious! These easy to make mini dessert white cupcakes are topped with the most delicious lime cream frosting! You've got to try these ladies, they are so good!
Ingredients:
For Cupcake Batter
3 cups all-purpose flour
2 1/2 teaspoons baking powder
1/2 teaspoon salt
1 cup butter, softened
2 cups sugar
2 eggs
1 1/4 cups buttermilk
1 teaspoon vanilla extract
zest of one lime
For Lime Cream Frosting
1 cup whipping cream
1 1/2 cups powdered sugar
juice of 3 limes
lime zest for decorating
Preparation:
For Cupcakes
Preheat oven to 350F and line mini cupcake tins with liners.
In a mixing bowl, sift together flour, baking powder and salt.
In another mixing bowl cream the butter and then gradually add sugar, combine until light and fluffy.
Add eggs one at a time, beating well after each addition.
In a bowl combine buttermilk and vanilla.
Add the flour mixture and buttermilk mixture in batches to the butter mixture, starting and ending with the flour.
Mix until smooth and fold in lime zest.
Bake cupcakes for 10-15 minutes or until toothpick inserted comes out clean.
Let cool completely before frosting.
For Lime Cream Frosting
Beat whipping cream and powdered sugar together until soft peaks form.
Add lime juice and continue to beat until desired consistency is reached.
Frost cupcakes and sprinkle with lime zest.
2

Mini Cannoli Cream Cups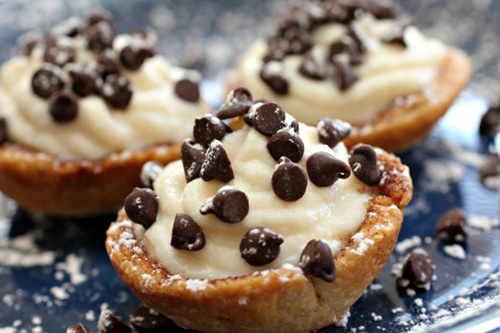 Now, I have loved cannolis since I was little, but I never realized just how easy they are to make. If you've been looking for a way to make bite-sized cannolis, this is it! This is one of the few easy to make mini desserts that ends up at every dinner party I throw!
Ingredients:
For Cups
Flour for dusting surface
1 Pillsbury® refrigerated pie crusts
3 tablespoons coarse natural sugar (Turbinado)
1 teaspoon cinnamon
For Filling (If you want the cream to be extra thick see my tips below)
1 (15oz) container of whole milk ricotta cheese
1/2 cup confectioners' sugar, plus extra for dusting finished cups
2 tablespoons white sugar
1 teaspoon vanilla extract
1/4 cup mini semi-sweet chocolate chips
Preparation:
In a large bowl with an electric mixer combine all ingredients for the filling except the chocolate chips and mix well until creamy. Place the filling in a 1-gallon plastic storage bag and chill while you make the cups. Filling may seem thin but will firm up slightly when it's refrigerated. For thicker cream see notes below.
Heat oven to 425°F. Unroll the piecrusts onto a lightly floured surface and sprinkle the top of each crust with the natural sugar and the cinnamon. Lightly roll over it with a rolling pin so that sugar and cinnamon are pressed into the dough.
---
3

Mini Key Lime Pies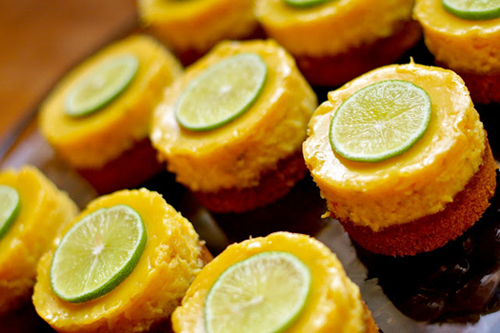 Remember when I said that citrus right now is huge? You can be really in-style at your next party with this easy to make mini dessert! It's mini key lime pies, how nifty and so adorable!
Ingredients:
3 cups honey graham cracker crumbs
3/4 cup (1 1/2 sicks) unsalted butter, melted and cooled
2 can (14 ounces) can sweetened condensed milk
6 large egg yolks
3 tablespoons grated key lime zest
1 cup freshly squeezed key lime juice
Preparation:
Preheat oven to 325 degrees F. Combine graham cracker crumbs and butter in a bowl (I used my fingers). Press into the bottoms of the mini cheesecake pan. Bake until lightly browned, about 15 minutes. Remove from oven, and transfer to a wire rack until completely cooled.
Whisk together condensed milk, egg yolks, key lime zest, and key lime juice in a bowl. Pour into the prepared, cooled crust.
Return mini pies to oven, and bake until the center is set but still quivers when the pan is nudged, about 15 minutes. Let cool completely on a wire rack. Serve.
---
4

Mini Donuts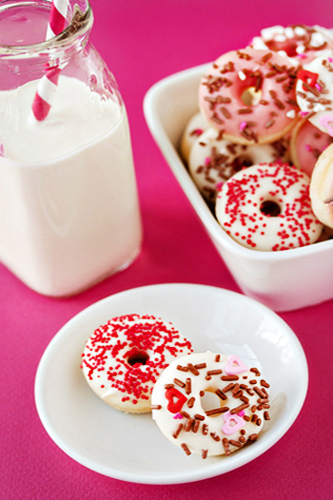 Are you trying to cut back on the calories but can't give up the donuts yet? Don't worry, I've got your back covered! These mini donuts are super delicious, so cute and way less than half the calories of one of the big donuts!
Ingredients:
½ cup granulated sugar
Zest of 1 lemon
1¼ cups cake flour, sifted
1¼ tsp. baking powder
¾ tsp. salt
½ cup buttermilk
1 egg, lightly beaten
1½ tbsp. butter, melted
½ teaspoon of vanilla
Preparation:
Heat oven to 425 degrees F.
In a small bowl combine sugar and lemon zest until the sugar is moistened and fragrant.
In a large mixing bowl, sift together cake flour, baking powder, and salt. Stir in sugar mixture.
Add buttermilk, egg, butter, and vanilla and stir until just combined.
Add batter to a piping bag and fill each donut cup approximately one-half full.
Bake 4–6 minutes or until the top of the donuts spring back when touched.
Let cool in pan for 4–5 minutes before removing. Finish the donuts with glaze, sprinkles, or cinnamon sugar.
---
5

Blueberry Coconut Custard Mini Tarts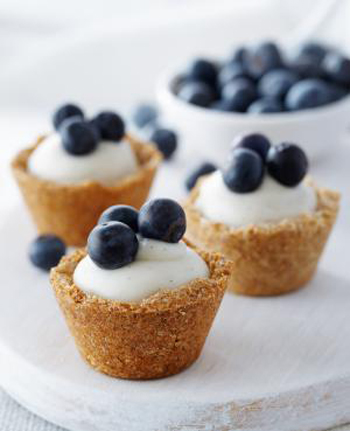 I think that tarts in mini-form are some of the cutest and tastiest things in the world. These blueberry and coconut custard tarts are perfect for springtime and they will make a great addition to any party! The best part? They are truly an easy to make mini dessert!
Ingredients:
1 recipe Key Lime Pie crust (see here)
1 tin (398 mL) coconut milk
1 vanilla bean or 1 Tbsp (15 mL) vanilla bean paste
1/2 cup (125 mL) sugar
1/4 cup (60 mL) cornstarch
1 cup (250 mL) fresh blueberries
Preparation:
Preheat the oven to 350°f (175°c) and lightly grease a 24-cup mini muffin tin.
Prepare the graham crust and press it into the bottom and sides of the muffin cups. Bake for 10 minutes, then cool to room temperature.
Pour the coconut milk into a saucepot and scrape in the seeds of the vanilla bean (or stir in the vanilla bean paste). In a bowl, stir the sugar and cornstarch together and whisk into the coconut milk, then turn the heat to medium and whisk until the mixture comes to a simmer and thickens, about 6 minutes. Scrape the custard into a bowl, cover the surface of the custard with plastic wrap, and allow to cool to room temperature.
Once cooled, spoon the coconut filling into the mini tart shells and top each with 3 blueberries. Chill for at least 2 hours in the tin before popping them out to serve.
The tarts will keep in the refrigerator for up to 3 days.
Cooks Note:
You can make the coconut filling up to a day ahead of time and chill it before filling your tart shells. But before using the filling, it's best to purée it in a food processor or use an immersion blender to make it smooth.
---
6

Mini Lemon Meringue Pies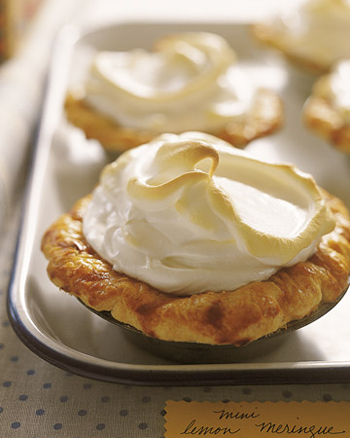 One of the best things I remember about my grandmother was that every single spring, she'd make her famous lemon meringue pie. This take on a classic is super cute and so festive! You will need a torch for this easy to make mini dessert, but trust me, it's still super easy!
Ingredients:
All-purpose flour, for dusting
2 cups sugar
6 tablespoons cornstarch
1/2 cup fresh lemon juice
5 large eggs, separated
1/4 teaspoon salt, plus a pinch
2 tablespoons grated lemon zest
4 tablespoons unsalted butter, cut into pieces
2 large egg whites
Preparation:
Heat oven to 400 degrees. On a lightly floured surface, roll out dough to an 1/8-inch thickness. Cut into six 7-inch-diameter circles; place in six 4 1/2-inch pie pans. Crimp edges, and refrigerate until firm, about 30 minutes. Remove from refrigerator, and prick bottoms of shells with a fork.
Line piecrusts with parchment paper, and fill shells with dried beans, rice, or pie weights. Transfer to oven; bake until edges begin to turn brown, about 10 minutes. Remove paper and weights. Continue baking until golden brown, about 7 minutes. Transfer to a wire rack to cool.
Sift together 1 1/4 cups sugar and cornstarch in a medium bowl. Stir in 2 cups water, and mix until smooth; set aside.
In a nonreactive saucepan, combine lemon juice, 5 egg yolks, and pinch of salt. Set over medium heat, and stir in cornstarch mixture; cook, stirring constantly, until mixture comes to a boil, about 14 minutes. Remove from heat; stir in the lemon zest and butter. Pour filling into a bowl, and set aside to cool, stirring occasionally.
Pour lemon filling into the six piecrusts. Cover; refrigerate until firm, about 1 hour.
Heat broiler. Bring a medium saucepan of water to a simmer. Combine 7 egg whites, the remaining 3/4 cup sugar, and 1/4 teaspoon salt in bowl of an electric mixer. Hold bowl over simmering water; whisk until the mixture is warm and the sugar has dissolved, about 3 minutes.
Return bowl to mixer fitted with the whisk attachment, and beat until stiff peaks form. Using an offset spatula, spread each pie with meringue so the filling is covered and the meringue touches the edges of the piecrusts. Transfer pies to broiler, and lightly brown the meringue, watching constantly, 30 to 45 seconds. Remove from broiler, and place on a wire rack to cool to room temperature. Serve.
---
7

Lime Glazed Mini Bundt Cakes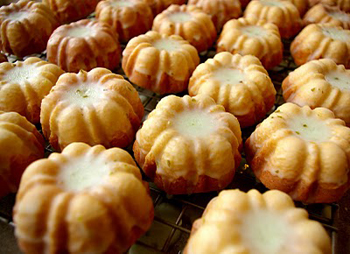 Finally, the last little dessert we are going to talk about is mini bundt cakes – with a lime glaze! These bundt cakes are ideal for any tea party or even just a BBQ that you might have! They are refreshing, delicious and are super easy to make! Trust me ladies, these will go quickly if you serve them!
Ingredients:
2 3/4 cup flour
1 1/2 teaspoon baking powder
3/4 teaspoon salt
1 cup unsalted butter, room temperature
1 1/2 cups sugar
4 eggs, lightly beaten, room temperature
1 teaspoon vanilla
1 cup whole milk, room temperature
Preparation:
Preheat oven to 335 F, placing a rack in the bottom third of the oven.
Butter and flour your bundt pan, shaking out all excess flour and set aside.
In a large bowl, combine the flour, baking powder, and salt. Whisk or sift together, set aside.
In a stand mixer fit with the paddle attachment beat the butter until smooth, about 30 seconds. Add the sugar and cream together with butter on medium high speed until light and fluffy, about 5 minutes. Gradually add the egg, beating thoroughly and scraping down the sides in between each addition. Add the vanilla and beat just until incorporated, about 1 minute.
Add one-third of the flour mixture and beat on low speed until incorporated, then add half of the milk, beating again until incorporated. Scrape down the sides in between each addition. Repeat with another third of the flour mixture, then the remainder of the milk, then the remainder of the flour.
Spoon batter into prepared bundt pan, filling each vessel about 3/4 the way full. If you fil them too high, they will form little domes on the bottom and will not sit level, don't worry though they will still be damn cute.
Bake for 28-32 minutes (for the mini bundts), until brown around the edges. Place pan on wire rack and allow to cool for 15 minutes. You can then turn the bundts out onto the wire rack and cool completely before glazing.
Lime Glaze
The amounts of liquid to sugar will vary based on how thick you would like your glaze. I made mine very thick, so that it would dry and form a shell almost, so that it would stand up to stacking. If you want yours thinner and lighter, just up the liquid content a little until it reaches your desired consistency.
1 cup powdered sugar
3 tablespoons lime juice (fresh squeezed if you are making 24 bundts, bottled if you are making 175 bundt. Trust me on this one)
1 teaspoon lime zest
Combine all ingredients in small bowl and wisk or stir together until smooth. Dip the top of each cake into the glaze and set on a wire rack to dry for 1-2 hours.
thesepeasarehollow.blogspot.com
Finding really easy to make mini desserts to serve at your next party is easy with this list! Mini desserts are all the rage right now from weddings to high-end parties. If you are looking to serve something mini, why not whip up one of these easy to make mini desserts? So ladies, what mini desserts are your favorite?
Top Image Source: weheartit.com
---
Popular
Related
Recent