Easy Sauce Recipes can be used to give many dishes a bit of extra pep. When you´re cooking everyday meals, you don´t want to be bothered with complicated sauces, as it means having another dish to keep an eye on. Still, there are lots of easy sauce recipes that don´t require much effort, but are much nicer than bought sauces. Try these delicious and easy sauce recipes for size …
---
1

Creamy Mustard Sauce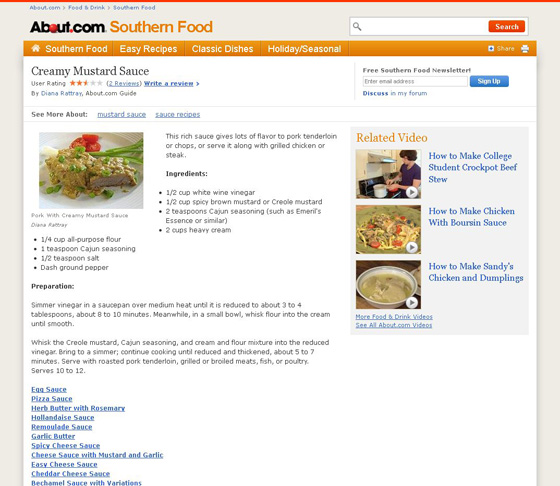 southernfood.about.com
This spicy Cajun-style is definitely an easy sauce recipe. It is ideal for serving with meat or chicken. Or what about using it to baste cubes of meat for a barbecue? It doesn´t take too much effort to make and is pretty simple.
2

Malay Coconut Fragrant Yellow Curry Sauce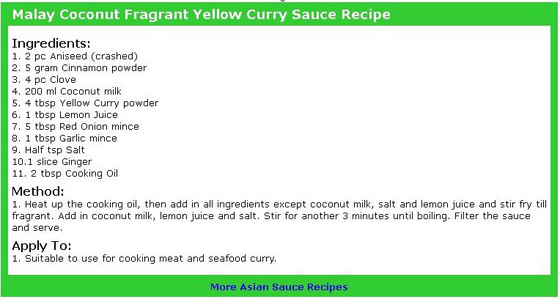 easysaucerecipes.com
Ethnic cuisine offers lots of fantastically flavoured but simple sauces. If you love curries, this coconut sauce will go beautifully with fish or meat. If you don´t eat meat, use tofu to make an excellent vegetarian curry; whatever you choose, serve with rice or noodles (rice will be good for soaking up the sauce).
---
3

Mushroom Gravy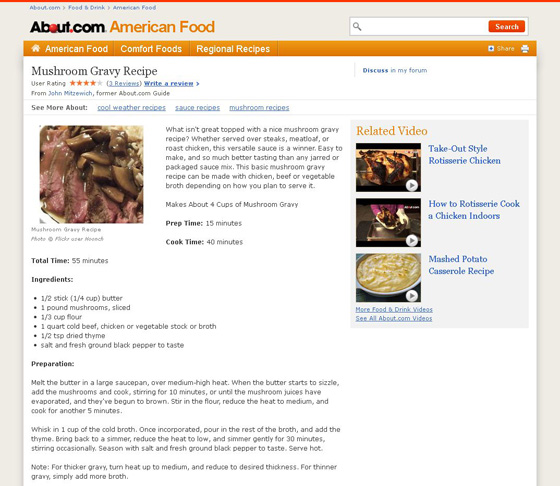 americanfood.about.com
This easy sauce recipe does require some time to simmer, but could be left to do so while you´re making other dishes. You can use whatever stock you like to make it. Mushroom gravy would go wonderfully with any ´dry´ dish such as meatloaf (or a vegetarian version); for extra flavour, check out the range of wild mushrooms at your local store.
---
4

Easy Tomato Sauce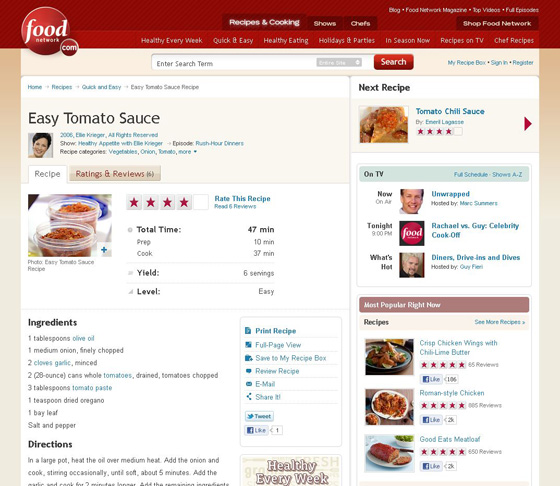 foodnetwork.com
Tomato sauce is something that everyone should have a go at making; it´s not only easy, but extremely versatile. Most of the ingredients can be kept in the cupboard, ready to make the sauce whenever you fancy it. You could also make extra quantities to freeze, although be aware that the flavour or garlic does intensify when it´s been frozen, so perhaps use a little less if you intend to freeze the sauce.
---
5

Hot Mexican Salsa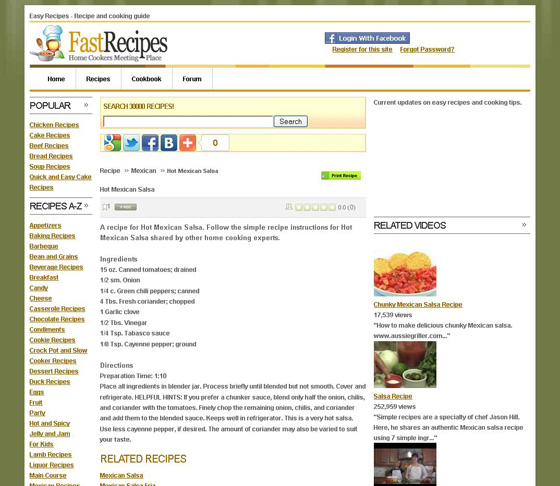 fastrecipes.com
Add a little Mexican spice to your life! This easy sauce recipe is super-fast as well as simple to make There´s just a little chopping involved, and then you just whiz all the ingredients up in a blender. Tone the cayenne down if you like things a little less heated – or add more if you´ve got an appetite for hot spices!
---
6

Peanut Sauce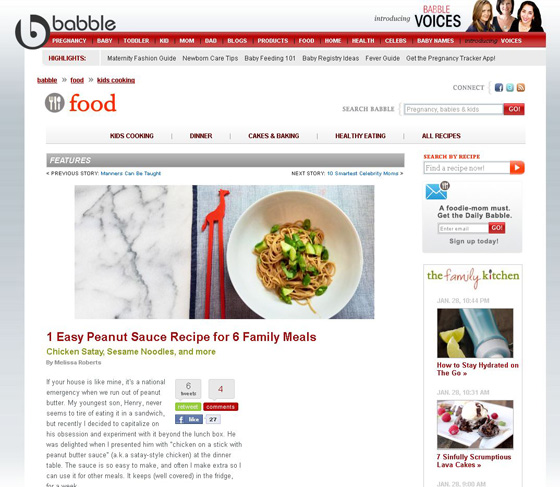 babble.com
Are you fond of satay? Then here´s a simple peanut sauce that can be used to make several dishes (some suggestions are given in the recipe itself, including chicken satay and sesame noodles). The ingredients for the sauce are easy to find, and you can keep most of them in the cupboard.
---
7

Red Wine Sauce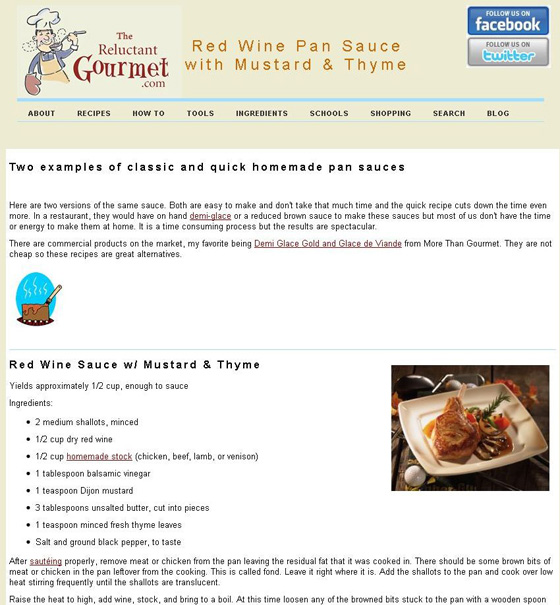 reluctantgourmet.com
Do you have some leftover wine? Use it to make a tasty sauce to serve with meat. There are two versions of this easy sauce recipe; I prefer the one with balsamic vinegar, as I find that adds a really special something to a dish. This red wine sauce would also be excellent served with sausages, or used as the basis for a spaghetti sauce.
---
8

Mexican Chocolate Sauce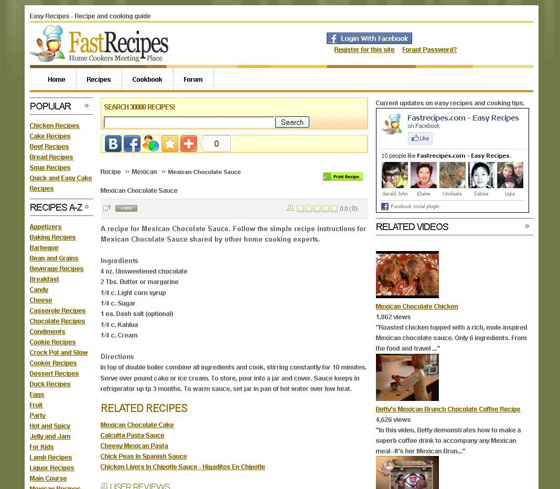 fastrecipes.com
Now for a couple of sweet sauces. Liqueurs work so well in desserts! This delicious and easy sauce recipe could be served with a number of desserts. You could also substitute other liqueurs for the Kahlua, depending on taste or what you have in your drinks cabinet.
---
9

Coulis De Framboise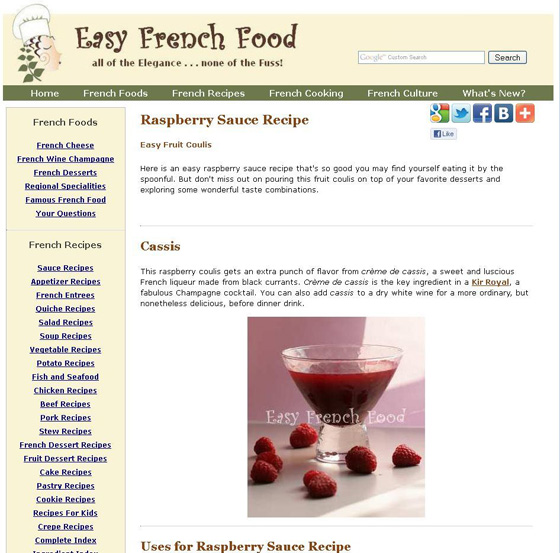 easy-french-food.com
Or raspberry sauce, if you don´t speak French. This is a simple but tasty and easy sauce recipe to add a contrast to desserts. It would work as well with ice cream as with a rich chocolate cake (fruit sauces go really well with rich desserts, especially anything with chocolate in it).
These easy sauce recipes won´t take too much time to make, but can really add that special touch to meals. It´s so much nicer to make your own than to use a bought sauce full of preservatives. So have a go at one of these easy sauce recipes to spice up your meals. What is your favourite sauce – is there one you add to everything?
Top Photo Credit: anjasfood4thought.com
---
Popular
Related
Recent