Food is not just fuel for our bodies, it is also fuel for our souls. I'm already looking forward to the beautiful, warm dishes of Fall and Winter that will keep me cozy when the breeze gets cold and the snow starts to land. I've just made my first banana breadand now I'm excited to try more delightful recipes. Yelena Strokin from Cooking Melangeryis here today to share with us her 5 Colorful Autumn Dishes that will warm your heart and keep you cozy this season...
Warm and Colorful Autumn Dishes for your Soul...
Yelena lives in Newtown, Pennsylvania and is a Photojournalist, mother, and wife. She loves to cookand is now into food photography.
"Fall is my favorite time of year. This is the time for something new, even though everything else is preparing for the long winter hibernation. Cool evenings after the hotness summer, the smell of burning fire, cashmere sweaters and scarves, and the brightness of red-colored leaves. There is nothing better than the bountifulness of fall - the funny shaped pumpkins, hundreds varieties of apples, late pears, mushrooms, nuts and many others. At the table, the baked apples present themselves along with squashes and pear desserts. There is always something baking in the oven, and the kitchen is full of heavenly aromas. The autumn table is awaiting its guests. Let's use this fall's bounty of this wonderful time of year and cook something bright and cozy. Here are a few recipes that will make any table sparkle in these magic fall months" :
---
1

Carrot Crème Brulee with Blood Orange Reduction...

This unique crème brulee can be served as an appetizer or a salad – resembling fall on a plate – tasty, bright and esthetic.
---
2

Curried Butternut Squash Soup and Homemade Apple Chips...

The squash soup is king of the autumn table. You'll be begging for seconds of this orange puree with irresistible crunchy apple chips.
---
3

Sautéed Eggplant with Garlic and Fried Egg on the Top and Strawberry Ice-water...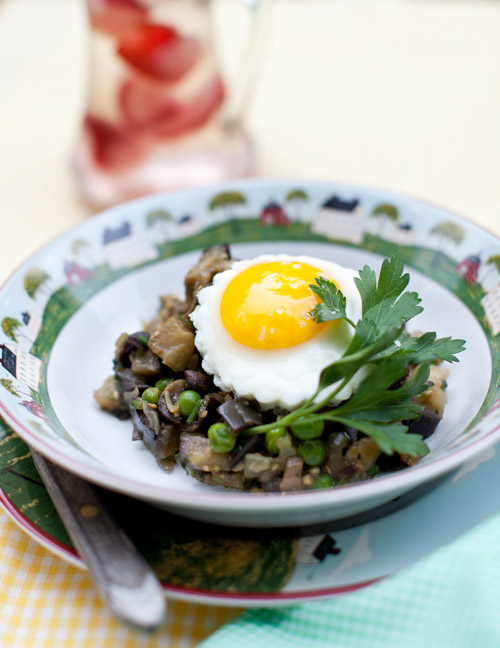 More photos and the recipeThis garlic pan-fried sauté of eggplants can be used as a side dish, but can also steal the show as the main star of the dinner.
---
4

Warm Apple Drink with Herbs & Spices...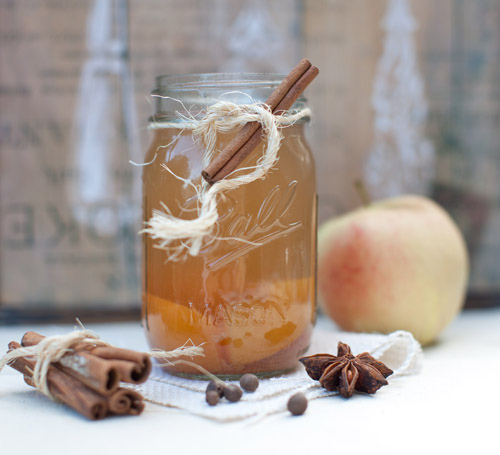 More photos and the recipeThe warm apple compote with various spices is the necessary finishing touch for a cozy dinner at home. It can be made from any combination of fruit on hand – pears, peaches and spices can be adjusted according to your personal taste.
---
5

Poached Pear and Almond Soufflé Cakes...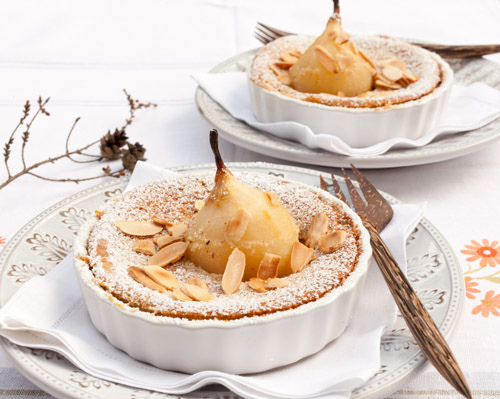 More photos and the recipePears poached in syrup are a great dessert by themselves, but appetizingly separated in their own individual ramekins topped with a nutty soufflé will make everyone think you slaved over these for hours.
We're so glad that Yelena stopped by to share with us and our readers these colorful autumn dishes and we hope you will stop by her blogto learn more about her recipes and say hello! Have a great weekend everyone.
---
Comments
Popular
Related
Recent