Salsa Recipes are a terrific way to jazz up any meal. They are incredibly versatile, easy to make and usually full of fresh healthy ingredients. What started as the world becoming familiar with the basic tomato salsa introduced to us by Mexican cuisine has blossomed into meaning any combination of chopped up ingredients served as a dip or accompaniment. Simply meaning sauce in Spanish, every woman armed with a few variations and different salsa recipes will never be stuck for a party dish or a way to turn a staid midweek meal into something special and appetizing. Here are 10 essential salsa recipes.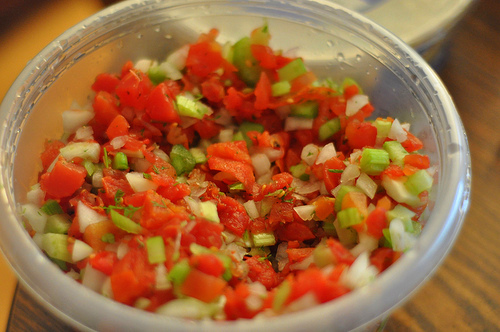 At the top of any list of essential salsa recipes has to the basic one. Made from juicy ripe tomatoes, spiked with chilies and flavoured with sweet onions and some fresh herbs – usually cilantro – a basic salsa can be as mild or as hot as you like. Simply adjust the chili quantity according to strength and taste. Every Mexican cookbook will contain a variation of the basic essential salsa, every celerity chef will have their own version and there are a mass of recipes all over the Internet. Check out this video for instruction.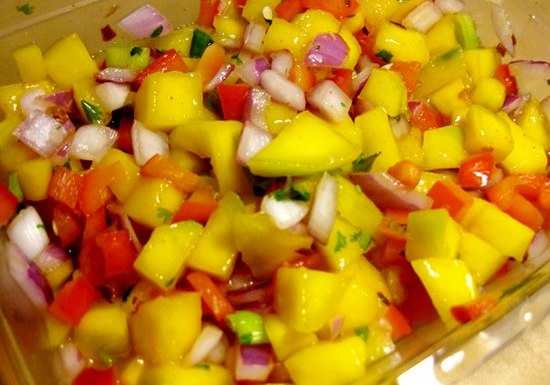 Beautifully sweet mango has a way of lifting oily fish, jazzing up burgers and making chicken seem more succulent. Keep it sweet and mild if you are serving it with spiced foods or fire up the chilies if serving with plain grilled, broiled or roast meats and fish.
Trendinig Stories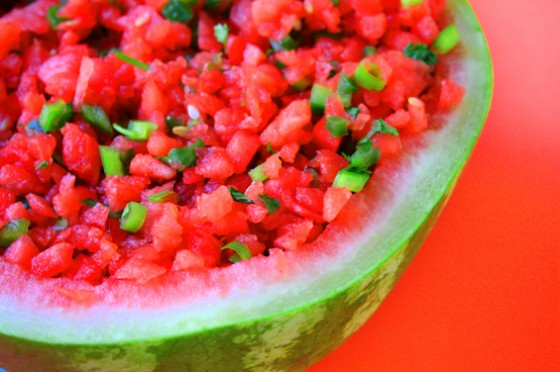 Essential salsa recipes are a must for any barbecue cook. Watermelon is a fabulous summer fruit perfect for alfresco dining. This recipe makes enough for 8 people and is a very healthy 23 calories per serving.
• 3 cup(s) finely diced seedless watermelon (from a 5-pound watermelon)
• 2 jalapeño peppers, seeded and minced
• 1/3 cup(s) chopped fresh cilantro
• 1/4 cup(s) minced red onion
• Juice of 2 limes
• Salt
Combine all the ingredients except the salt in a large bowl. Chill in the fridge until ready to serve. Add the salt, mix then, transfer to a serving dish. Add a few sprigs of fresh cilantro.
---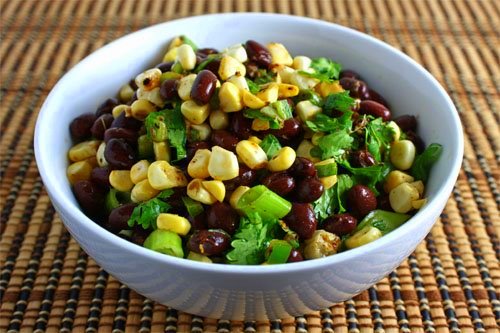 Salsas are so versatile that you can use them to boost areas of your diet that might be deficient. For example, citrus salsas can provide you with a vitamin C hit. This essential salsa recipe combines the lovely healthy anti-oxidants of the tomatoes with a whack of fibre from the black beans. Try it with scrambled eggs for brunch.
---
5

Quick Store Cupboard Salsa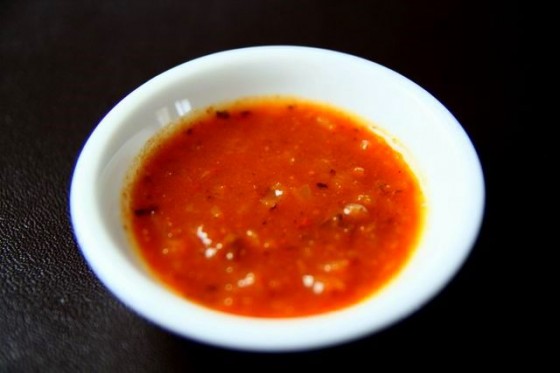 Some salsa recipes don't even call for that many ingredients. If you can't be bothered to stand there and do all that chopping of tomatoes, here's the essential salsa recipe for the lazier cook. Sorry but, you do have to chop an onion. Basically, you start with 2 cans of chopped tomatoes with chili already added. Either drain or keep the juice – the sloppy factor of the salsa is totally in your control. Then add your chopped onion. You've now got the basic recipe to play around until you have something to your taste. If you've got a bell pepper or a segment lying around, chop that up and put it in too. Then add the herbs you like – cilantro, basil, thyme or oregano – any will work. Don't forget to season. If it's not hot enough add some dried chilli flakes (don't use chilli powder).
---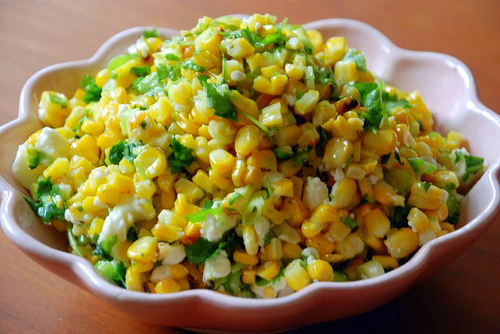 Thanks to great-salsa.com for this recipe.
• 4 roasting ears corn, freshest available
• Juice from 2 limes
• 4 tomatoes, seeded and diced
• 2 red onions, finely chopped
• 1 to 2 jalapeños, finely chopped
• 4 tablespoon chopped fresh cilantro
• 3 tablespoon olive oil
• Kosher salt
• Freshly ground black pepper
Roast the corn on the grill. Allow to cool until you can handle it safely then remove the peel and silks. With a large heavy knife, slice down the cobs to remove the corn kernels. Put the corn in a bowl along with the onion, tomatoes and cilantro. Add the jalapeños to taste. In another bowl whisk the olive oil and lime juice. Season then pour over the salsa. Mix and serve
---
7

Carrot Salsa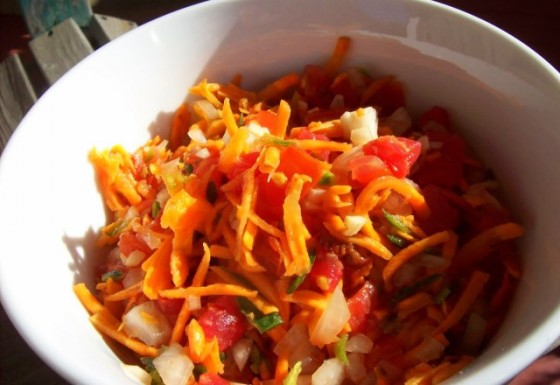 Carrot probably isn't something you'd normally think of for an essential salsa recipe but if you are looking for an alternative to coleslaw this is perfect. It's one of the most inventive salsa recipes I've seen.
• ½ cup baby carrots, diced
• 1 tablespoon red onion, diced fine
• 1 tablespoon red bell pepper, diced fine
• 1 tablespoon yellow bell pepper, diced fine
• 1 tablespoon cilantro, chopped
• 1 green chile pepper, diced fine
• 1 tablespoon fresh lemon juice
• ⅛ teaspoon salt
• ½ teaspoon fresh ground pepper
In a bowl combine all the ingredients then chill before serving. Simply scale up the ingredients for multiple servings.
---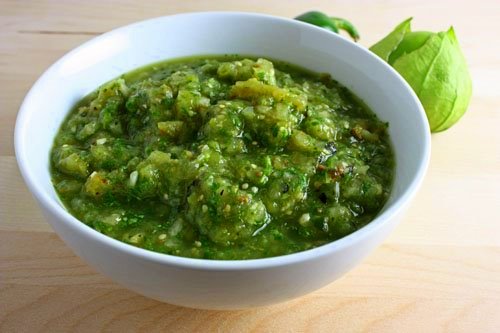 Quite simply meaning green sauce, check out Jamie Oliver's recipe for salsa verde. It's absolutely delicious. As fresh as dewy grass on a summer's morning, this is perfect for white fish or grilled meats.
---
Even just the name makes your taste buds zing with delight. Citrus salsa recipes are not only packed with vitamin c and beneficial anti-oxidants but they can bring a meal arrive. Make in winter to bring a burst of sunshine to your plate or use in summer to dress up simple grilled meat and fish. Try this essential salsa recipe from Italian chef Gino d'ACampo
---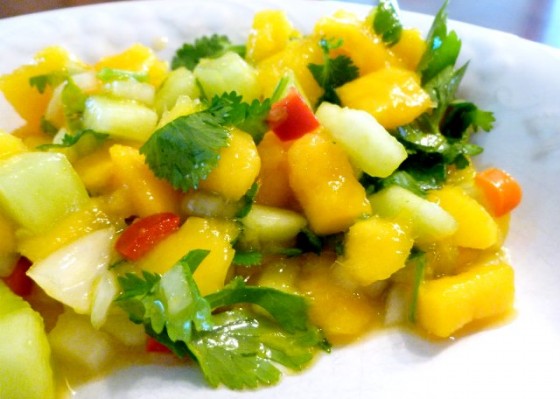 I'm finishing the essential salsa recipes with one of the most versatile. Packed with scrummy tropical fruits, this salsa can take you through breakfast through to supper. Try it on granola with yogurt to kick-start your day or as a midnight snack before bed or after coming home from a late night out. It's also great for accompanying any meat or fish, and anytime at a barbecue.
So, there you have 10 essential salsa recipes. You can see how easy they are to make. From now on you'll never be stuck for a quick an easy way to show off your culinary skills. Have fun experimenting with a variety of ingredients, and try new and different salsa recipes. Remember to chop things up small and just play with combinations until you get the balance right. Do you have any delicious, original salsa recipes to share?
In anyone has their own essential salsa recipe, please post it.
Top Photo Credit: data.whicdn.com
---
Popular
Related
Recent