Making food in the slow-cooker is so easy and so tasty. At first I wasn't sure about leaving food cooking for 8-10 hours, but everyone kept telling us how much they love their slow-cooker and that they leave it on while they go to work and when they come home dinner is ready! Well now that we've made our first successful slow-cooker recipe, we don't want to stop using it! Our favorite dish so far is pulled pork and now I'm excited to try one of these 7 Tasty Slow-Cooker Recipes as well...
---
1

Jimmy Fallon's Crock-Pot Chili: Famous Slow-Cooker Recipes...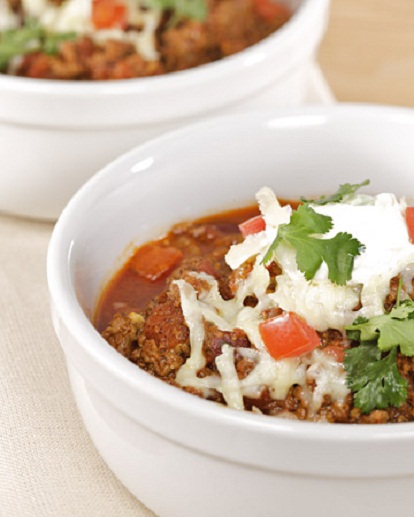 Photo Credit: MarthaStewart
We're always so interested in knowing what celebritiesare doing and now with this slow-cooker recipe from Martha Stewart, we can find out what famous people are eating! Martha has posted this crock-pot chili recipe thanks to Jimmy Fallon; who uses ground chuck beef, fresh cilantro, a bottle of amber beer, habanero chili pepper, chili powder, ground cumin, and cayenne pepper among other ingredients. Continue to the linkfor the complete recipe and to watch a video of Jimmy Fallon and Martha Stewart making the chili together!
---
2

Burgundy Beef Stew: Heart Warming Slower-Cooker Recipes...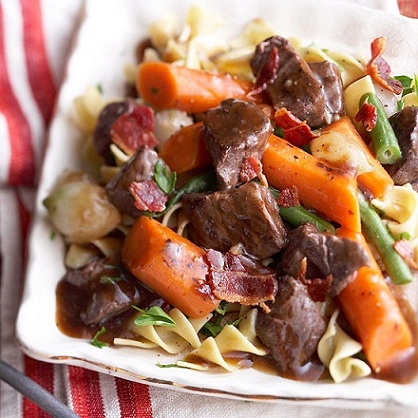 Photo Credit: BHG
It's starting to get cold outside and soon you'll want a meal that will warmyour heart and soul like this burgundy beef stew**slower-cooker recipe**. I love beef stew over egg noodles, they give it an all around great texture and taste. 2 pounds of boneless beef chuck pot roast, a 14-ounce can of reduced-sodium beef broth, six medium carrots, a nine ounce package of frozen cut green beans, and a few other ingredients will make 6 servings; great for a family of four with some leftovers! Check out Better Homes and Gardensfor all of the heart warming ingredients.
3

Chicken Noodle Soup: Creamy Slow-Cooker Recipes...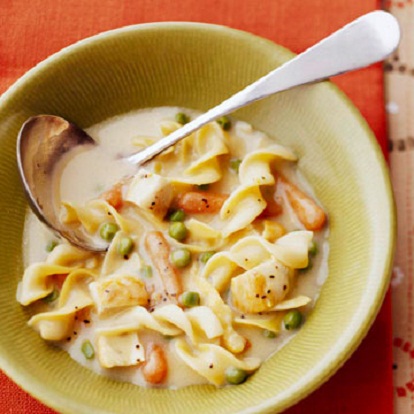 Photo Credit: BHG
My mom always made homemade chicken noodle soup, so when I saw this creamy slow-cooker recipe I knew I had to include it! There is nothing like a homemade bowl of soupto make you feel loved, happy, and cozy on those long winter nights. Part of this recipe does come from a can using cream of chicken and cream of mushroom soups, but you will add in your own cooked chicken, vegetables, and noodles! Go to BHG for the complete recipe.
---
4

Bean and Rice Stuffed Peppers: Colorful Slow-Cooker Recipes...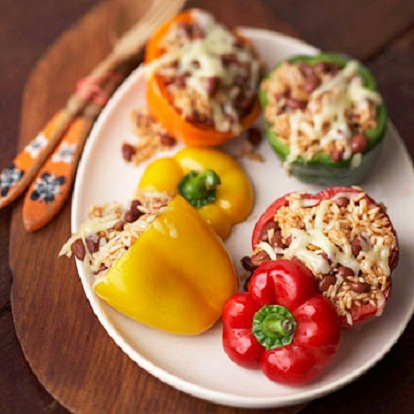 Photo Credit: BHG
Stuffed peppers are a favorite of mine, but I've never had them with beans and rice so I'm interested in trying out this colorful slow-cooker recipe. This is an easy recipethat only takes about 15 minutes prep time and includes just 5 ingredients. You'll need 4 medium sweet peppers, a 15-ounce can of chili beans with chili gravy, one cup of cooked rice, one cup of shredded Monterey Jack cheese, and one 15-ounce can of tomato sauce. For the how-to of this take on stuffed peppers continue to BHG.
** Continue Reading...**
---
5

Southern Pulled Pork: Sandwich Slow-Cooker Recipes...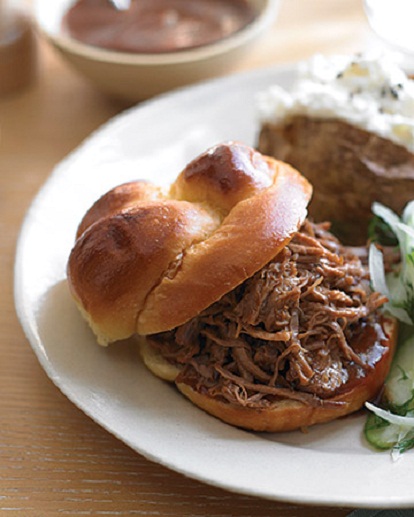 Photo Credit: MarthaStewart
We love making pulled pork in the slow-cooker and actually make our recipe a little bit different than this one from Martha Stewart, but I'm always looking for new ways to cook! In our slow-cooker recipe you use a 12-ounce bottle of root beer with your 3-4 pound tenderloin along with your favorite BBQ sauce. In Martha's version she calls for light brown sugar, cayenne pepper, cider vinegar, BBQ sauce, and a few other things. When your pulled pork is done, pile it on your favorite toasted roll for a filling sandwhich that is great for lunch or dinner. How do you make your pulled pork slow-cooker recipe?
---
6

Nacho Cheese Chicken Chowder: Comfort Food Slow-Cooker Recipe...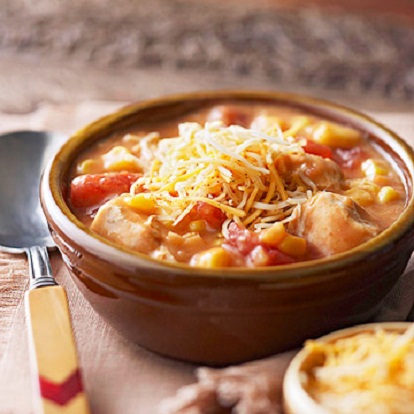 Photo Credit: BHG
Mix up your traditional chowder with this Mexicaninspired slow-cooker recipe. Throw together cooked boneless chicken breast, Mexican-styled stewed tomatoes, a can of nacho cheese soup, frozen kernel corn and shredded cheddar cheese for a flavor filled dish that will comfort your cheese needs! See the rest of the nacho cheese chicken chowder recipe on BHG.
---
7

Gingerbread Pudding Cake: Dessert Slow-Cooker Recipes...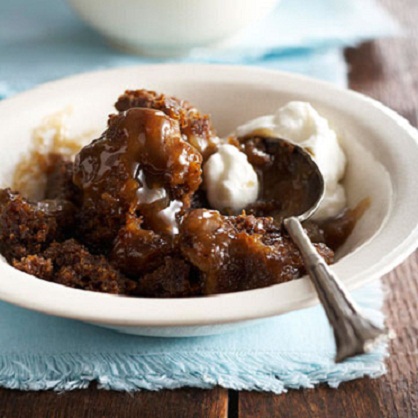 Photo Credit: BHG
You can't finish dinner without having dessertand what a tasty and gooey slow-cooker recipe this is! Warm bread pudding cake topped off with vanilla ice cream is one of my favorite desserts to order, so I guess now I should learn how to make it at home. What better treat for fall than a gingerbread pudding cake made with gingerbread mix, milk, raisins, brown sugar, water, and butter...sounds pretty easy! Try your hand at this tasty dessert from BHGand share your thoughts with us.
Home cooked meals are important for your family, especially if you have children. If you are a busy family with sports, choir, and other activities that keep you on the go these slow-cooker recipes are a great fix to your dinner time problems. Try these tasty slow-cooker recipes that you can cook while at work or school and share them together at the table before you all go your separate ways for the night. These are also great recipes older children and teens can help mom and dad with. Gather together this holiday season with warm, comforting, and tasty slow-cooker recipes that the whole family will love!
What are your favorite slow-cooker recipes?
---
Comments
Popular
Related
Recent