I love cucumbers **in the summertime, they add a wonderful crisp and crunch to sandwiches, salads, and many other summer recipes. You can mix them in with your rice, beans, and even blend them together for a cool summer soup. If you enjoy them as much as I do, get creative and try one of these **8 Refreshing Cucumber Recipes for Summer...
---
1

Cucumber-Lime Granita Recipe...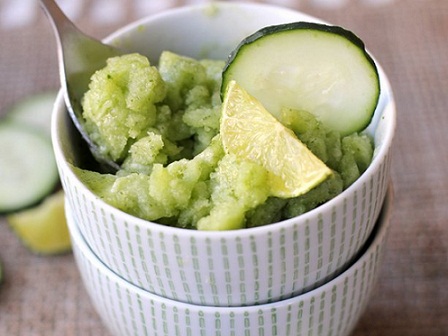 I have a confession to make, before finding this cucumber recipe I have never heard of granita before, shocking, I know! So it seems that granita is just frozen fruit juices or in this case, frozen veggie juices. You blend the fruit to get the juice, pour it in a glass baking pan, freeze it for a few hours, scrape it to get the icy, chunky texture, freeze it for a few more hours, and then presto chango, you have yourself a cucumber-lime granita!
Recipe Ingredients:
• 1/2 cup sugar
• 1/2 cup water
• 2 cucumbers
• 2 limes, freshly squeezed
Directions:
• Line shallow dish with parchment paper. In 2-quart saucepan, beat sugar and water with whisk until blended. Heat to boiling. Reduce heat to medium-low; simmer until mixture becomes a thin syrup. Cool.
• Remove most of peel from cucumbers. With spoon, scoop out seeds. Chop cucumber into cubes.
• In blender, place cucumbers, lime juice and syrup. Cover; blend until smooth. Pour into dish. Cover; freeze 2 to 3 hours or until completely frozen.
• Rake fork through mixture. Serve immediately, or return granita to freezer until ready to serve.
Source: Betty Crocker
2

Crunchy Cucumber Summer Rolls Recipe...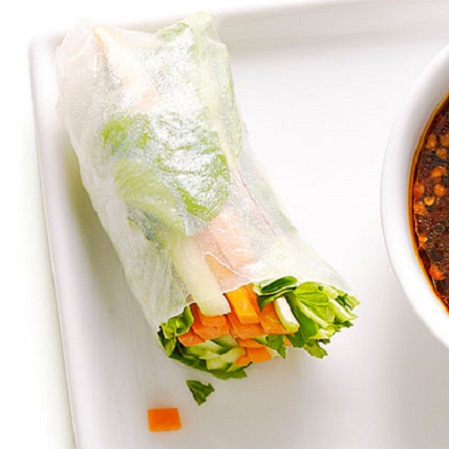 I love spring and summer rolls and this cucumber recipe is perfect for a light afternoon snack. If you are trying to stay healthy and eat more fruits and vegetables, why not roll your salad into rice paper wrapper and take it on the go. To make it more interesting try making your own almond hoisin or peanut sauce to go with it.
Recipe Ingredients:
• 6 rice paper wrappers (8 in. diameter)
• Leaves and tender stems of 1 small bunch watercress
• 2 Persian cucumbers or a 10-in. length of English cucumber, cut into julienne
• 2 medium carrots, cut into julienne
• Leaves and tender stems of 1/2 bunch fresh mint
Directions:
• Dip a rice paper wrapper in warm water for a few seconds--just until it's pliable. Lay on plate and let sit 10 to 15 seconds, so the water soaks in.
• Layer one-sixth of fillings on the bottom third of the wrapper, starting with watercress.
• Lift filled edge up and over fillings and keep rolling it away from you, tucking fillings in firmly but gently and folding in the sides. (Stretching the wrapper as you roll helps.) Repeat with remaining ingredients.
• Almond Hoisin Sauce
Source: My Recipes
---
3

Spicy Bean and Cucumber Salad Recipe...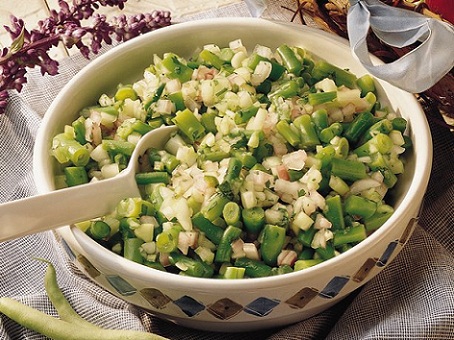 If you are looking for a unique summer dish to take to a picnic or barbeque, this cumcumber recipe with cilantro and green chilies will spice up the party and leave your friends and family wanting seconds. I would have never thought to put cucumbers together with green beans but it sounds like a refreshing dish that everyone will enjoy.
Recipe Ingredients:
• 2 cups chopped cooked green beans
• 1 cup finely chopped peeled cucumber
• 1/2 cup finely chopped red onion
• 2 tablespoons chopped fresh cilantro
• 2 tablespoons red wine vinegar or cider vinegar
• 2 teaspoons chopped fresh green chilies or 1/4 teaspoon crushed red pepper
• 1 teaspoon honey
• 1/2 teaspoon salt
Directions:
• Mix all ingredients.
• Cover and refrigerate about 2 hours or until chilled
Source: Betty Crocker
---
4

Cucumber Tuna Salad Pita Recipe...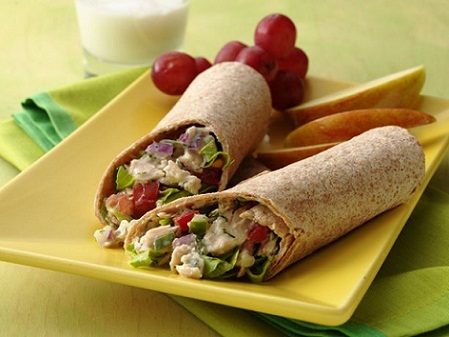 What I love most about this cucumber recipe is the yogurt that is included in the tuna salad mix, what a great idea! Reduced-fat mayonnaise is also one of the ingredients for the salad, but I wonder if you could do without because of the yogurt, I'll try it out and let you know. Either way, I'm sure this is a crisp and crunchy cucumber recipe you'll want to make time and time again.
Recipe Ingredients:
• 1 pouch (about 7 oz) albacore tuna
• 1/4 cup reduced-fat mayonnaise or salad dressing
• 1/4 cup plain fat-free yogurt
• 1/2 cup chopped cucumber
• 2 tablespoons chopped red onion
• 2 tablespoons chopped fresh or 1 teaspoon dried dill weed
• 1 teaspoon salt-free seasoning blend
• 2 whole wheat pita (pocket) breads (8 inch)
• 1 cup shredded lettuce
• 1 small tomato, chopped (1/2 cup)
Directions:
• In medium bowl, mix tuna, reduced-fat mayonnaise, yogurt, cucumber, onion, dill weed and seasoning blend.
• Cut pita breads in half crosswise to form pockets. Spoon 1/4 of mixture into each pita bread half. Add lettuce and tomato.
Source: Betty Crocker
---
5

Mango Cucumber Rice Salad Recipe...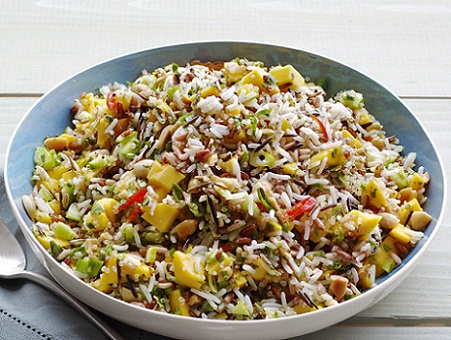 We love rice in our house and I bet this mango cucumber recipe would be a great way to mix things up and get the kids more excited about eating fruits and vegetables. The recipe calls for a few peanut ingredients so be sure to check with friends and family members of any allergies before serving this dish or just leave the ingredients out.
Recipe Ingredients:
• Kosher salt
• 1 1/2 cups rice blend
• 1/4 cup quinoa, rinsed
• Finely grated zest and juice of 1 lime
• 2 tablespoons peanut or vegetable oil
• 1 teaspoon sugar
• Freshly ground pepper
• 1 cup chopped mango
• 1 cucumber, peeled, seeded and diced
• 1 red jalapeno, seeded and thinly sliced
• 2 scallions, thinly sliced
• 1/2 cup chopped fresh cilantro
• 1/3 cup chopped salted roasted peanuts
Directions:
• Bring a large saucepan of salted water to a boil over high heat. Add the rice and cook, stirring until tender, 25 to 35 minutes (depending on the rice blend).
• Meanwhile, bring a separate saucepan of salted water to a boil over medium-high heat. Add the quinoa and cook until tender, about 12 minutes.
• Drain the grains and rinse under cold water until cool; shake off the excess water.
• Whisk the lime juice and zest, the peanut oil, sugar, 1 teaspoon salt, and pepper to taste in a large bowl. Add the rice mixture, mango, cucumber, jalapeno, scallions, cilantro and peanuts and stir to combine. Season with salt.
Source: Food Network
6

Cucumbers Stuffed with Crab Mango Salad Recipe...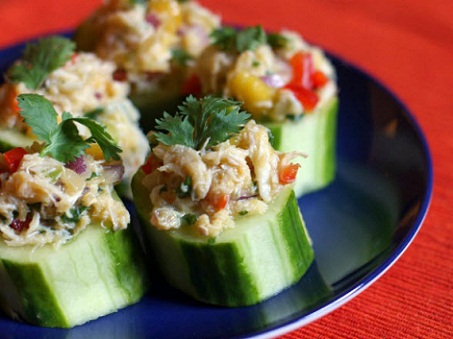 I love eating cucumber slices when I'm cutting them up for a salad, but I would have never thought to eat them as an appetizer or stuffed for that matter! I can't wait to try this cucumber recipe for an end of summer cookout to see what all our friends and family think about it. These just look like the perfect small bite to enjoy with a margarita as you are waiting for your meal to be grilled.
Recipe Ingredients:
• 1 lime, zest finely grated
• 2 tablespoons olive oil
• 2 tablespoons chopped cilantro leaves
• 1/2 mango, peeled and cut into 1/4-inch dice (about 1 cup)
• 1/3 cup diced (1/4-inch) red bell peppers
• 1/3 cup diced (1/4-inch) red onion
• 1/2 jalapeno, stemmed and cut into small dice (about 2 tablespoons)
• 1/2 pound jumbo lump crabmeat
• 2 English cucumbers
• cilantro, for garnishing
Directions:
• Squeeze the juice from the lime into a bowl. Add the olive oil and cilantro and whisk well. Add the mango, red pepper, onion, jalapeno, and lime zest and toss to coat. Gently stir in the crabmeat to keep it from breaking up. Set aside while preparing the cucumbers.
• Wash the cucumbers and peel evenly-spaced strips around the cucumber. Cut the cucumbers into 1-inch-thick rounds, discarding the ends. Using a small spoon, scoop the seeds and some of the flesh out of each round to form a small cup. (Don't scoop all the way through the cucumber round.)
• Fill the cucumber cups with crab salad and garnish with a sprig of cilantro. Serve right away.
Source: Cooking Channel TV Blog
---
7

Chilled Cucumber and Avocado Soup Recipe...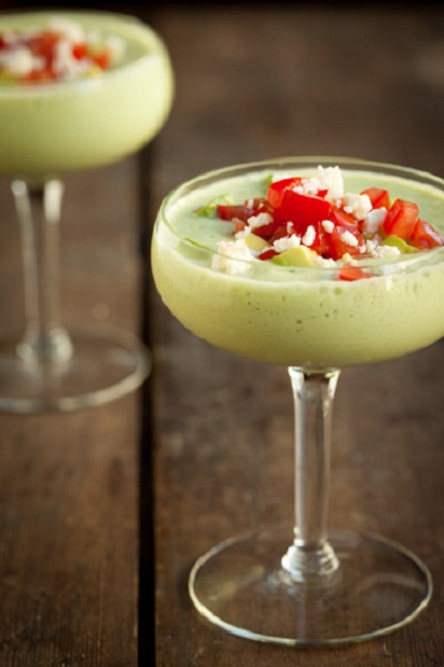 What a great summer party idea to serve up your favorite cucumber recipes in a fun margarita or wine glass! I've never tried chilled soup, I'm not really a fan of eating cold foods that are usually hot like red sauce or pizza, but I might just give this recipe a try. Have you enjoyed chilled soups this summer?
Recipe Ingredients:
• 2 large cucumbers, about 1 1/2 pounds, peeled, seeded, and chopped
• 1/2 medium avocado, chopped
• 2 or 3 green onions, chopped
• 1 serrano chile, chopped
• 1 1/2 cups plain whole milk kefir or yogurt (not Greek-style)
• 1/2 cup creme fraiche or sour cream
• juice of 1 lime
• 2 tablespoons chopped cilantro
• 1/4 teaspoon ground cumin
• 1/4 teaspoon dried oregano leaves, crushed
• salt, to taste
• Garnish: chopped tomatoes, chopped avocado, crumbled Cotija cheese (can substitute feta), chopped cilantro
Directions:
• Place all ingredients in a blender and process until smooth. Serve immediately or store in the refrigerator. To serve, garnish soup with chopped tomato, avocado, cilantro, and crumbled Cotija cheese.
• Recipe notes: This soup tastes just as great the next day, so it's definitely something that can be made ahead. I think this would be great served in shot glasses at a party. If you aren't serving the soup with chopped tomatoes, I would add a tiny amount of sugar, honey, or agave nectar to the blender mixture (maybe 1/2 – 1 teaspoon) to help balance the flavors.
Source: Pinch My Salt
---
8

Spicy Pickled Cucumber Recipe...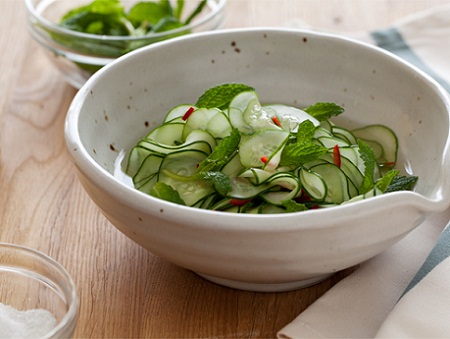 Who says you can't enjoy a refreshing dish of cucumbers and only cucumbers! But why not spice them up with this cucumber recipe that includes chiles, mint, and rice wine vinegar. These would also be great when used on a sandwich or as a burger garnish.
Recipe Ingredients:
• 4 kirby cucumbers or 2 regular cucumbers, sliced thin
• 2 fresh red Thai chiles, seeded and sliced thin
• 1 handful fresh mint
• 1/2 cup rice wine vinegar
• 1 teaspoon sugar
• 1/2 teaspoon kosher salt
Directions:
• Combine all the ingredients in a bowl and mix well. Let sit for at least 1 hour for the flavors to blend. Taste and adjust the seasoning. Will keep in the refrigerator for 3 days.
Source: Food Network
Cucumber recipes are refreshing for the summer but you can make them year round and mix them with squash in the fall, kale in the winter, and strawberries in the spring. Don't just mix together a salad for your cucumber recipes, make your lunch and dinner more exciting with one of these interesting yet simple cucumber recipes the whole family will enjoy. Get creative in the kitchen and come back to share your thoughts with us.
---
Comments
Popular
Related
Recent