3. Mini Key Lime Pies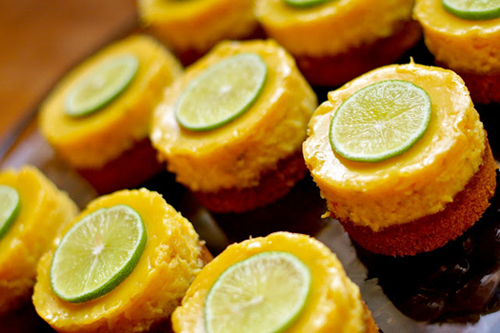 Remember when I said that citrus right now is huge? You can be really in-style at your next party with this easy to make mini dessert! It's mini key lime pies, how nifty and so adorable!
3 cups honey graham cracker crumbs
3/4 cup (1 1/2 sicks) unsalted butter, melted and cooled
2 can (14 ounces) can sweetened condensed milk
3 tablespoons grated key lime zest
1 cup freshly squeezed key lime juice
Preheat oven to 325 degrees F.
Combine graham cracker crumbs and butter in a bowl (I used my fingers). Press into the bottoms of the mini cheesecake pan. Bake until lightly browned, about 15 minutes. Remove from oven, and transfer to a wire rack until completely cooled.
Whisk together condensed milk, egg yolks, key lime zest, and key lime juice in a bowl. Pour into the prepared, cooled crust.
Return mini pies to oven, and bake until the center is set but still quivers when the pan is nudged, about 15 minutes. Let cool completely on a wire rack. Serve.
Mini Donuts