COMMENT
Spring is here and what better way to showcase the season than spring treats that will show off your baking skills? Below, I've got the top 10 spring treats that will absolutely impress all of your friends and will be a hit at any party at all! So ladies, let's take a look below at my top 10 spring treats to kick off this beautiful season!
1. Lemon Cake Pops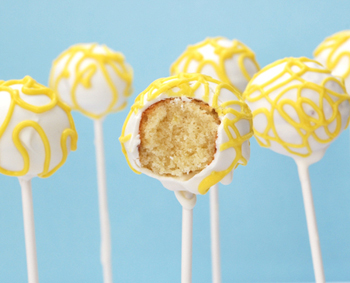 Lemon is one of those flavors that I love to showcase all spring and summer. It's so crisp, so refreshing and so delightful in cake form! If you really want to impress your friends with some spring treats, this lemon cake pop recipe below is so awesome – and impressive!
3/4 cup all-purpose flour
1/2 teaspoon baking powder
1/2 cup plus 2 tablespoons sugar
1/4 teaspoon lemon extract
Melt butter and set aside to cool briefly.
In a small bowl, whisk together flour, baking powder and salt; set aside.
In a large mixing bowl, using an electric mixer at medium high speed, beat together sugar, eggs, lemon zest, and lemon juice 1 minute. Add melted butter and beat 2 minutes at medium-high speed.
Beat in vanilla and lemon extract. Add flour mixture and beat just until blended.
Fill each well with about 1 tablespoon batter and cook 4 to 5 minutes or until toothpick inserted in center comes out clean. Cool and glaze or coat, as desired.
Makes approximately 2 1/2 dozen
1-2-3-4 Lemon Cake
Explore more ...