5. Blueberry Coconut Custard Mini Tarts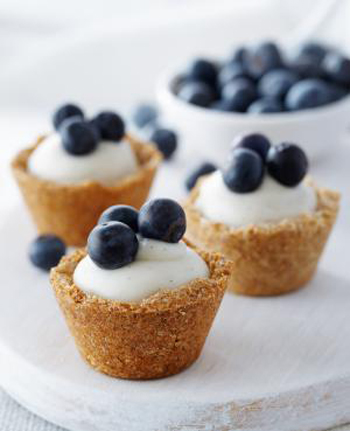 I think that tarts in mini-form are some of the cutest and tastiest things in the world. These blueberry and coconut custard tarts are perfect for springtime and they will make a great addition to any party! The best part? They are truly an easy to make mini dessert!
1 recipe Key Lime Pie crust (see here)
1 tin (398 mL) coconut milk
1 vanilla bean or 1 Tbsp (15 mL) vanilla bean paste
1/4 cup (60 mL) cornstarch
1 cup (250 mL) fresh blueberries
Preheat the oven to 350°f (175°c) and lightly grease a 24-cup mini muffin tin.
Prepare the graham crust and press it into the bottom and sides of the muffin cups. Bake for 10 minutes, then cool to room temperature.
Pour the coconut milk into a saucepot and scrape in the seeds of the vanilla bean (or stir in the vanilla bean paste). In a bowl, stir the sugar and cornstarch together and whisk into the coconut milk, then turn the heat to medium and whisk until the mixture comes to a simmer and thickens, about 6 minutes. Scrape the custard into a bowl, cover the surface of the custard with plastic wrap, and allow to cool to room temperature.
Once cooled, spoon the coconut filling into the mini tart shells and top each with 3 blueberries. Chill for at least 2 hours in the tin before popping them out to serve.
The tarts will keep in the refrigerator for up to 3 days.
You can make the coconut filling up to a day ahead of time and chill it before filling your tart shells. But before using the filling, it's best to purée it in a food processor or use an immersion blender to make it smooth.
Mini Lemon Meringue Pies