7 Yummy Desserts to Make with Candy ...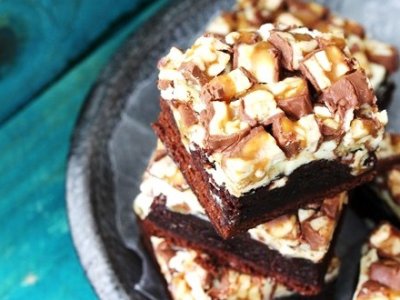 There are tons of yummy desserts to make with candy, and I've been on a mad search for the best of them. I have a bunch of new pastry and dessert tools to try out, so you can imagine what my kitchen's been looking like! Whether you're looking for desserts made with candy for a birthday party or if you're planning ahead for Halloween and its surplus of sweet treats, I bet you'll love these. Foodies who enjoy experimenting and baking mavens who enjoy colorful delicacies will all do back flips for some of these finds, so take a look at these amazing candy dessert recipes and get ready to hit the candy aisles!
Even before I start, let me preface this by saying that you can take a lot of these desserts to make with candy and use whatever candies or candy bars you prefer. You can honestly adapt them in many ways. For instance, this decadent recipe calls for an Oreo crust, in addition to Snickers bars, but you might prefer a traditional graham cracker and butter crust to cut the sweetness. As it stands, though, if you're looking for something gooey and utterly delicious, this is it!
Ingredients:
Crust:
24 chocolate sandwich cookies (such as Oreos)
4 tablespoons unsalted butter, melted
Filling:
3 8-oz. packages cream cheese, at room temperature
3/4 cup sugar
3 large eggs, at room temperature
2 teaspoons vanilla extract
1 teaspoon lemon juice
1 tablespoon cornstarch
3 regular-size Snickers bars, cut into 1/4-inch slices
1/4 cup caramel sauce, optional
1/4 cup chopped roasted and salted peanuts, optional
Directions:
Make crust: Preheat oven to 350ºF. Mist a 9-inch spring form pan with cooking spray. Wrap bottom and sides with 2 large foil pieces. Pulse cookies in a food processor until crushed. Pulse in butter. Press into an even layer in pan. Bake until firm, 8 to 10 minutes. Let cool.
Make filling: Place a roasting pan filled with 1 inch hot water on oven's center rack. Beat cream cheese until smooth. Add sugar; beat for 1 minute. Beat in eggs. Scrape down sides and bottom of bowl. Beat in vanilla, lemon juice and cornstarch.
Sprinkle Snickers over crust. Pour batter into pan; place in water bath. Bake until cake is set around edges but still jiggles in center, about 55 minutes.
Remove cake from roasting pan; remove foil. Place cake on a rack to cool. Cover and chill until firm, 4 hours or up to 1 day. When ready to serve, drizzle top with caramel sauce and top with chopped peanuts, if desired.
{{#comments_count}} Show Commnents ({{comments_count}}) {{/comments_count}}