2. Lemon-Basil Shrimp Salad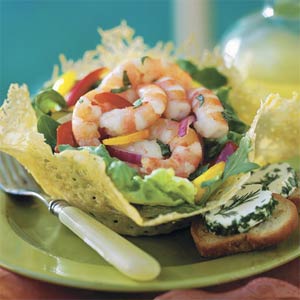 Even though shrimp isn't my favorite seafood, when it's in this summer salad? It's so tasty! A bunch of veggies, some shrimp and some lemon vinaigrette and you got yourself an awesome tasting salad that will fill you up, but it'll also keep you cool. Almost no prep at all required!
3 pounds unpeeled, cooked large shrimp
1 large red onion, sliced
1 red bell pepper, sliced
1 yellow bell pepper, sliced
1/2 cup chopped fresh basil
8 Parmesan Baskets (optional)
Peel shrimp, and devein, if desired. Place shrimp and next 4 ingredients in a large zip-top plastic freezer bag. Seal and chill 8 hours or up to 24 hours, turning bag occasionally. Stir in basil 1 hour before serving. Drain and discard marinade just before serving.
Divide greens evenly between Parmesan Baskets or serving bowls; arrange drained shrimp mixture evenly over lettuce. Serve with Fresh Lemon Vinaigrette.
Mustard Dill Tortellini Salad Skewers