2. Egg-Stuffed Breakfast Calzone...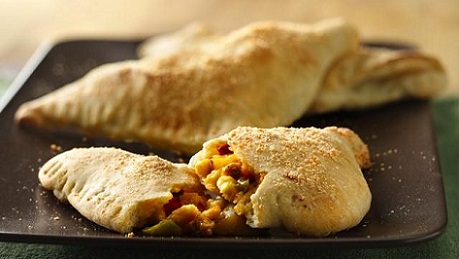 This egg sandwich recipe is quick and simple when you use Pillsbury Egg Scrambles, which are a variety of frozen breakfast dishes that include microwavable eggs, bacon or sausage, and veggies all in one entree. It may sound like a pretty heavy meal, but one bag of Pillsbury Egg Scrambles is only 280 calories and this recipe divides that one bag into six servings. What I love most about this recipe is the Pillsbury pizza crust that is used as a calzone to stuff your ingredients into. This recipe sounds like a breakfast that can be enjoyed at dinner time as well!
• A bag (7.7 or 8 oz) of Pillsbury® Egg Scrambles™ frozen egg scramble (any flavor)
• 1 can (13.8 oz) Pillsbury® refrigerated classic pizza crust
• 4 teaspoons of grated Parmesan cheese
• "Heat oven to 400°F. Spray large cookie sheet with cooking spray.
• Heat Egg Scrambles according to directions on bag.
• Meanwhile, on work surface, unroll dough; starting at center, press out dough into 15x10-inch rectangle. Cut rectangle into six (5-inch) squares.
• Divide hot Egg Scrambles evenly between dough squares. For each calzone, arrange filling diagonally over half of dough square to within 1/2 inch of edges. Carefully fold dough over filling, forming a triangle; press edges of dough with a fork to seal securely. Place on cookie sheet; sprinkle tops with cheese.
• Bake 11 to 13 minutes or until golden brown. Cool 5 minutes on pan before serving."
Ham and Egg Salad Sandwich...