2. Brochettes of Melon, Prosciutto, and Fresh Mozzarella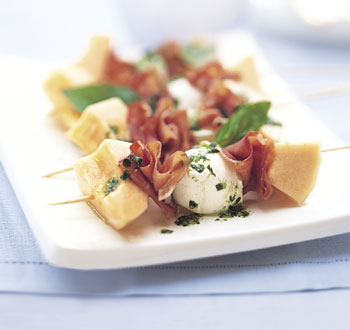 Here's another summer appetizer that makes my mouth water just from looking at it. Really, you can't get anything more refreshing than this, it's a perfect summer starter. The sweetness of the melon, the salt of the prosciutto, and the smoothness of the fresh mozzarella mix so divinely, you might be tempted to serve these as your main meal!
1/3 cup (packed) fresh basil leaves plus sprigs for garnish
1 medium shallot, quartered
1 small (about 2-pound) cantaloupe, halved crosswise, seeded, cut into 6 wedges, peeled
6 small fresh water-packed mozzarella balls or one 8-ounce ball,* drained
6 thin slices prosciutto, cut in half lengthwise, gathered into ruffle
Using on/off turns, puree olive oil, 1/3 cup basil, and shallot in processor until basil and shallot are finely chopped.
Cut each cantaloupe wedge crosswise in half. If using large mozzarella ball, trim and cut into 6 cubes.
Alternate 1 melon piece, 1 piece ruffled prosciutto, 1 mozzarella ball or cube, 1 more prosciutto piece, and 1 more melon piece on each skewer. DO AHEAD Can be prepared 2 hours ahead; cover and refrigerate. Bring to room temperature 15 minutes before serving.
Arrange skewers on platter. Drizzle with basil oil and sprinkle with cracked black pepper. Garnish with basil sprigs.
Fresh Corn Blinis with Smoked Salmon and Chive Cream