Vegetable recipes can be much more exciting than you might imagine. It´s not just about boring boiled or steamed veggies – no, vegetable dishes can be much more exciting than that! Whether it´s an accompaniment or a main dish, a vegetable recipe can be tasty and filling. So I´ve picked out some super vegetable recipes to change the minds of the doubters …
Table of contents:
1

Sweet Potato Curry with Paneer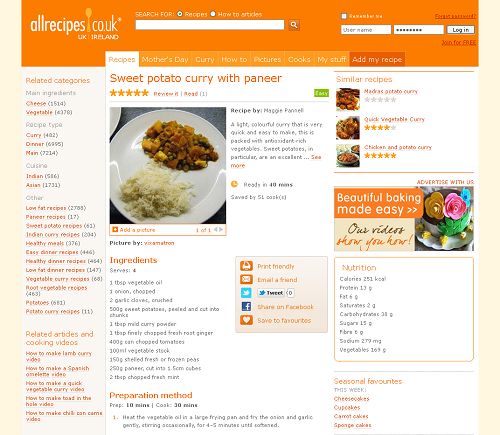 allrecipes.co.uk
Sweet potato is probably my favourite vegetable. Since I also love Indian food, I´m really excited by this curry recipe. I´d leave out the peas, as I don´t like them, but you can suit yourself! I´d eat this dish with rice or naan bread. Sweet potatoes are quite substantial, so this vegetable recipe will help fill you up.
2

Asparagus Risotto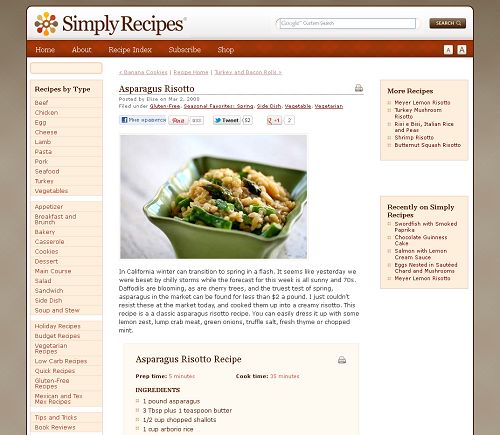 simplyrecipes.com
Risottos are fabulous vegetable recipes, as many different ones can be used. Asparagus should come into season soon, so pick some up when it appears in the markets and make this risotto recipe. Some juicy mushrooms would make a lovely addition to the asparagus – or add whatever vegetables take your fancy.
3

Artichoke Hearts in Cider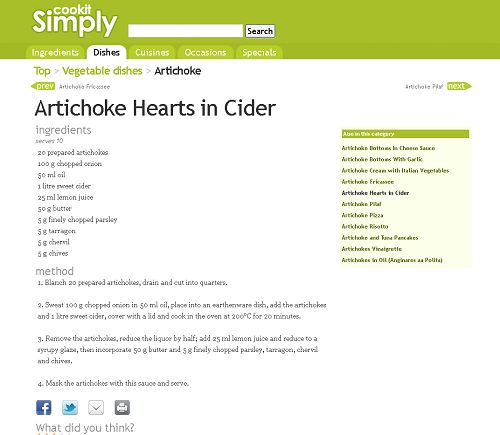 cookitsimply.com
I don´t know about you, but artichokes have always seemed a slightly mysterious vegetable to me. I´ve noticed that the canned variety are easily available, though, so I might be adventurous and try this recipe out. The sauce sounds lovely – fresh herbs cooked in cider. This would make a good accompaniment to something like steak.
4

Layered Spinach Pancakes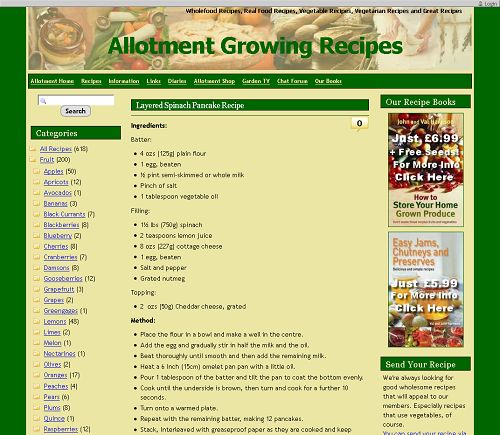 allotment.org.uk
Because vegetables are low in calories, vegetable recipes that are to be served as a main dish need some substantial component to them. This pancake dish will certainly provide that, as pancakes are very filling. The spinach will also look very colourful, and it goes wonderfully with the cheese included in the recipe.
5

Roasted Vegetables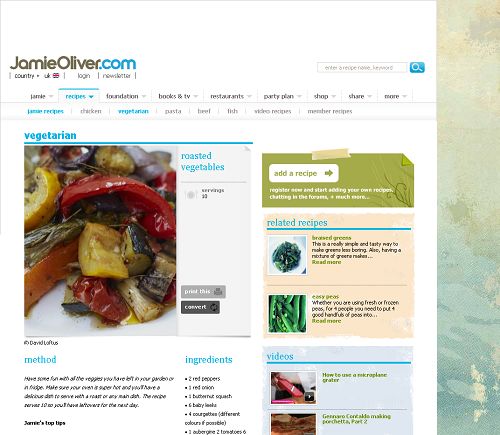 jamieoliver.com
Roasted vegetables make a magnificent side dish for meat or vegetarian dishes alike. This method of cooking really does bring out the flavours of the vegetables. The quantities given are rather substantial, so just cut them down if you´re only cooking for a few people – this kind of dish does not require precise measurements.
6

Spicy Veggie Couscous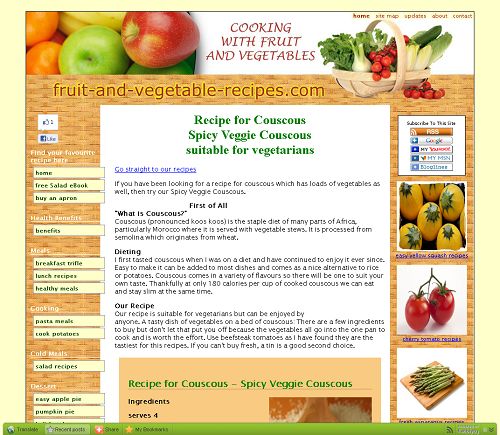 fruit-and-vegetable-recipes.com
Couscous is one of my favourite vegetable recipes, as there are lots of vegetables that go well with it, which makes it very versatile. You can vary this recipe according to what you have in the house. I particularly love it with mushrooms included. The couscous soaks up the juices and doesn´t take long to cook, so this is great for a quick meal.
7

Vegetable Tart, Tomato & Red Pepper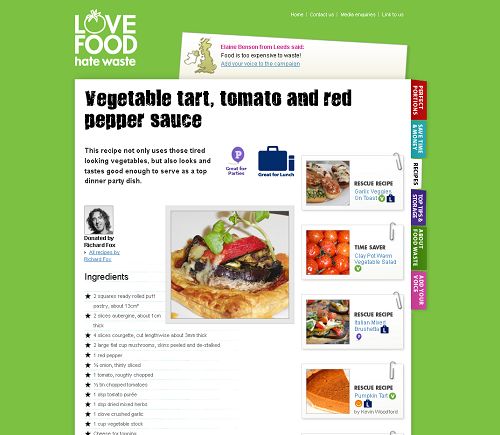 lovefoodhatewaste.com
Vegetable recipes are great for using up those odds-and-ends lurking in the fridge. This tart serves that purpose admirably – I often find myself wondering what to do with half an onion, a bit of courgette and a sad-looking pepper. I´d use goats´cheese on top if I had some, as that goes really well with veggies such as tomatoes and peppers.
8

Vegetable Noodle Soup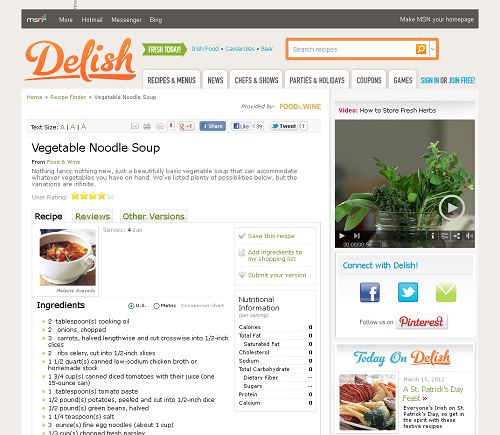 delish.com
Soup is an endlessly versatile way of getting lots of veggies into your diet. There are hearty soups for winter, and lighter versions for summer. You can use whatever veggies you have for a soup like this one, and the noodles make it more filling (although not too much). It would make a lovely starter or summer lunch dish.
Vegetables can make the centre of some fantastic recipes. I think many of us were put off them as kids, or think that they´re boring. That´s just not true. There are so many fantastic vegetable recipes to try, and such a wide variety available in the shops – including many vegetables for ethnic cooking. So be adventurous! Do you have a favourite vegetable recipe to share with us?
Top Photo Credit: weheartit.com
Please rate this article