8. Spinach Pesto Grilled Cheese Recipe...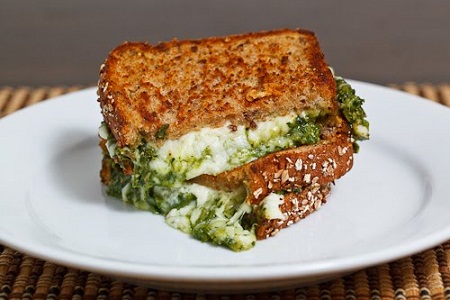 Does this grilled cheese recipe not look and sound like a gourmet dish that chefs like Bobby Flay or Giada would make! It looks too pretty to eat as it oozes spinach pesto, but that doesn't mean I wouldn't eat it! Making this delicious sandwich with a side of sweet potato fries would just complete my day. You have to check out Closet Cookingto see the other amazing meals this blogger makes!
• 1/2 cup graviera or gruyere, grated
• Heat a non-stick pan over medium heat.
• Butter the outside of each slice of bread, sprinkle half of the cheeses on the inside of one slice of bread, top with the spinach pesto, the remaining cheese and finally the other slice of bread.
• Add the sandwich and grill until golden brown and the cheese has melted, about 2-4 minutes per side.
Whether you fancy the original grilled cheese recipe or you are looking for something more exciting to spice up your grilled cheese sandwich, there is no denying how comforting this warm, gooey meal is. When you make and eat a grilled cheese recipe it takes you back to those cold and rainy days when mom made you your favorite sandwich and a bowl of soup; it just takes you home and warms your soul. Take a chance with your favorite grilled cheese recipe by adding some of these fun ingredients and come back to share your thoughts with us.
15 Secret Signs He's the Jealous Type ...
"8 Exciting Grilled Cheese Recipes..." localizations: