5. Ham, Apple and Grilled Cheese Recipe...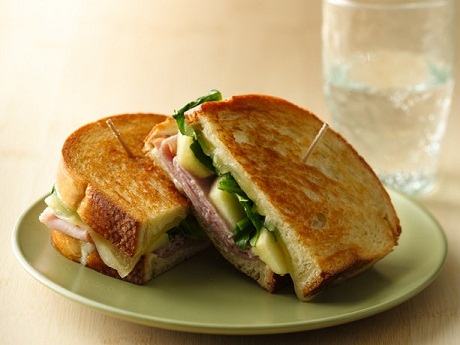 As you can see with the ingredients we have mentioned like raspberry jam, jalapeno, bacon, and now this one with ham and apple, grilled cheese recipes don't have to be boring any more. Let's just say these aren't your mother's grilled cheese sandwiches! The possible ingredients and spreads you can put on a grilled cheese are endless. If you want to put avocado or banana on your sandwich, why not!
• 1/3 cup mayonnaise or salad dressing
• 1 clove garlic, finely chopped
• 8 slices Italian bread, 1/2 inch thick
• 2 tablespoons butter or margarine, softened
• 1/2 lb thinly sliced cooked ham (from deli)
• 1 medium apple, peeled, thinly sliced
• 4 thin slices onion, if desired 4
• slices (1 oz each) Swiss cheese
• "In small bowl, mix mayonnaise and garlic. Spread 1 side of each bread slice with butter; spread mayonnaise mixture on unbuttered side. On each of 4 bread slices, buttered sides down, layer ham, apple, arugula, onion, cheese and remaining bread slices, buttered sides up.
• Heat 12-inch nonstick skillet over medium-low heat 3 to 5 minutes. Place sandwiches in hot skillet; cook uncovered 6 to 9 minutes, turning once, until bread is crisp and cheese is melted."
Zucchini Grilled Cheese Recipe...
Explore more ...