3. Bacon Battered Grilled Cheese Recipe...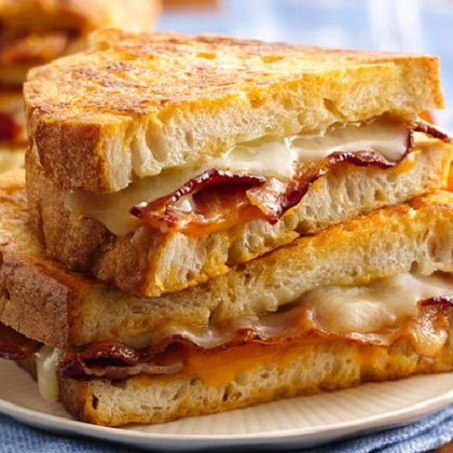 You had me at bacon! It sounds like the perfect ingredient to add to a grilled cheese sandwich, but until now I never thought of it. The interesting part of this sandwich is not the bacon, but the beer batter that also includes chili powder. Although you probably won't get drunk from the beer batter, you may want to make this an adult only grilled cheese recipe that parents can enjoy while watching the big game and make a kid friendly version for the little ones.
• 2 slice(s) cheddar cheese
• 2 slice(s) provolone cheese
• 1/4 cup(s) all-purpose flour
• "In 12-inch nonstick skillet, cook bacon until crisp; drain on paper towel. On 2 of the bread slices, place 1 slice provolone cheese, 3 slices bacon and 1 slice Cheddar cheese on each. Top with remaining bread slices. Heat griddle or skillet over medium-high heat or to 375°F. In shallow bowl, beat egg, beer, flour and chili powder with fork until smooth. Dip each sandwich into batter, giving it a few seconds on each side to absorb the batter; drain excess batter back into bowl. Melt butter on hot griddle. Place sandwiches on griddle. Cook 3 to 4 minutes on each side until golden brown."
Extra Cheesy Grilled Cheese Recipe...
Explore more ...