4. Steak Tacos Summer Recipe...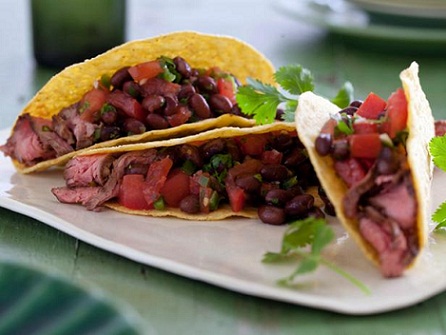 30 minutes for steak tacos, you can count me in to cook this easy summer recipe! If you aren't a steak or meat fan you can try eggplant or even porta bella mushrooms instead, either way you still have a fun recipe the whole family will enjoy. This taco recipe might just become a summer favorite with all of the fresh ingredients it calls for.
• 12 ounces flank steak, trimmed
• 1 teaspoon chili powder
• 1/2 teaspoon ground cumin
• Cooking spray, for greasing the pan
• 1 cup canned black beans, rinsed and drained
• 1/4 cup chopped fresh cilantro
• 2 tablespoons lime juice
• 2 medium tomatoes, chopped
• 1 jalapeno pepper, seeded and minced
• 8 corn taco shells, warmed
• "Sprinkle the steak with the chili powder, 1/2 teaspoon of the salt and cumin. Spray a large nonstick skillet with cooking spray and set over high heat. Add the steak and cook until browned, about 5 minutes. Turn the steak and cook about 5 minutes longer for medium-rare. Transfer the steak to a cutting board. Let stand 5 minutes. Cut the steak diagonally across the grain into paper-thin slices."
• "Meanwhile, combine the black beans, cilantro, lime juice, oil, tomatoes, garlic, jalapeno and the remaining 1/4 teaspoon salt in a large bowl and toss to coat well. Evenly divide the steak slices among the tacos. Top each taco evenly with the tomato mixture."
Lobster Roll Summer Recipe...
Explore more ...