3. Grilled Eggplant Provolone Summer Recipe...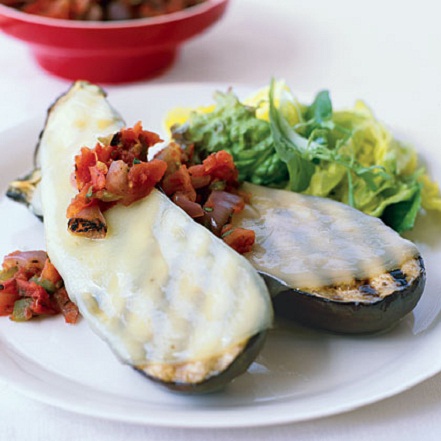 What would summer recipes be without having a meal that consist only of vegetables and one that you can grow in your own garden! I have only tried fried eggplant before so I'm looking forward to trying it grilled, especially with a recipe that includes provolone!
• 1 1/2 tablespoons balsamic vinegar
• 3 tablespoons olive oil
• 1/4 teaspoon dried oregano
• 4 small eggplants, cut in half lengthwise
• Freshly ground black pepper
• 1/2 pound deli-style thick-sliced mild provolone
• "Whisk together the vinegar, oil, and oregano and brush on the cut sides of the eggplants.
Sprinkle with salt and pepper. Preheat a gas grill to high; adjust the heat to medium after 15 minutes. (If cooking over charcoal, allow the coals to burn until they are covered with gray ash.) Grill the eggplants cut-side down until browned, about 5 minutes. Flip the eggplants and top each half with a slice of provolone. Grill 3 minutes more or until the cheese is bubbly. Top with some Grilled Salsa."
• "Rainy-Day Method: Prepare the eggplants as described above. Heat the broiler and cook the eggplants about 6 inches from the heat, cut-side down, for 5 minutes. Turn and broil cut-side up for about 3 minutes. Add the provolone and broil about 3 minutes more."
Steak Tacos Summer Recipe...
Explore more ...