COMMENT
Easy Summer Recipes are true life-savers. No one ever wants to cook in the Summer time, we'd rather be outside enjoying the beautiful weather and sitting on the porch with a glass of ice tea! In some places it's just too hot to cook and stand over a hot stove or grill for a long time so finding easy and quick summer recipes is always great. Whether you love eggplant or steak we think you're going to enjoy these 8 Easy Summer Recipes and want to share them with your family and friends...
1. Peach and Walnut Chicken Summer Recipe...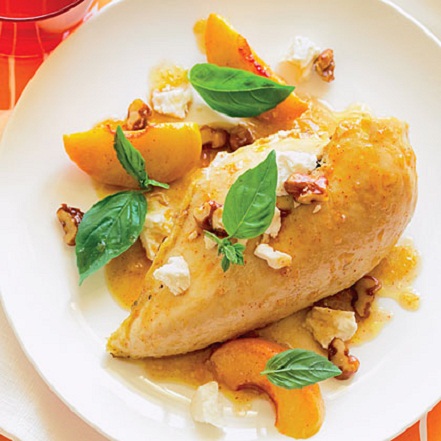 We love cooking chicken recipes for dinner, but we usually use the same barbeque sauce or marinade each time and that makes for a boring meal! When I saw this peach and walnut summer recipe I knew it would be a great way to change things up and enjoy something new while still using our favorite protein. I love the idea of picking up a rotisserie chicken from the store to make a summer dinner easier on yourself while adding a few ingredients to make it interesting.
• 2 tablespoons walnut oil or extra-virgin olive oil
• 2 tablespoons sherry vinegar
• 1/2 teaspoon kosher salt
• 3 ripe yellow peaches, peeled and sliced
• 1 rotisserie chicken, quartered and skinned
• 1/2 cup crumbled feta cheese
• 1/4 cup glazed walnuts or other glazed nuts, chopped
• " In a medium bowl, whisk together oil, jam, cayenne, vinegar, and salt. Add peach slices and gently toss to coat with dressing."
• "Arrange chicken on a large platter. Evenly spoon peaches and dressing over chicken. Sprinkle with basil, feta, and walnuts."
2. Sesame Sauce Scallops Summer Recipe...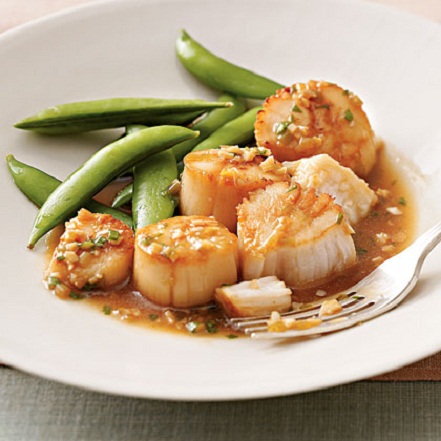 I love scallops, every time we go out for seafood I make sure to order them in my meal. This easy summer recipe had me at hello when I read that it only takes 6 minutes to cook! Who needs to go out when you can easily prepare a great seafood recipe like this one at home. Scallops would make a nice summer appetizer or a quick dinner if you are on your way out to an event.
• 16 large sea scallops (about 1 3/4 pounds)
• 1 sliced green onion (white and green sections reserved separately)
• 2 garlic cloves, minced (about 1 teaspoon)
• 2 tablespoons low-sodium soy sauce
• 1 tablespoon rice vinegar
• 1/2 teaspoon cornstarch
• 1 tablespoon sesame oil
• 1/8 teaspoon crushed red pepper
• 1/8 teaspoon black pepper
• "Remove scallops from the refrigerator, and bring them to room temperature (about 10 minutes). In a small mixing bowl, add the white onion pieces and the next 7 ingredients (through crushed red pepper); stir with a whisk to combine, and set aside."
• "Warm the canola oil in a large nonstick skillet over medium heat. When hot, add the scallops; sprinkle scallops with the black pepper. Cook scallops about 3 minutes on 1 side until golden brown. Using tongs, flip the scallops and cook 2-3 more minutes or until browned. Transfer scallops to a plate, and cover with foil. Keep the skillet on the heat."
• "Whisk the sauce again, and add it to the pan. Cook until the sauce boils and thickens slightly (about 45 seconds); then remove the pan from heat. Divide scallops among 4 plates, drizzle some of the hot sesame sauce over each portion, and garnish with a sprinkle of green onion pieces."
3. Grilled Eggplant Provolone Summer Recipe...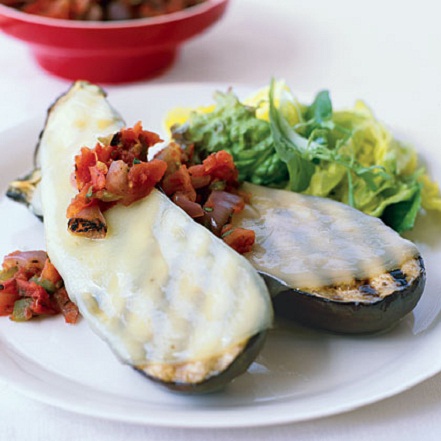 What would summer recipes be without having a meal that consist only of vegetables and one that you can grow in your own garden! I have only tried fried eggplant before so I'm looking forward to trying it grilled, especially with a recipe that includes provolone!
• 1 1/2 tablespoons balsamic vinegar
• 3 tablespoons olive oil
• 1/4 teaspoon dried oregano
• 4 small eggplants, cut in half lengthwise
• 1/2 teaspoon kosher salt
• Freshly ground black pepper
• 1/2 pound deli-style thick-sliced mild provolone
• "Whisk together the vinegar, oil, and oregano and brush on the cut sides of the eggplants. Sprinkle with salt and pepper. Preheat a gas grill to high; adjust the heat to medium after 15 minutes. (If cooking over charcoal, allow the coals to burn until they are covered with gray ash.) Grill the eggplants cut-side down until browned, about 5 minutes. Flip the eggplants and top each half with a slice of provolone. Grill 3 minutes more or until the cheese is bubbly. Top with some Grilled Salsa."
• "Rainy-Day Method: Prepare the eggplants as described above. Heat the broiler and cook the eggplants about 6 inches from the heat, cut-side down, for 5 minutes. Turn and broil cut-side up for about 3 minutes. Add the provolone and broil about 3 minutes more."
4. Steak Tacos Summer Recipe...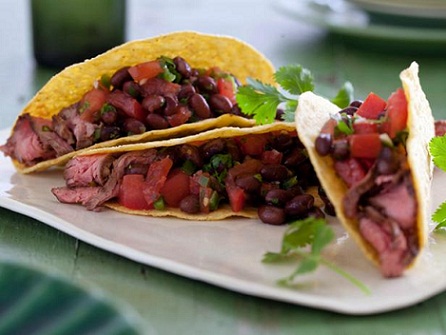 30 minutes for steak tacos, you can count me in to cook this easy summer recipe! If you aren't a steak or meat fan you can try eggplant or even porta bella mushrooms instead, either way you still have a fun recipe the whole family will enjoy. This taco recipe might just become a summer favorite with all of the fresh ingredients it calls for.
• 12 ounces flank steak, trimmed
• 1 teaspoon chili powder
• 1/2 teaspoon ground cumin
• Cooking spray, for greasing the pan
• 1 cup canned black beans, rinsed and drained
• 1/4 cup chopped fresh cilantro
• 2 tablespoons lime juice
• 2 medium tomatoes, chopped
• 1 jalapeno pepper, seeded and minced
• 8 corn taco shells, warmed
• "Sprinkle the steak with the chili powder, 1/2 teaspoon of the salt and cumin. Spray a large nonstick skillet with cooking spray and set over high heat. Add the steak and cook until browned, about 5 minutes. Turn the steak and cook about 5 minutes longer for medium-rare. Transfer the steak to a cutting board. Let stand 5 minutes. Cut the steak diagonally across the grain into paper-thin slices."
• "Meanwhile, combine the black beans, cilantro, lime juice, oil, tomatoes, garlic, jalapeno and the remaining 1/4 teaspoon salt in a large bowl and toss to coat well. Evenly divide the steak slices among the tacos. Top each taco evenly with the tomato mixture."
5. Lobster Roll Summer Recipe...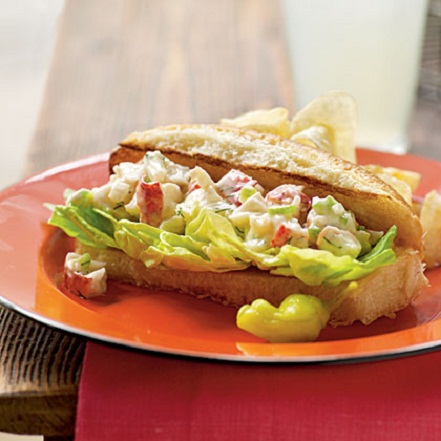 I've had lobster before, but I have never had a lobster roll and this sound like an easy, on the go summer recipe that would be great for a picnic in the park. I first saw lobster rolls over on Big Apple Noshfrom the trip she took to Connecticut with her family, so when I saw this recipe it reminded me of her post and brought me back to that good summer feeling. Please note the recipe and directions calls for your lobster to be fully cooked before preparing this dish.
• 5 tablespoons canola mayonnaise
• 1/4 cup finely chopped celery
• 3 tablespoons minced onion
• 2 tablespoons whole milk Greek-style yogurt (such as Fage)
• 1 1/2 teaspoons chopped fresh dill
• 1/8 teaspoon ground red pepper
• 1 pound cooked lobster meat, cut into bite-sized pieces (about 3 (1 1/2-pound) lobsters)
• 2 tablespoons butter, melted
• 8 (1 1/2-ounce) hot dog buns
• "Combine first 7 ingredients in a medium bowl, stirring well. Add lobster to mayonnaise mixture; toss. Cover and chill 1 hour."
• "Brush butter evenly over cut sides of buns. Heat a large skillet over medium-high heat. Place buns, cut sides down, in pan; cook 2 minutes or until toasted. Line each bun with 1 lettuce leaf; top with 1/3 cup lobster mixture."
6. Sun-Dried Tomato Pasta Summer Recipe...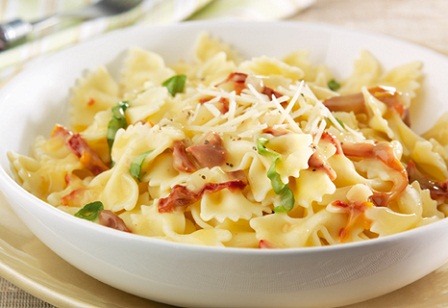 I might be bias, but my mom makes the best pasta salad and I can't wait to finally have some this summer. Until then, maybe I'll try to get creative with this easy summer recipe and make my own pasta salad with sun-dried tomatoes and Campbell's cream of chicken soup. It sounds pretty interesting and refreshing, I guess I should give my mom a call and share this recipe with her!
• 1 large onion, finely chopped (about 1 cup)
• 1/3 cup sun-dried tomatoes, cut into thin strips
• 2 cloves garlic, minced
• 1 can (10 3/4 ounces) Campbell's® Condensed Cream of Chicken Soup (Regular or 98% Fat Free)
• 2 tablespoons thinly sliced fresh basil leaves
• 6 cups bow tie pasta (farfalle), cooked and drained
• 2 tablespoons grated Parmesan cheese
• Freshly ground black pepper
• "Heat the oil in a 10-inch skillet over medium heat. Add the onion and cook until it's tender."
• "Add the tomatoes and garlic and cook for 1 minute. Stir the soup, milk and basil in the skillet. Cook until the mixture is hot and bubbling, stirring occasionally."
• "Place the pasta into a large serving bowl. Pour the soup mixture over the pasta and toss to coat. Sprinkle with the cheese. Season with the black pepper, if desired."
7. Curry Chicken Wrap Summer Recipe...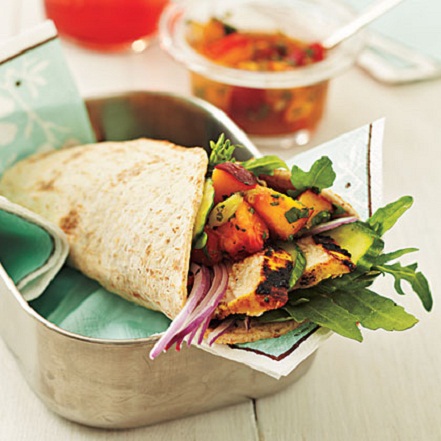 This curry chicken wrap screams summer recipe with ingredients like nectarines, mint, cucumber, and mango chutney. If you're vegan just leave out the chicken for a mouthwatering wrap that will leave the taste of summer on the tip of your tongue! This would make a wonderful recipe to cook this weekend to celebrate Cinco de Mayo with a curry chicken wrap in one hand and a nice pomegranate margarita in the other!
• 1 cup plain fat-free yogurt
• 3 tablespoons curry powder
• 3 tablespoons lime juice, divided
• 4 (6-ounce) skinless, boneless chicken breast halves
• 6 garlic cloves, crushed
• 2 cups chopped nectarines
• 3/4 cup finely sliced green onions
• 2 tablespoons chopped fresh cilantro
• 2 tablespoons chopped fresh mint
• 1 tablespoon grated peeled fresh ginger
• 1/4 teaspoon ground red pepper
• 6 (1.9-ounce) light whole-wheat flatbreads (such as Flatout)
• 24 (1/8-inch-thick) slices cucumber
• 1 1/2 cups loosely packed baby arugula
• 1 cup vertically sliced red onion
• "Combine yogurt, curry, and 1 tablespoon lime juice in a large heavy-duty zip-top plastic bag; squeeze bag to mix. Cut 3 shallow slits in each chicken breast. Add chicken, cilantro sprigs, and garlic to bag, squeezing to coat chicken. Seal and marinate in the refrigerator for 2 hours, turning occasionally."
• "Combine remaining 2 tablespoons lime juice, nectarines, and next 6 ingredients (through red pepper) in a bowl; toss gently. Cover and set aside."
• "Preheat grill to medium-high heat."
• "Remove chicken from bag; discard marinade. Sprinkle chicken with salt; place chicken on grill rack coated with cooking spray. Cover and grill for 4 minutes on each side or until chicken is done. Let stand 5 minutes. Cut chicken across the grain into thin slices."
• "Place 1/3 cup nectarine chutney in center of each flatbread. Divide chicken evenly among flatbreads. Top each with 4 cucumber slices, 1/4 cup arugula, and about 2 1/2 tablespoons red onion; roll up. Cut each wrap in half diagonally."
8. Beef Taco Skillet Summer Recipe...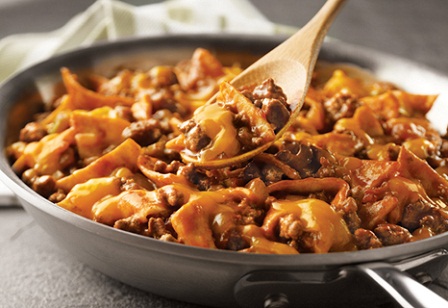 A summer recipe couldn't get any easier than this one that requires only one skillet to cook the entire meal. The melted cheese in this photo is calling my name! This is another interesting recipe that calls for Campbell's soup, this time it's tomato soup. I bet it adds a nice flavor to it along with the Pace picante sauce.
• 1 can (10 3/4 ounces) Campbell's® Condensed Tomato Soup (Regular or Healthy Request®)
• 1/2 cup Pace® Picante Sauce
• 6 flour tortillas (6-inch), cut into 1-inch pieces
• 1/2 cup shredded Cheddar cheese
• "Cook the beef in a 10-inch skillet over medium-high heat until well browned, stirring often to separate meat. Pour off any fat."
• "Stir the soup, picante sauce, water and tortillas in the skillet and heat to a boil. Reduce the heat to low. Cook for 5 minutes. Stir the beef mixture. Top with the cheese"
I can't wait to try out some of these easy summer recipes, I hate being in the kitchen when it's hot outside or when everyone is enjoying the summer sun. If you're vegan, looking for an easy pasta salad, or want something tasty to celebrate the holidays, these quick summer recipes are something everyone will enjoy. What easy summer recipes have you made for busy days?
16 Things for Teens 💁🏻💁🏽💁🏼💁🏿 to do on Spring Break 📆 This Year ...
"8 Easy Summer Recipes..." localizations: