Cheese recipes are a favourite of mine. There´s nothing like topping a baked potato with lots of grated cheese, or sprinkling it over pasta. I fancied trying out some more imaginative cheese recipes though, so I´ve been hunting around for some tasty examples of cheesy treats. Here are some of the fabulous cheese recipes I found …
Table of contents:
1

Grilled Mozarella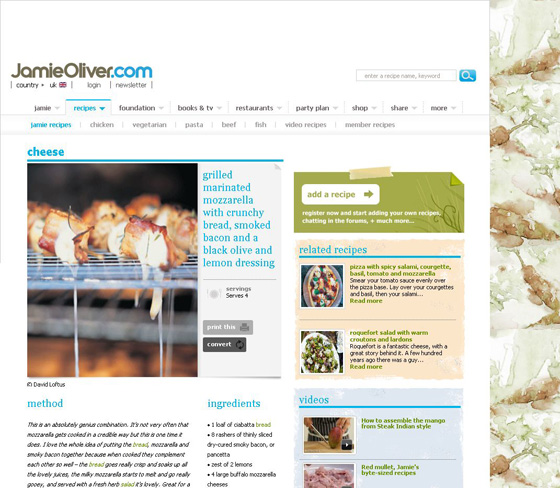 jamieoliver.com
If you only ever buy mozzarella in its grated form, when you´re making pizza, then next time you´re at the supermarket pick up some whole cheeses. Mozarella is tasty enough on pizza, but a whole one melted is simply divine. Being vegetarian, I´d leave out the bacon, and maybe add some sun-dried tomatoes instead to replace the intense flavour of the bacon.
2

Spinach & Cheese Samosas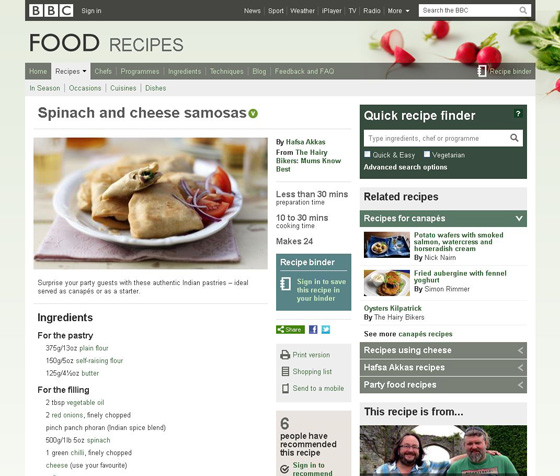 bbc.co.uk
I love vegetable samosas, but I´ve never had any with cheese in. To be authentic, you could use paneer, a fresh Indian cheese, but any other will do. Cheese goes really well with spinach, and the two together will be a great source of calcium.
3

Almond Cheese Balls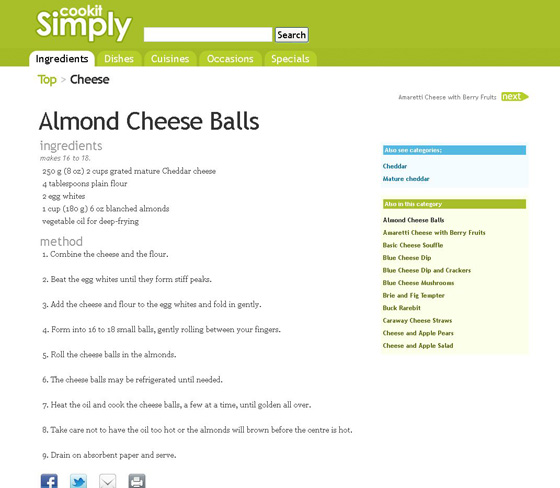 cookitsimply.com
The taste of cheese can be a bit overpowering, so adding nuts provides a contrast both in taste and texture. These cheese balls could be served on many different occasions. Try them as a snack, as part of a buffet, as canapés or for a starter. They´d be quite striking if coloured Cheddar was used!
4

Charred Romano Peppers with Stilton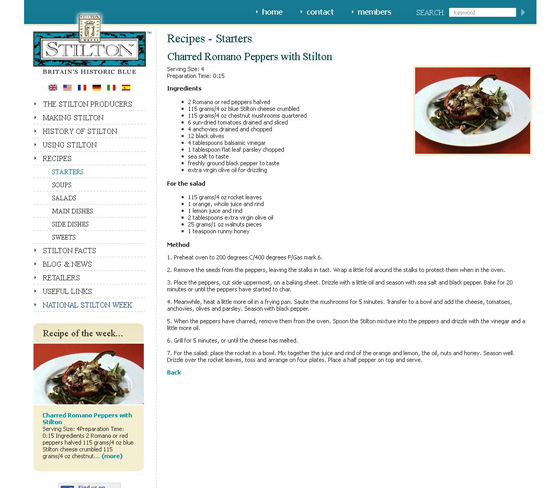 stiltoncheese.co.uk
Here´s one for Stilton fans! Cheese recipes obviously contain …. well, cheese, but as I´ve mentioned it can be a bit strong. One way of avoiding cheese from dominating a recipe is to include other, less powerful ingredients, and this pepper dish includes mushrooms and a walnut salad. Of course, I´d leave out the anchovies, but there are still lots of lovely flavours.
5

Feta Cheese Turkey Burgers
recipes4us.co.uk
Cheese recipes are obviously great if you´re a vegetarian (although not all of us like it as much as I do). Of course, it can be combined with meat in dishes. Feta is fabulous, and if you like cheeseburgers, turkey makes a healthier burger than red meat does. Try this recipe out when you have your first barbecue of the season!
6

Roasted Butternut Squash with Goat´s Cheese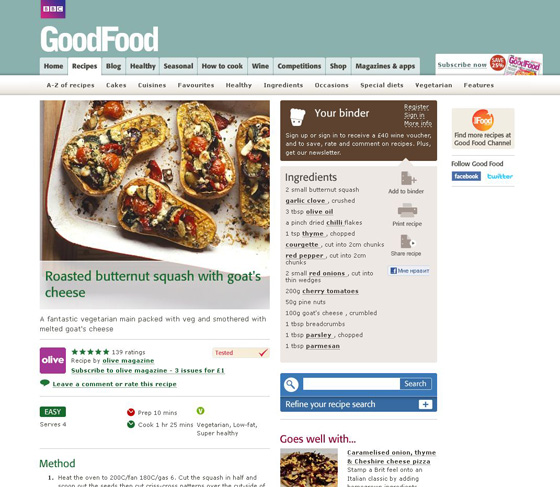 bbcgoodfood.com
I love butternut squash, and I adore goat´s cheese (providing it´s not too strong), so this recipe is on my list to try out. It takes a little while to bake, but I think the end result will be worth it. The squash is filled with other tasty roasted vegetables and the goat´s cheese, then topped with breadcrumbs. Great for vegetarian guests.
7

Lime & Mascarpone Torte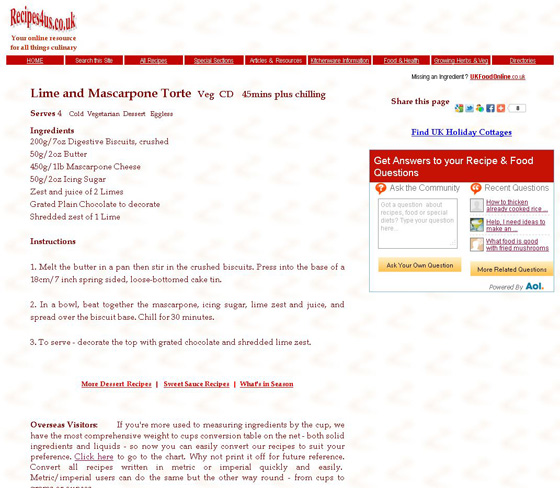 recipes4us.co.uk
Let´s not forget the delicious desserts that can be made using cheeses. My father, bless him, didn´t quite get the concept of sweeter cheeses, and refused to eat cheesecake because he thought it had savoury cheese in it. There would be no convincing him to even try this lovely cheesecake. Dad, you missed out!
8

Emmenthal Cheese Parcels with Basil Pesto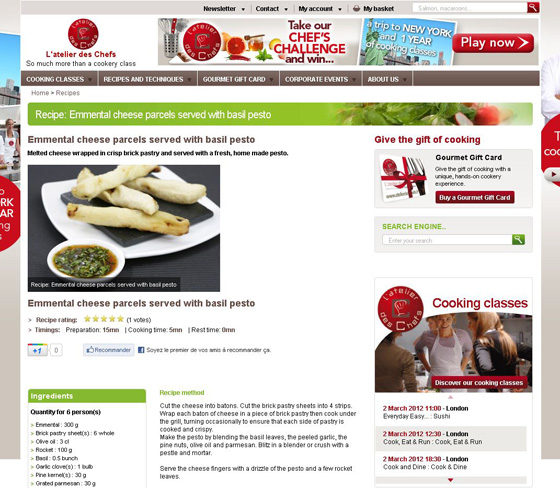 atelierdeschefs.co.uk
Pesto is much easier to make than you might imagine, so it´s worth making some not just for this recipe. The cheese parcels use ready-made pastry, so are quick and easy to put together. This would make a lovely light lunch. If you´re vegetarian, and worried about using Parmesan, look out for the vegetarian version.
These cheese recipes have certainly got me inspired! There are so many cheeses available that it´s worth trying out some varieties that you haven´t tasted before; if you have a deli near you see if they do any sampling. Vegetarians, do you like cheese, or are you fed up that every time you eat out, everything has cheese in it?
Top Photo Credit: pinterest.com
Please rate this article