8 Delightfully Tasty Gluten Free Recipes ...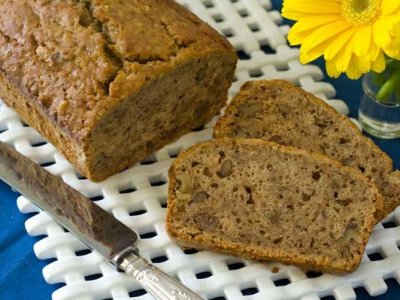 Gluten Free Recipes are becoming increasingly popular. Having to follow a gluten-free diet is a daunting prospect to begin with. Not only does eating out become problematic, but even cooking at home means avoiding many products, including any using wheat flour. That's why it's important to look for good gluten free recipes. There are always different things to consider. And how do you cater for a guest following a gluten-free diet? The internet is full of tasty gluten free recipes – here are some delicious dishes to try.
I absolutely adore banana bread! This website is packed full of tips, gluten free recipes and information, and is written by Karina, who has to follow a gluten free diet, so knows what she is talking about from personal experience. The recipes are devised by her, and look amazingly tempting.
2.

Spicy Autumn Squash Stew at bbc.co.uk

I'm particularly fond of making one-pot stews, although I generally don't make them spicy like this one. It sounds the perfect warming dish for colder weather. The suggested accompaniment is rice, although it would also be delicious mopped up with some gluten-free bread.
3.

Gluten Free Soy Sauce Substitute at recipes4us.co.uk

This is one of the most versatile gluten free recipes I've ever found. If you or someone in your family has to follow a gluten-free diet, you'll know that involves a LOT of label reading. Not only do you have to avoid the obvious items containing wheat, such as bread and cakes, but a lot of condiments also contain wheat derivatives. So try this easy recipe to give your meals a little extra taste.
Talking of bread, the gluten free variety can be pretty expensive, if you can even find it in a local store. But if you stock up on gluten free flour, you can make your own when you want it, and more cheaply. These seeded flatbreads are, as the title suggests, very quick to make.
5.

Gluten-Free Pastry at stuff.co.nz

When you find out you need to follow a gluten free diet, it seems as though all your old favourite recipes are gone forever. Not so! It's easy to find and create gluten free recipes for your favorite foods. Here's a pastry recipe that will allow you to make quiches, pies, pasties and tarts – they might not turn out quite the same, but you'll soon adapt.
6.

Gluten-Free Chestnut Stuffing at tescorealfood.com

There's no need for people on a gluten free diet to miss out on stuffing as part of any feast. Here's a tasty recipe using garbanzos, which will resemble falafel. It would also be delicious served in a tomato sauce.
7.

Turkey Stir-Fry at celiac.com

If you're fond of Asian food, you probably love a good stir-fry. You'll find that there are lots of gluten free recipes for Asian cuisine. Here's a recipe where you can use the 'soy sauce' recipe above (you can also buy gluten free versions, but it's so easy to make your own!). You could leave out the rice and serve with gluten free noodles.

This might not be the healthiest recipe around, but if you love fried food as a treat, here's a fabulous gluten free version. If you don't like beer, club soda is given as an alternative. The recipe can also be used to fry onion rings.

As you can see, you can easily find lots of delicious gluten free recipes. Having to exclude gluten from your diet does make your life complicated, but fortunately there are thousands of delicious gluten free recipes **that will make life easier. Eating out may be difficult, but dining in need not be dull. Do you have to follow a gluten-free diet, or any other special diet? Share some of your favorite **gluten free recipes with us!

Top Photo Credit: simplygluten-free.com

{{#comments_count}} Show Commnents ({{comments_count}}) {{/comments_count}}