5. Green Bean, Grape, and Pasta Salad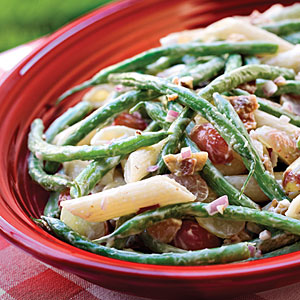 Sounds weird for a summer salad doesn't it? Well ladies, this little salad tastes so delicious and makes the perfect side dish fro any type of dish. Or it could be a great salad to have for lunch. Try it and let me know what you think about it!
1 pound thin fresh green beans, trimmed and cut in half
1 (8-oz.) package penne pasta
2 cups seedless red grapes, cut in half
Arrange pecans in a single layer on a baking sheet, and bake at 350° for 5 to 7 minutes or until lightly toasted and fragrant.
Cook bacon in a large skillet over medium-high heat 5 to 7 minutes or until crisp; remove bacon, and drain on paper towels. Crumble bacon.
Cook beans in boiling salted water to cover 5 minutes or until crisp-tender; drain. Plunge beans into ice water to stop the cooking process.
Meanwhile, prepare pasta according to package directions; drain.
Whisk together mayonnaise and next 3 ingredients in a large bowl; add pecans, green beans, pasta, grapes, and onion, stirring to coat. Season with salt to taste. Cover and chill 3 hours; stir in bacon just before serving.
Strawberry and Spinach Salad