3. Mustard Dill Tortellini Salad Skewers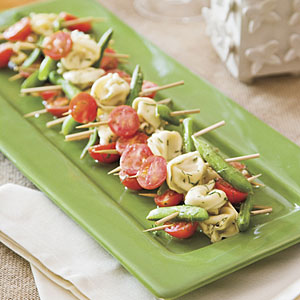 These little salad skewers are all kinds of fantastic for a party that you are having, but you are still looking to keep things light and airy. These appetizers will not only great summer salads, but your guests will flip for them and wonder how you make something so tasty!
1 (9-oz.) package refrigerated cheese tortellini
1 (8-oz.) package frozen sugar snap peas
68 (4-inch) wooden skewers
1 pt. grape tomatoes, cut in half
Cook tortellini according to package directions.
Rinse under cold running water.
Place sugar snap peas in a small bowl; cover with plastic wrap. Microwave at HIGH 2 minutes. Let stand, covered, 2 minutes. Rinse under cold running water.
Thread each skewer with 1 sugar snap pea, 1 tortellini, and 1 tomato half. Place skewers in a 13- x 9-inch baking dish. Pour Mustard-Dill Vinaigrette over skewers, turning to coat. Cover and chill 4 hours. Transfer skewers to a serving platter; discard any remaining vinaigrette.
*1 (12-oz.) bottle light Champagne vinaigrette may be substituted. For testing purposes only, we used Girard's Light Champagne Dressing.
Grilled Peach and Mozzarella Salad