5. Smoked Salmon and Egg Sandwich...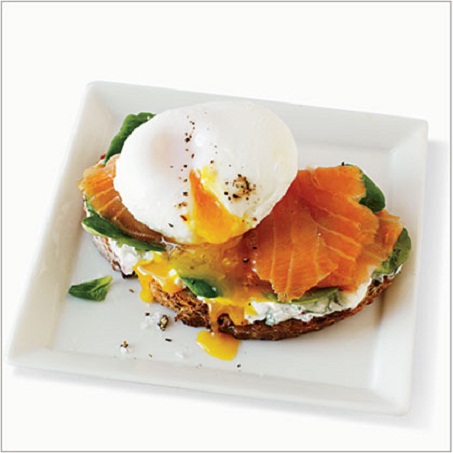 I love eggs and I love salmon; put them together and you have a beautiful combination! The gorgeous color of this egg sandwich is enough to entice me to want to learn more about this sexy looking recipe! I have never poached an egg before, but I am willing to learn how to for this delicious looking sandwich. Check out this videofeaturing Alton Brown to learn how to poach an egg, seems pretty simple.
• 1 tablespoon white vinegar
• 1/4 cup (2 ounces) 1/3-less-fat cream cheese
• 2 tablespoons minced red onion
• 1 tablespoon chopped dill
• 3/8 teaspoon kosher salt
• 4 (1-ounce) slices whole-grain bread, toasted
• 4 ounces smoked wild salmon
• 1/4 teaspoon black pepper
• "Bring water and vinegar to a simmer in a 12-inch skillet over medium heat. Add eggs, 1 at a time; simmer 3 minutes or until desired degree of doneness.
• Combine cheese, onion, dill, and 1/8 teaspoon salt; spread 1 tablespoon cheese mixture over each bread slice. Top each serving with 1/4 cup arugula and 1 ounce salmon. Remove eggs from pan with a slotted spoon; top each sandwich with 1 egg. Sprinkle with 1/4 teaspoon salt and pepper.
• Sustainable Choice: Look for salmon that's labeled "wild Alaskan salmon," and you can be sure you're getting sustainable seafood."
Avocado Spinach Egg Salad...