3. Ham and Egg Salad Sandwich...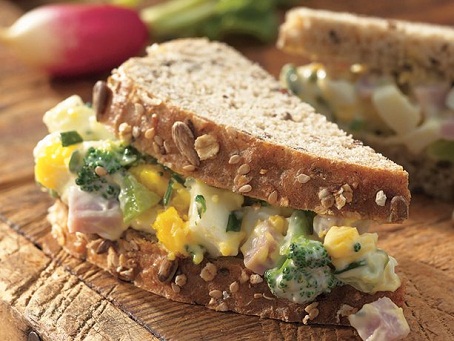 I love egg salad sandwiches, but you can only eat so much egg salad. So when I found this recipe that mixed in cooked ham, broccoli, and chives among a few other ingredients, I knew it had to be included in today's post. I never would have thought to add cooked ham and broccoli into my egg salad to make it more interesting the second time around. This egg sandwich recipe looks like quite a meal!
• 1/2 cup chopped fully cooked ham
• 1/2 cup chopped broccoli florets
• 1/2 cup mayonnaise or salad dressing
• 1 tablespoon chopped fresh chives
• 2 teaspoons chopped fresh or 3/4 teaspoon dried marjoram leaves
• 1/4 teaspoon onion salt
• 3 hard-cooked eggs, chopped
• 8 slices herb or whole wheat bread
• "In medium bowl, mix all ingredients except lettuce and bread.
• Place lettuce leaf on 4 of the bread slices. Spoon egg mixture onto lettuce. Top with remaining bread."
A Lazy Fried Egg and Cheese Sandwich...