5. Corn and Sun-Dried Tomato Quesadilla with Smoked Mozzarella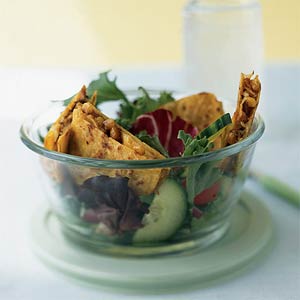 Here's another great option if you want an appetizer for summer that carries a little heat. You wouldn't expect the addition of mozzarella, but it really works. Corn is a great ingredient in the summer, and this really makes the most of it. This is a carry-around appetizer, though, so bear that in mind when you're planning the party and your menu.
2 (6-inch) corn tortillas
1/3 cup fresh or frozen, thawed, corn kernels
1 tablespoon chopped red onion $
1 1/2 teaspoons sun-dried tomato sprinkles
1/8 teaspoon freshly ground black pepper $
1/4 cup (1 ounce) shredded smoked mozzarella cheese
Pour oil onto one side of a tortilla. Place second tortilla over oiled side of first tortilla, and rub tortillas together to spread oil evenly over both tortillas.
Heat a large nonstick skillet over medium-high heat. Coat pan with cooking spray. Add corn; cook 4 minutes or until lightly browned, stirring occasionally. Place corn in a bowl. Add onion, sun-dried tomato, salt, and pepper to pan; sauté 1 minute. Add to the corn mixture. Wipe pan with paper towels; recoat with cooking spray.
Heat pan over medium-high heat. Place one tortilla, oiled side down, in pan. Sprinkle 2 tablespoons cheese over tortilla; top with corn mixture. Sprinkle with remaining 2 tablespoons cheese; top with remaining tortilla, oiled side up. Cook 2 minutes on each side or until cheese melts and tortilla is crisp. Cut into 4 wedges.
Chipotle Deviled Eggs