4. Shrimp Spring Rolls with Hoisin Dipping Sauce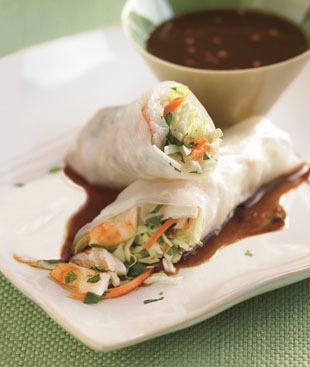 Spring rolls make fantastic summer appetizers, and these are just the tops, man. I love shrimp, and making your own spring rolls ensures they'll be ten times tastier. This recipe is ideal if you're looking for something spicy and a little exotic, especially if you love to experiment in the kitchen. It may take some practice, but it's definitely worth the effort!
1/4 cup seasoned rice vinegar
1 tablespoon minced peeled fresh ginger
2 teaspoons chili-garlic sauce
4 8-inch-diameter rice paper rounds
2 2/3 cups coleslaw mix (shredded cabbage and carrots)
4 tablespoons chopped fresh cilantro
8 teaspoons chopped fresh mint
8 cooked peeled deveined medium shrimp, halved horizontally
Mix first 4 ingredients in small bowl. Pour sauce into ramekin.
Submerge 1 rice paper round in large bowl filled with room-temperature water. Let stand until soft and pliable but not limp, lifting occasionally to determine if soft, about 1 minute. Place softened round on work surface. Mound 2/3 cup coleslaw mix at end of round closest to you; sprinkle with 1 tablespoon cilantro and 2 teaspoons mint. Top with 4 shrimp halves, cut side down, in single layer. Fold in ends of round; roll up tightly into cylinder. Repeat with remaining ingredients to form 3 more rolls. Cut rolls diagonally in half; arrange on plate and serve with sauce.
Corn and Sun-Dried Tomato Quesadilla with Smoked Mozzarella