3. Fresh Corn Blinis with Smoked Salmon and Chive Cream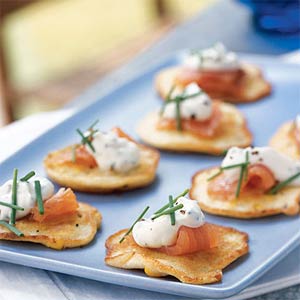 Blinis are totally trendy right now, but here's a really delicious alternative, particularly ideal for those of us who haven't yet gotten a taste for caviar. It includes not sour cream but chive cream you make yourself, topping slivers of chilled smoked salmon. It's just to die!
1/2 cup reduced-fat sour cream $
1 tablespoon minced fresh chives
1/3 cup all-purpose flour (about 1 1/2 ounces)
2 tablespoons fine-ground yellow cornmeal
1/2 cup 1% low-fat milk $
1/4 teaspoon black pepper $
4 ounces cold-smoked salmon, cut into 24 (2-inch) strips
Chopped fresh chives (optional)
Combine sour cream and chives in a small bowl. Cover and refrigerate.
Cut kernels from ear of corn. Scrape remaining pulp from cob using the dull side of a knife blade. Discard cob. Set corn aside.
Lightly spoon flour into a dry measuring cup; level with a knife
. Combine flour and cornmeal in a medium bowl; make a well in center of mixture. Combine milk and egg yolk in a small bowl; stir well with a whisk. Add milk mixture to flour mixture, and stir with a whisk just until moist. Stir in corn, salt, and pepper.
Place egg white in a bowl; beat with a mixer at high speed until foamy. Gently fold egg white mixture into corn mixture.
Heat a large nonstick skillet over medium heat. Coat pan with cooking spray. Spoon about 1 tablespoon batter per blini onto pan, spreading to about 2-inch diameter. Cook 2 minutes or until tops are covered with bubbles and edges begin to set. Carefully turn blinis over; cook for 1 minute longer. Transfer blinis to a serving platter, and arrange in a single layer; keep warm. Repeat process with the remaining batter. Top each blini with 1 piece salmon and 1 teaspoon sour cream mixture. Garnish with chopped chives, if desired.
Note: To prevent the blinis from becoming soggy, arrange in a single layer on a platter.
Shrimp Spring Rolls with Hoisin Dipping Sauce